CSKA Moscow vs Khimki Region EuroLeague Preview & Tips: CSKA offence too much for Khimki in Game 1
CSKA Moscow are heavy favourites to breeze past Russian rivals Khimki at home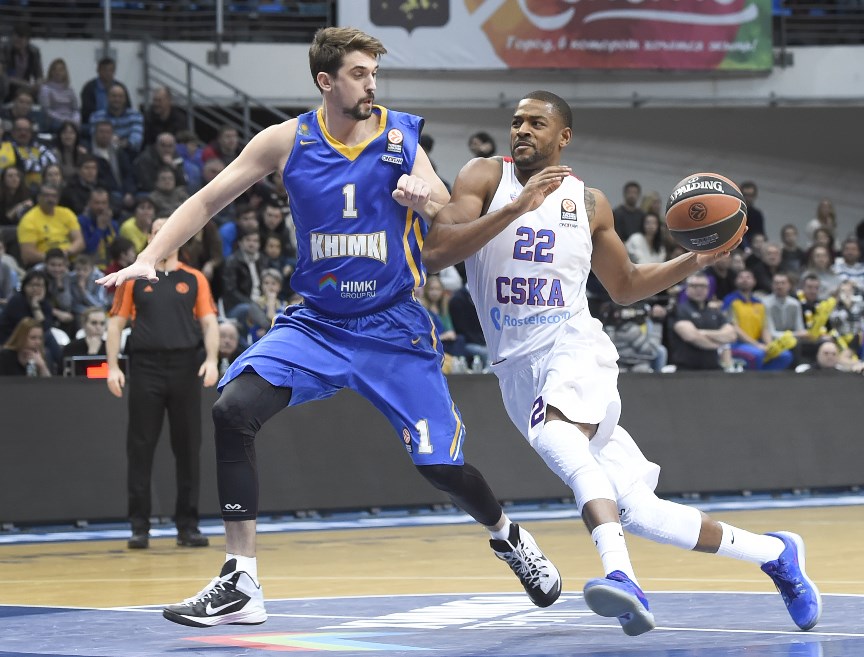 Khimki's Alexey Shved is the Euroleague's top scorer and will need another big game in order to overcome CSKA Moscow (Photo Alexander Nemenov/Getty Images)
In the 100th match between these Moscow rivals, CSKA Moscow welcome Khimki Moscow Region to the MegaSport Arena on Tuesday night with the hosts heavy favourites to advance to the Final Four.
CSKA Moscow
The "Bear" was unstoppable in the regular season and easily claimed the first place in the standings with a 24-6 record. With Nando De Colo, Sergio Rodriguez and Will Clyburn as the leaders, the Muscovites played excellent offense averaging 89.5 points per game.
The supporting cast of Cory Higgins, Kyle Hines and Andrey Vorontsevich were equally productive, as the squad had the best two-point (56.4%) and three-point (42.7%) percentage in the league.
CSKA's defence was not so effective as they conceded 79.6 points per game, yet the presence of coach Dimitris Itoudis, who is considered a defensive specialist, ensures the Russian side will be very tough defensively in the series.
Khimki Moscow
Khimki had many ups and downs and suffered crucial losses that prevented them from climbing higher in the table, as they claimed the last play-off spot with a 16-14 record. Alexey Shved has been the leader and Euroleague's top scorer with 21.4 points per game, his offensive productivity will determine whether the Russians will remain competitive against their rivals.
Although the supporting cast of Malcolm Thomas, James Anderson, Charles Jenkins, Thomas Robinson are very talented, coach Giorgos Bartzokas has seen his team play bad basketball in the last part of the season, losing five times in their last seven matches. Khimki need to return to their previous high defensive standards, as they concede 78.4 points per game and hold their opponents to just 50.6 points in two-point shooting during the regular season.
However, and given they conceded an average of 84.5 points in their two matches against the "Bear" (79 and 90, respectively), Khimki need to prevent CSKA from scoring 80+ points, if they want to have a chance to be victorious in Game 1.
Match Up
CSKA Moscow have been unstoppable in their home court this season, losing only once in a 93-95 defeat against Fenerbahce, and will do their best to impose their playing style on both ends of the floor to dominate their opponents.
For their part, Khimki should be at their very best if they want to stun the "Bear" and escape from the MegaSport Arena with the victory. Yet, if they allow coach Itoudis' players to score 80+ points they have little chance in Game 1.
Key Statistics
CSKA swept Khimki in the regular season by an average of 14 points (79-68, 90-73).

CSKA have won 14 consecutive games against Khimki (EuroLeague and VTB League).

CSKA have scored 89+ points in 3 of their last 5 games against Khimki.

CSKA have scored 89+ points in 11 of their last 14 home games (EuroLeague).

CSKA average 99 points scored at home this season (EuroLeague).

Verdict
CSKA Moscow look ready to advance to another Final Four on the back of their strong home record. Their offensive performance will be the key in Game 1 and I expect the Muscovites to score 89+ points to claim the victory.
Khimki are expected to be effective offensively after averaging 78 points per game so over 165.5 points is certainly feasible.
Best Bet: CSKA Moscow winning at half time & full time at 1.40
Total Bet: Over 165.5 at 1.80
Team Total Bet: CSKA Moscow over 88.5 points at 1.80
EuroLeague Tips
Upcoming Events
EuroLeague Previews & Tips