Panathinaikos vs Real Madrid EuroLeague Preview & Tips: Can the Greens exploit home court advantage?
Panathinaikos face a tough series against Real Madrid and will need strong home performance in Game 1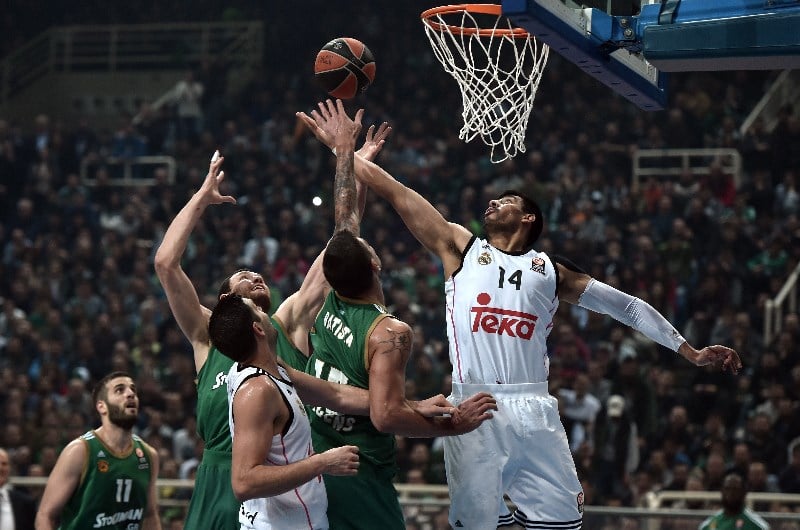 Panathinaikos face a tough battle against Real Madrid (Aris Messinis/Getty Images)
A tight series is expected between Panathinaikos and Real Madrid, the hosts will try to protect their home court and come closer to their first Final Four appearance since 2012.
Panathinaikos Superfoods
Panathinaikos started the season in high expectations, yet their inability to be victorious on the road was the biggest obstacle they had to overcome en route to the postseason. With just six wins in 15 away games, they had to prevail over their opponents at home in order to maintain a top four push.
They did exactly that, as they won 13 of their 15 matches at home and finished fourth with a 19-11 record. Nick Calathes is one of the candidates for MVP and the undisputed leader, with James Gist, Chris Singleton and K.C Rivers a strong supporting cast.
The acquisition of Mike James and Adreian Payne offered two extra weapons for coach Xavi Pascual, although they both need to better adapt to the team's playing style. The Greens need to improve their terrible free-throw percentage which at 67.9% is the worst in the league.
Real Madrid
The Madrid squad lost the home-court advantage in the last round of the regular season, so they now need to escape from Athens with atleast one victory. Despite facing many injuries throughout the season, the Whites have a very deep and talented roster that can dominate their opponents.
Real are expected to play very well on both ends of the floor and control the tempo of the game. Luka Doncic will be the number one threat while the effectiveness of the supporting cast will be key in the team's effort to beat the six-time EuroLeague champions.
Fabien Causeur, Felipe Reyes, Gustavo Ayon and Anthony Randolph among others need to step up and help Doncic, otherwise things will be very difficult for coach Pablo Laso and his players. The return to action of 2017 MVP Sergio Llull could be a game changer in the series.
Match Up
Panathinaikos are trying to advance to the Final Four for the first time in six years, but their mission is extremely difficult as Real Madrid have a very deep and talented roster that can dominate any opponent.
The Greens should play excellent defence and stop Real's run'n'gun playing style, whereas the Whites will try to score in transition and prevent Calathes (8.15 assists per game) from creating open shots for his teammates.
Key Statistics
Panathinaikos have lost only twice at home this season.

Real Madrid have the second best offensive line in the league with 86.5 points per game.

Verdict
It's very difficult to predict the outcome of the match-up between Panathinaikos and Real Madrid with both teams on a similar level. Given how crucial Game 1 is, both teams are likely to play very tough on both ends of the floor so a close game is expected.
Best Bet: Over 161.5 points at 1.90
Team Total Bet: Real Madrid over 80.5 points at 1.97
EuroLeague Tips
Upcoming Events
EuroLeague Previews & Tips