Deontay Wilder vs Tyson Fury WBC Heavyweight Title Fight: How Fury Can Win
Deontay Wilder and Tyson Fury contest the WBC Heavyweight Title on Saturday, here's how Fury can win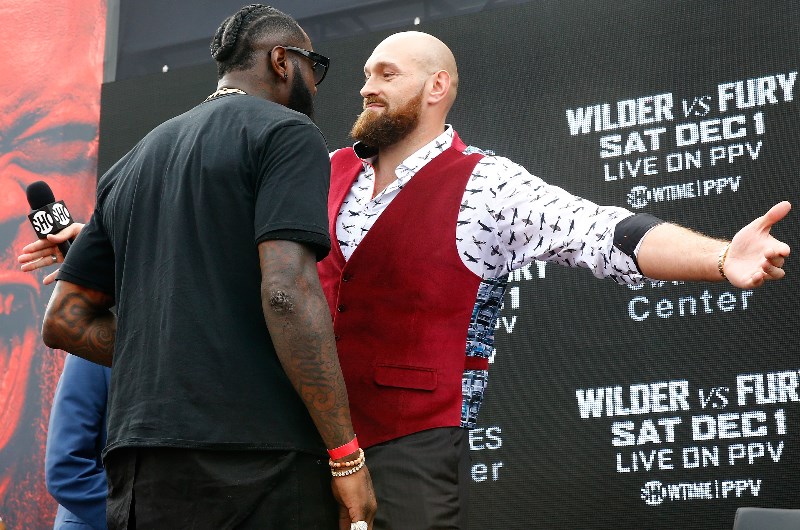 Deontay Wilder and Tyson Fury face-off (Mike Stobe/Getty Images)
Deontay Wilder vs Tyson Fury WBC Heavyweight Title Fight: How Fury Can Win
Britain's Tyson Fury gets the chance to become world heavyweight champion again, three years after he first turned the trick when he takes on Deontay Wilder for his WBC belt at the Staples Center in Los Angeles this coming Saturday (December 1, 5:00 AM BMT)
On November 28 2015 Manchester's Tyson Fury ended the decade long reign of Wladimir Klitschko, defeating the great Ukrainian in his adopted back yard of Germany. Now, almost three years to the day since that achievement, Fury will attempt to pull it off again, this time defeating an American on US soil. 30-year old Fury (27-0, 19 Kos) will take on Deontay Wilder of Tuscaloosa, Alabama at the Los Angeles Staples Center on December 1, in a classic meeting of Boxer vs Puncher.
Despite his immense size, Fury is renowned for his slick boxing skills and the speed of a middleweight, whilst 33-year old Wilder (40-0, 39 Kos) has the highest knockout percentage in heavyweight history, and has literally stopped every man he has faced. Fury's lack of activity over the past three years will ensure he starts the fight as a significant underdog, although many experts see it as a genuine 50-50 matchup.

The winner of this fight can lay claim to being the no.1 heavyweight on the planet, and look forward to a lucrative unification fight against UK superstar Anthony Joshua, holder of the WBA, WBO and IBF titles, at Wembley Stadium in 2019.
How Fury Can Defeat Deontay Wilder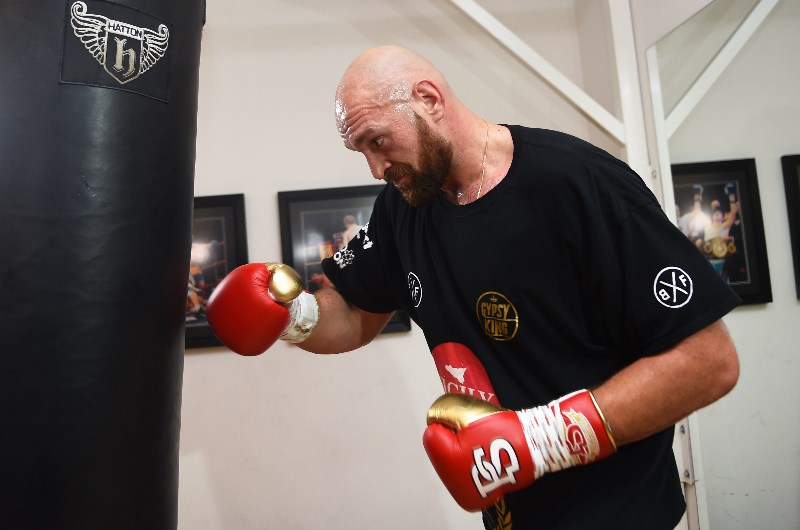 If you intend to back the challenger ahead of this weekend's fight, and you want to receive an expert prediction on how Fury would win, read on.
Fury's Strengths
Size
There is no getting away from the fact that Tyson Fury, at 6' 9" and 260+lbs, is a gigantic physical specimen. Only Russia's two-time WBA heavyweight title holder Nikolai Valuev was bigger than Fury. Valuev was three inches taller at 7' and at 330 lbs, seventy pounds heavier than Tyson, but Nikolai was a bona-fide giant who suffered from Gigantism and an overabundance of growth hormone (Acromegaly). This resulted in his enormous bone structure, and made him appear stiff and robotic in the ring, hampering his speed and ability to throw punches with power. Fury suffers from no such affliction.
Tyson is incredibly light on his feet for a supersized heavyweight and has excellent footwork in the ring. He also has very fast hands, which accompanied by an albatross like 85" reach make for an extremely tough opponent to outbox, especially at a distance. His massive frame which carries anything from 250 to 270 lbs comfortably, allows him to both absorb heavy punishment, and be extremely effective in the clinches.
Boxing IQ
Tyson has often spoken of being "bred for fighting", and being a "born fighting man", the son of Gypsy John Fury, who aside from being an undefeated bareknuckle champion was also a pretty useful pro heavyweight who fought Lennox Lewis.
Because Tyson has been boxing since childhood, his "muscle memory" for fighting will be exceptional, and he will do many things in the ring automatically that other fighters would have to think of. This leaves Tyson's mind clear to think on another level in the ring, and results in Fury being several moves ahead of his opponent, rather like a boxing grandmaster.
Ability To "Switch Hit"
Although Fury is predominantly an orthodox boxer who leads with his left jab, he can box just as well from a southpaw stance, i.e., shifting sides so that he is leading with a right jab and his left has become his power punch. This practice is called "Switch Hitting", and is attempted by many but mastered by few, Prince Naseem Hamed being a famous exponent. Employing such a tactic effectively will confuse an opponent, and can provide openings in a rival's defence that weren't previously accessible.
Ability To Relax In The Ring
Very few fighters can relax in the ring, which is no great surprise, as there are few places on earth which guarantee physical danger more than a boxing ring. Archie Moore, Muhammad Ali, George Foreman (Mark II) and James Toney all had that same innate ability to relax during even their biggest world title bouts. Such a talent allows a fighter to pick up on more of what's happening in the ring and stay one step ahead of their stressed-out rival.
Fury's Weaknesses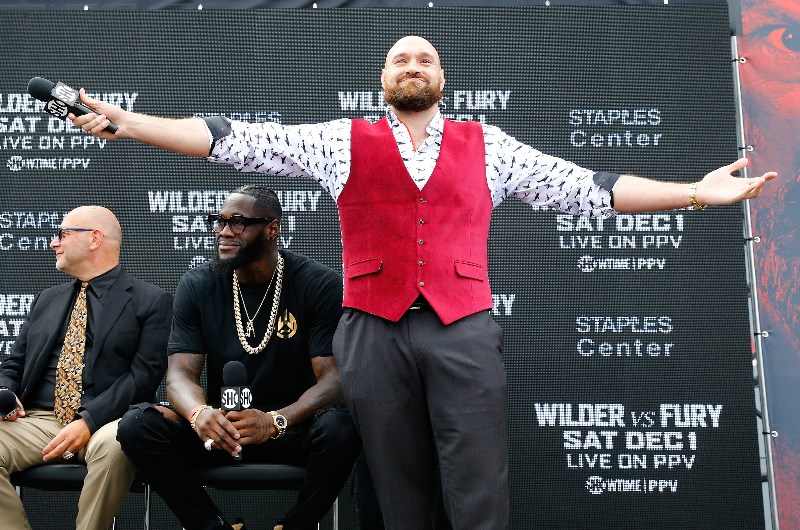 Lack Of A Big Punch
The one thing lacking from Tyson Fury's arsenal is an "Eraser", that big punch that can change the course of a fight in an instant. Of course, anyone who weighs as much as Tyson and has his size and strength can unleash what would likely be a KO punch, and Fury has knocked down and even knocked out opponents in the past. That said, Tyson would be the first to admit he lacks that sudden, explosive power punch that the likes of Joshua, Wilder, Dillian Whyte and Luis Ortiz can land without thinking, with no preparation and even when off balance.
Interestingly, in his final two weeks of training, Fury has drafted in Hall of Fame trainer Freddie Roach to assist in his preparation work his corner for the Wilder fight, officially in the role of cutman. Roach is famous for his ability to get the most out of aggressive, come-forward fighters, so one can only wonder if Freddie has been working on some attacking moves with Fury, and looking to add a little more power to Tyson's punches.
Ring Rust
The most worrying factor for Team Fury going in to the biggest fight of his career is ring rust. Fury relinquished his titles just months after winning them, and subsequently ballooned up to 400 lbs on a diet of junk food washed down with copious amounts of beer and other forms of alcohol.
Such binges would invariably be followed by Class A drug use, a pastime Tyson admits he indulged in regularly. Such behaviour, especially from a normally highly disciplined professional athlete, can only lead to self-revulsion, and Tyson is open about attempting suicide on at least one occasion.
A psychiatric evaluation would reveal Fury had suffered an emotional breakdown due to extreme clinical depression. After months of therapy, Fury rediscovered his passion for boxing, and decided to return to the ring.
Initially Tyson had to shed much of his excess poundage as possible, then focus on regaining a level of fitness before embarking on a rigorous training camp, and lastly, climbing back into the ring and competing again.
After two comeback fights – against Albanian cruiserweight Sefer Seferi who retired after four rounds, and Italian former European champion Francesco Pianeta who lasted the ten round distance.
Although most observers including Fury's manager Frank Warren were of the opinion that Tyson needed at least two more tune-up fights, within days he had signed to fight Deontay Wilder in his next bout.

Because of such limited action against B-level opposition, there is genuine concern that Fury will be rusty come fight night, something Tyson himself vehemently denies. There have been examples of fighters returning from even longer exiles and winning or regaining world titles. Sugar Ray Leonard had fought nine competitive rounds in five years when he shocked the world and defeated Marvin Hagler in 1987.
Vitali Klitschko was forced to abandon his WBC title due to chronic back and leg issues in 2004. After four years away, Vital went straight into a fight with defending champion Samuel Peter in 2008, winning easily in eight one-sided rounds.
What Fury Must Do
Plain and simple, Fury must be on point from the first bell till the last, just as he was against Klitschko, but even more so. His best chance of winning is via a wide points decision, and he can achieve this by keeping his jab in Wilder's face all night, keeping his defence tight and moving constantly, therefore not giving Wilder a static target. Can Tyson pull this off after so little preparation? We will see on Saturday.
How Fury Would Win
In the same vein, if Fury is to defeat Wilder, it will likely be via a point's decision, and will need to be decisive enough so that even the most biased judge cannot "rob" him. In order to achieve this, Tyson needs to stamp his authority on the fight early and show Wilder he means business, ideally by taking control of the centre of the ring.
The addition of Freddie Roach may lead to Fury throwing his punches with more aggression, but he is unlikely to suddenly go head-hunting and looking for the KO. If Fury were to win on Saturday, it will be down to him carrying out a well-orchestrated game plan to perfection.
Upcoming Events
Boxing Previews & Tips