George Groves And Chris Eubank Jr. Set To Meet In A Thriller
George Groves and Chris Eubank Jr fight for the WBA Super Middleweight title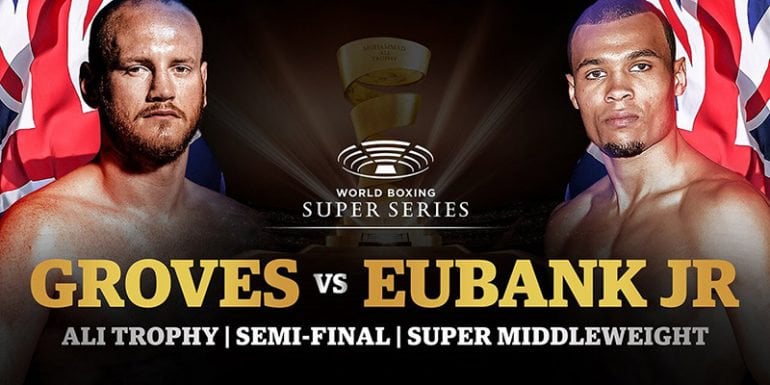 H

ammersmith's "Saint George" Groves defends his WBA Super Middleweight title against Chris Eubank Jr. in a highly anticipated matchup which takes place at the Manchester Arena, Manchester, England on February 17. Groves vs Eubank Jr. is also a semifinal bout in the World Boxing Super Series (WBSS).
There will be no love lost when George Groves and Chris Eubank Jr. come face to face in Manchester next weekend (Saturday, February 17). Groves, who brings his WBA super middleweight title to this fight regards Eubank Jr. as overrated and inexperienced, and has pledged to hand him a boxing lesson. Meanwhile, the supremely confident Eubank Jr. has promised to win by spectacular knockout.
Both Groves and Eubank Jr. are slick boxers who can punch, they are the same height and reach, and there is only a year between them in age. However, that's where the similarity stops. 29-year-old Groves (27-3, 20 KOs) has been involved in big fights before, none more so than his 2014 rematch with Carl Froch at Wembley Stadium in front of 80,000 fans. He has been beaten three times and KO'd twice, but has been mixing with elite-level fighters since knocking out Kenny Anderson in six rounds back in 2010. He has rebounded from adversary to become a world champion at the fourth time of asking.
For 28-year-old Eubank Jr. ( 26-1, 20 KOs) this will be by far his biggest fight, both as an event and as a test of his boxing ability and character. Thus far the youngster has impressed every time he has stepped up in class, but in Groves he will be taking on arguably the best 168-pounder in boxing right now.
Who Is George Groves?
George Groves first came to the attention of the British sporting public when he squared off against former amateur rival and Olympic gold medal winner James DeGale in 2011 at the O2 Arena in London in front of 20,000 fans. Both Groves and DeGale were little more than talented novices - Groves was taking part in his 13th fight, DeGale his 11th - but thanks to sound matchmaking by Frank Warren, the event was a huge success.
Six months earlier, Groves had been badly rocked in a thriller for the British and Commonwealth titles against undefeated Scotsman Kenny Anderson, before coming on strong and knocking out Anderson in the sixth round. Because of such fights, Groves had earned himself a reputation for being a boxer-puncher, with the emphasis on puncher, but against DeGale he reverted to the slick boxing he had displayed in his amateur days, and won a close split decision.
The win against DeGale gave Groves a world ranking, and he pushed on with victories against quality opponents like Paul Smith and Glen Johnson, then began haranguing reigning IBF and WBA super middleweight champion Cal Froch for a showdown. Froch, the Nottingham hard man whose record reads like a Who's Who of the super middleweight division had just avenged an earlier defeat to Mikkel Kessler in a grueling fight, and was on the verge of retirement. However, the cocky Groves got under Froch's skin, and the two eventually fought in Manchester in 2013.
Groves vs Froch
In the opening round, Groves caught Froch with a perfect straight right hand which poleaxed his rival. However, Froch has quite possibly the greatest chin in British boxing history, and he was able to get up from the knocked down and survive the round. However, the knockdown had a lasting effect on Froch, and Groves was in the driving seat for most of the fight. By the ninth round Groves seemed well on his way to victory when suddenly, Froch caught and staggered him. Froch threw a flurry of punches, most of which missed their target, but nevertheless, in one of the most bizarre refereeing actions you are likely to see, referee Howard John Foster jumped in and stopped the contest in Froch's favor.
The resulting furor over Foster's call meant that a rematch was inevitable. Froch's promoter Eddie Hearn did a masterful job on turning what was already a highly anticipated rematch into a crossover event, big enough to sell out London's 80,000 capacity Wembley Stadium.
The fight took place six months after the first one in May 2014, and once again Groves began strongly, boxing beautifully and controlling the fight, although he was unable to catch Froch with any big punches. Out of the blue in the eighth round, it was Froch who landed the punch of his career, a booming right to the jaw of Groves that rendered him unconscious before he hit the deck. In two fights against the best British fighter of recent years, Groves and had his moments, but had ultimately suffered back-to-back knockout defeats.
World Champion At Last
Losing the Froch rematch so dramatically and conclusively was a shattering setback for Groves, who aged just 25 seemed finished as a fighter. However, Groves was to prove he is made of stern stuff. He won some fights and reestablished himself as a top contender, but suffered another heartbreaking defeat, this time on a split decision against the super tough Badou Jack in Las Vegas. Undeterred, Groves landed a fourth world title fight, this time against the dangerous Russian Fedor Chudinov in 2017.
Chudinov's only defeat had been against the vastly experienced Felix Sturm in a WBA title fight, in which Sturm would later fail a drug test for PED's. The Russian was the same age as Groves, was as tough as they come, and hit hard. However, on the night it was Groves who hit harder, landing a tremendous barrage of punches in the sixth round which ended the fight. Groves was world champion at the fourth attempt.
Since then, Groves has defended his title against the undefeated Jamie Cox, winning impressively by KO in four rounds. That fight was also a quarterfinal in the World Boxing Super Series, a lucrative international competition put together by promoter Richard Schaefer. The winner of Groves vs Eubank Jr. will progress to the final, where they will face the winner of the other semifinal between Liverpool's Callum Smith and German veteran Juergen Braehmer.
Who Is Chris Eubank Jr.?
Chris Eubank Jr. is the son of former WBO middleweight and super middleweight champion Chris Eubank, one of the most famous and high profile British boxers of the past 30 years. During the 1990s, Eubank Senior's epic encounters with Nigel Benn, Michael Watson and Steve Collins drew huge crowds and millions of viewers on terrestrial television.
Eubank Senior was an excellent boxer, a vicious puncher when he wanted to be, and a true warrior in the ring. Outside of the ring he gained attention for his eccentric behavior which included the "posh" manner in which he spoke (and still speaks), his penchant for tweed suits, jodhpurs and monocles, and his taste in cars which included Aston Martins, Bentley convertibles, and an enormous American truck.
Eubank Jr. vs Saunders
When Chris Eubank Jr. first appeared on the scene, it was clear that he had many of his father's mannerisms in terms of ring arrogance and confidence, but lacked his father's eccentric behavior. Despite very little amateur experience, Eubank Jr. displayed plenty of talent and physicality, and looked impressive blowing away a string of second and third rate fighters, all on national television.
Despite beating nobody of note, in 2014 he landed a fight with the future WBO middleweight champion Billy Joe Saunders, and even though he lost, Eubank Jr. gave a surprisingly good account of himself, especially in the second half of the fight.
Thrashing King Arthur
The loss to Saunders certainly didn't harm his career, and if anything gave him the belief that he could mix it with the best. Stoppage victories over Dimitri Chudinov, Tony Jeter, Gary "Spike" O'Sullivan, Nick Blackwell and Renold Quinlan (for the IBO super middleweight belt) led to a WBO title eliminator with former middleweight and super middleweight champion "King" Arthur Abraham in 2017.
At his best, Abraham was a tremendous competitor and a devastating puncher, but at 37 years old, he could do little to match the work-rate of Eubank Jr. who won a one-sided points decision. Following the Abraham victory, Eubank Jr. was invited to take part in the World Boxing Super Series, and in his first fight scored a career-best victory, icing the previously undefeated and highly regarded Turk Avni Yildirim in three rounds. So impressive was the win, in many people's eyes Eubank Jr. suddenly became the favorite to win the WBSS, and lift the Muhammed Ali trophy.
Who Wins?
Despite his impressive win over Yildirim, the truth is Eubank Jr. is not a big puncher, especially at 168 lbs. In his fights against the likes of Spike O'Sullivan and Nick Blackwell, Eubank Jr. was teeing off at will, and yet barely budged his opponents. He was a middleweight until he faced Quinlan for the IBO belt last February, and still looks like a little small at super middleweight. By comparison, George Groves has always been a super middleweight, could probably compete at light heavyweight, and will certainly be by far the bigger man on fight night.
While Eubank Jr. often looks impressive and even spectacular in the ring with his volume punching and looping uppercuts, he still lacks the rudimentary boxing skills that are only learned from a lengthy amateur career and plenty of professional experience.
Groves may be less flashy, but he has the skills to pick apart Eubank Jr's style and exploit his shortcomings. Eubank Jr's only chance of winning is to score a KO, but Groves takes a good shot and has only been KO'd by Froch, who was a world-class puncher.
If Eubank Jr. cannot knock out Groves, he cannot beat him on points because he does not possess the skills to do so. Therefore, if George Groves keeps his cool, boxes behind his jab, and lets his right hand go just enough to maintain his authority, he wins this fight surprisingly easily.
George Groves To Win By Decision
Upcoming Events
Boxing Previews & Tips