T20 World Cup Winners List & Tournament History
Full list of the T20 World Cup champions
The 20-over competition was first stage in 2007
Full history of the T20 World Cup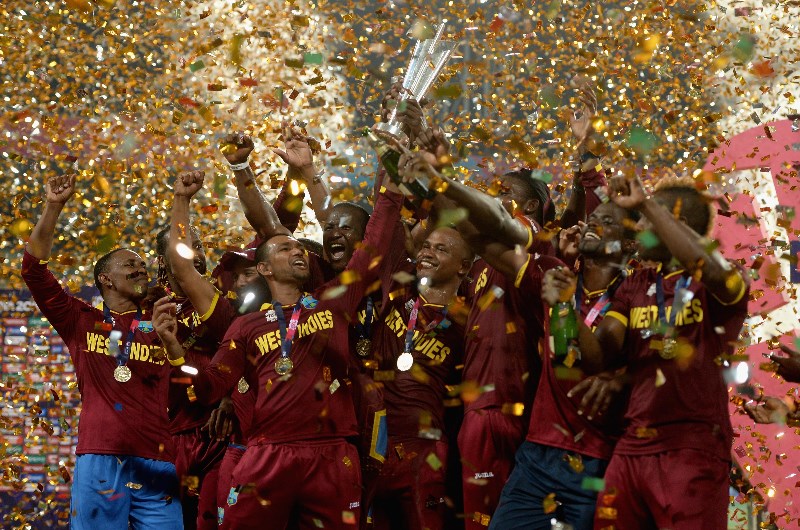 The West Indies lift the ICC World T20 trophy in 2016 (Getty Images)
The first T20 World Cup was held in South Africa in 2007, where two associate teams joined the ten Test-playing nations.
The first tournament in 2007 was won by India, while Pakistan won the second edition in 2009.
England grabbed their first-ever ICC World title (in any format) in 2010.
West Indies are the most successful side in this format, having won the titles in 2012 and 2016, the most recent edition in 2016 when defeating England in final.
Sri Lanka also have a rich pedigree in this tournament, with one title in 2014 and two runners-up performances.
The next World Cup, which will be the seventh edition, is scheduled to take place in 2021 in UAE and Oman.

T20 World Cup Winners
| Year | Winners | Runners-Up | Host Country |
| --- | --- | --- | --- |
| 2007 | India | Pakistan | South Africa |
| 2009 | Pakistan | Sri Lanka | England |
| 2010 | England | Australia | West Indies |
| 2012 | West Indies | Sri Lanka | Sri Lanka |
| 2014 | Sri Lanka | India | Bangladesh |
| 2016 | West Indies | England | India |
History
The 20-over format was first introduced to the world by the England Cricket Board, which was looking for ways to arrest the fading interest and boost the popularity with the younger generation.
After the initial steps were taken in England, the first full international Twenty20 match was played between Australia and New Zealand on 17 February 2005.
It was then decided that a global tournament would be conducted on the lines of the 50-over World Cup, to ensure global recognition for the format.
It was first decided that every two years, an ICC World Twenty20 tournament will take place, except in the event of an ICC 50-over Cricket World Cup scheduled in the same year.