2019 CAF Africa Cup of Nations Groups & Match Fixtures
All the groups and match information for the tournament in Egypt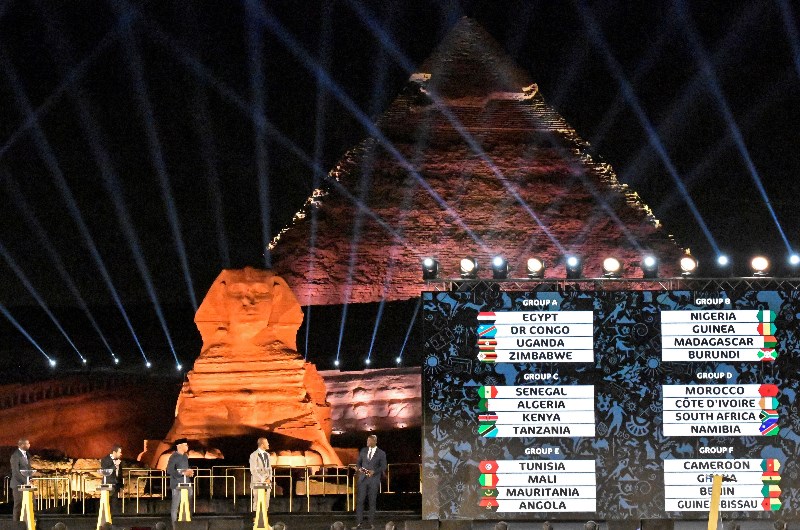 The 2019 CAF African Cup of Nations draw ceremony was held in front of the Sphinx and Giza Pyramids Necropolis in Egypt (Getty Images)
The
2019 Africa Cup of Nations
draw has been made with some interesting groups for the tournament in Egypt. The continent's elite nations will face each other as they attempt to claim Africa's number one football prize.
Hosts Egypt and Nigeria appear to have been given a relatively easy passage to the knockout rounds. There always has to be a group of death at international tournaments with Group D filling that role, three former champions all drawn together with Morocco, Ivory Coast and South Africa vying for top spot and Namibia likely to be the whipping boys.
2019 Africa Cup of Nations Groups
Seven-time champions and hosts Egypt have been handed a favourable draw are almost certain to progress from Group A alongside DR Congo, Uganda and Zimbabwe. Group B features three-time winners Nigeria who will fancy their chances against Guinea, Madagascar and Burundi.
Senegal and Algeria should battle for supremacy in Group C alongside Kenya and Tanzania. Group D is undoubtedly the proverbial group of death with three former champions Morocco, Ivory Coast and South Africa attempting to progress at the expense of Namibia.
The 2004 AFCON winners Tunisia are set to do battle against Mali, Mauritania and Angola in Group E. Defending champions Cameroon will contest Group F alongside four-time winners Ghana, Republic of Benin and Guinea-Bissau.
| Group A | Group B | Group C | Group D | Group E | Group F |
| --- | --- | --- | --- | --- | --- |
| Egypt | Nigeria | Senegal | Morocco | Tunisia | Cameroon |
| DR Congo | Guinea | Algeria | Ivory Coast | Mali | Ghana |
| Uganda | Madagascar | Kenya | South Africa | Mauritania | Republic of Benin |
| Zimbabwe | Burundi | Tanzania | Namibia | Angola | Guinea-Bissau |
2019 Africa Cup of Nations Cup Match Schedule & Fixtures
Hosts Egypt will contest the first match against Zimbabwe at the Cairo International Stadium on 12 June. There will be 52 matches played at the tournament with the final held at the Cairo International Stadium on 19 July. All times are local, CAT (UTC+2).
| Date | Time (CAT) | Nation | Nation | Stadium | City | Stage |
| --- | --- | --- | --- | --- | --- | --- |
| 21 June 2019 | 22:00 | Egypt | Zimbabwe | Cairo International Stadium | Cairo | Group A |
| 22 June 2019 | 16:30 | Congo DR | Uganda | Cairo International Stadium | Cairo | Group A |
| 22 June 2019 | 19:00 | Nigeria | Burundi | Alexandria Stadium | Alexandria | Group B |
| 22 June 2019 | 22:00 | Guinea | Madagascar | Alexandria Stadium | Alexandria | Group B |
| 23 June 2019 | 16:30 | Morocco | Namibia | Al Salam Stadium | Cairo | Group D |
| 23 June 2019 | 19:00 | Senegal | Tanzania | 30 June Stadium | Cairo | Group C |
| 23 June 2019 | 22:00 | Algeria | Kenya | 30 June Stadium | Cairo | Group C |
| 24 June 2019 | 16:30 | Ivory Coast | South Africa | Al Salam Stadium | Cairo | Group D |
| 24 June 2019 | 19:00 | Tunisia | Angola | Suez Stadium | Suez | Group E |
| 24 June 2019 | 22:00 | Mali | Mauritania | Suez Stadium | Suez | Group E |
| 25 June 2019 | 19:00 | Cameroon | Guinea-Bissau | Ismailia Stadium | Ismailia | Group F |
| 25 June 2019 | 22:00 | Ghana | Benin | Ismailia Stadium | Ismailia | Group F |
| 26 June 2019 | 16:30 | Nigeria | Guinea | Alexandria Stadium | Alexandria | Group B |
| 26 June 2019 | 19:00 | Uganda | Zimbabwe | Cairo International Stadium | Cairo | Group A |
| 26 June 2019 | 22:00 | Egypt | Congo DR | Cairo International Stadium | Cairo | Group A |
| 27 June 2019 | 16:30 | Madagascar | Burundi | Alexandria Stadium | Alexandria | Group B |
| 27 June 2019 | 19:00 | Senegal | Algeria | 30 June Stadium | Cairo | Group C |
| 27 June 2019 | 22:00 | Kenya | Tanzania | 30 June Stadium | Cairo | Group C |
| 28 June 2019 | 16:30 | Tunisia | Mali | Suez Stadium | Suez | Group E |
| 28 June 2019 | 19:00 | Morocco | Ivory Coast | Al Salam Stadium | Cairo | Group D |
| 28 June 2019 | 22:00 | South Africa | Namibia | Al Salam Stadium | Cairo | Group D |
| 29 June 2019 | 16:30 | Mauritania | Angola | Suez Stadium | Suez | Group E |
| 29 June 2019 | 19:00 | Cameroon | Ghana | Ismailia Stadium | Ismailia | Group F |
| 29 June 2019 | 22:00 | Benin | Guinea-Bissau | Ismailia Stadium | Ismailia | Group F |
| 30 June 2019 | 18:00 | Madagascar | Nigeria | Alexandria Stadium | Alexandria | Group B |
| 30 June 2019 | 18:00 | Burundi | Guinea | Al Salam Stadium | Cairo | Group B |
| 30 June 2019 | 21:00 | Uganda | Egypt | Cairo International Stadium | Cairo | Group A |
| 30 June 2019 | 21:00 | Zimbabwe | Congo DR | 30 June Stadium | Cairo | Group A |
| 1 July 2019 | 18:00 | South Africa | Morocco | Al Salam Stadium | Cairo | Group D |
| 1 July 2019 | 18:00 | Namibia | Ivory Coast | 30 June Stadium | Cairo | Group D |
| 1 July 2019 | 21:00 | Kenya | Senegal | 30 June Stadium | Cairo | Group C |
| 1 July 2019 | 21:00 | Tanzania | Algeria | Al Salam Stadium | Cairo | Group C |
| 2 July 2019 | 18:00 | Benin | Cameroon | Ismailia Stadium | Ismailia | Group F |
| 2 July 2019 | 18:00 | Guinea-Bissau | Ghana | Suez Stadium | Suez | Group F |
| 2 July 2019 | 21:00 | Mauritania | Tunisia | Suez Stadium | Suez | Group E |
| 2 July 2019 | 21:00 | Angola | Mali | Ismailia Stadium | Ismailia | Group E |
| 5 July 2019 | 18:00 | Morocco | Benin | Al Salam Stadium | Cairo | Round of 16 |
| 5 July 2019 | 21:00 | Uganda | Senegal | Cairo International Stadium | Cairo | Round of 16 |
| 6 July 2019 | 19:00 | Nigeria | Cameroon | Alexandria Stadium | Alexandria | Round of 16 |
| 6 July 2019 | 21:00 | Egypt | South Africa | Cairo International Stadium | Cairo | Round of 16 |
| 7 July 2019 | 18:00 | Madagascar | DR Congo | Alexandria Stadium | Alexandria | Round of 16 |
| 7 July 2019 | 21:00 | Algeria | Guinea | 30 June Stadium | Cairo | Round of 16 |
| 8 July 2019 | 19:00 | Mali | Ivory Coast | Suez Stadium | Suez | Round of 16 |
| 8 July 2019 | 21:00 | Ghana | Tunisia | Ismailia Stadium | Ismailia | Round of 16 |
| 10 July 2019 | 19:00 | Senegal | Benin | 30 June Stadium | Cairo | Quarter Final |
| 10 July 2019 | 21:00 | Nigeria | South Africa | Cairo International Stadium | Cairo | Quarter Final |
| 11 July 2019 | 19:00 | Ivory Coast | Algeria | Al Salam Stadium | Cairo | Quarter Final |
| 11 July 2019 | 21:00 | Madagascar | Tunisia | Suez Stadium | Suez | Quarter Final |
| 14 July 2019 | 18:00 | Senegal | Tunisia | 30 June Stadium | Cairo | Semi Final |
| 14 July 2019 | 21:00 | Algeria | Nigeria | Cairo International Stadium | Cairo | Semi Final |
| 17 July 2019 | 21:00 | Tunisia | Nigeria | Al Salam Stadium | Cairo | Third Place Playoff |
| 19 July 2019 | 21:00 | Senegal | Algeria | Cairo International Stadium | Cairo | Final |
2019 Africa Cup of Nations Previews & Tips