2019 CONMEBOL Copa America Groups & Match Fixtures
All the groups and match information for the tournament in Brazil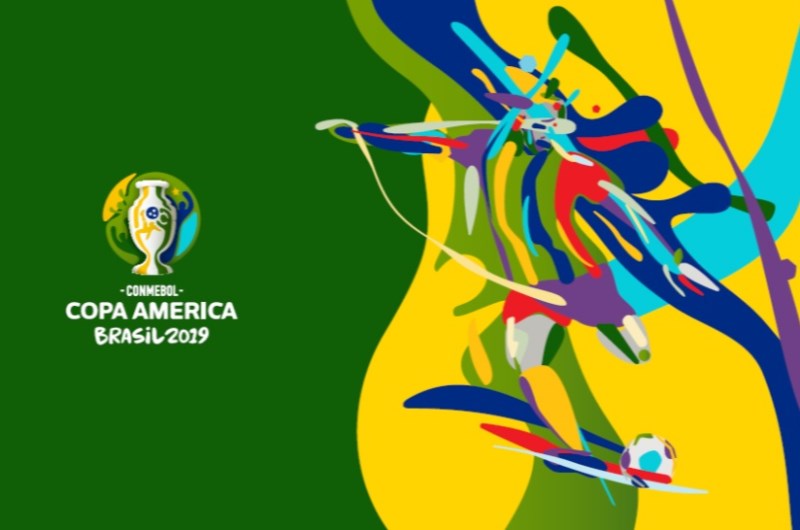 The
2019 CONMEBOL Copa America
will be hosted in Brazil and takes place between 14 June and 7 July 2019. The opening match features host nation Brazil against Bolivia at the Estádio do Morumbi in São Paulo on 14 June and conclude with the Final at the Estádio do Maracanã in Rio de Janeiro on 7 July.
We have all the 2019 CONMEBOL Copa America groups & match fixtures including date, stadium and time so you don't miss a minute of the action.

Six stadiums in five cities will host matches at the tournament which will feature all 10 CONMEBOL nations Brazil, Argentina, Bolivia, Chile, Colombia, Ecuador, Paraguay, Peru, Uruguay and Venezuela alongside invited AFC nations Japan and Qatar.
2019 CONMEBOL Copa America Groups
Hosts and eight time champions Brazil have been drawn favourable opponents in Group A with Bolivia, Venezuela and Peru not expected to offer much resistance. Record winners Uruguay are in Group C with tricky opponents in Ecuador, Japan and Chile. Argentina are in Group B alongside Colombia, Paraguay and Qatar.
We have everything you need to know about all 12 team including tournament history, best performances, manager, squads and key players.

| Group A | Group B | Group C |
| --- | --- | --- |
| Brazil | Argentina | Uruguay |
| Bolivia | Colombia | Ecuador |
| Venezuela | Paraguay | Japan |
| Peru | Qatar | Chile |
There will be 26 matches played at the tournament with the final held at the Estadio do Maracana in Rio de Janeiro on 7 July 2019. All times are local, BRT (UTC−3).
2019 CONMEBOL Copa America Match Schedule & Fixtures
| Date | Time | Nation | Nation | Stadium | City | Stage |
| --- | --- | --- | --- | --- | --- | --- |
| 14 June 2019 | 21:30 | Brazil | Bolivia | Morumbi Stadium | Sao Paulo | Group A |
| 15 June 2019 | 16:00 | Venezuela | Peru | Arena do Gremio | Porto Alegre | Group A |
| 15 June 2019 | 19:00 | Argentina | Colombia | Itaipava Arena Fonte Nova | Salvador | Group B |
| 16 June 2019 | 16:00 | Paraguay | Qatar | Estadio do Maracana | Rio de Janeiro | Group B |
| 16 June 2019 | 20:00 | Uruguay | Ecuador | Estadio Mineirao | Belo Horizonte | Group C |
| 17 June 2019 | 20:00 | Japan | Chile | Estadio do Morumbi | Sao Paulo | Group C |
| 18 June 2019 | 21:30 | Brazil | Venezuela | Itaipava Arena Fonte Nova | Salvador | Group A |
| 18 June 2019 | 18:30 | Bolivia | Peru | Estadio do Maracana | Rio de Janeiro | Group A |
| 19 June 2019 | 21:30 | Argentina | Paraguay | Estadio Mineirao | Belo Horizonte | Group B |
| 19 June 2019 | 18:30 | Colombia | Qatar | Estadio do Morumbi | Sao Paulo | Group B |
| 20 June 2019 | 20:00 | Uruguay | Japan | Arena do Gremio | Porto Alegre | Group C |
| 21 June 2019 | 20:00 | Ecuador | Chile | Itaipava Arena Fonte Nova | Salvador | Group C |
| 22 June 2019 | 16:00 | Peru | Brazil | Arena Corinthians | Sao Paulo | Group A |
| 22 June 2019 | 16:00 | Bolivia | Venezuela | Estadio Mineirao | Belo Horizonte | Group A |
| 23 June 2019 | 16:00 | Qatar | Argentina | Arena do Gremio | Porto Alegre | Group B |
| 23 June 2019 | 16:00 | Colombia | Paraguay | Itaipava Arena Fonte Nov | Salvador | Group B |
| 24 June 2019 | 20:00 | Chile | Uruguay | Estadio do Maracana | Rio de Janeiro | Group C |
| 24 June 2019 | 20:00 | Ecuador | Japan | Estadio Mineirao | Belo Horizonte | Group C |
| 27 June 2019 | 21:30 | Brazil | Paraguay | Arena do Gremio | Porto Alegre | Quarter-finals |
| 28 June 2019 | 20:00 | Colombia | Chile | Arena Corinthians | Sao Paulo | Quarter-finals |
| 28 June 2019 | 16:00 | Venezuela | Argentina | Estadio do Maracana | Rio de Janeiro | Quarter-finals |
| 29 June 2019 | 16:00 | Uruguay | Peru | Itaipava Arena Fonte Nova | Salvador | Quarter-finals |
| 2 July 2019 | 21:30 | Brazil | Argentina | Estadio Mineirao | Belo Horizonte | Semi-finals |
| 3 July 2019 | 21:30 | Chile | Peru | Arena do Gremio | Porto Alegre | Semi-finals |
| 6 July 2019 | 16:00 | Argentina | Chile | Arena Corinthians | Sao Paulo | Third Playoff |
| 7 July 2019 | 17:00 | Brazil | Peru | Estadio do Maracana | Rio de Janeiro | Final |
2019 Copa América Previews & Tips