Who Are The Best Coaches In The Business?
The Top-Ten Managers In Football Today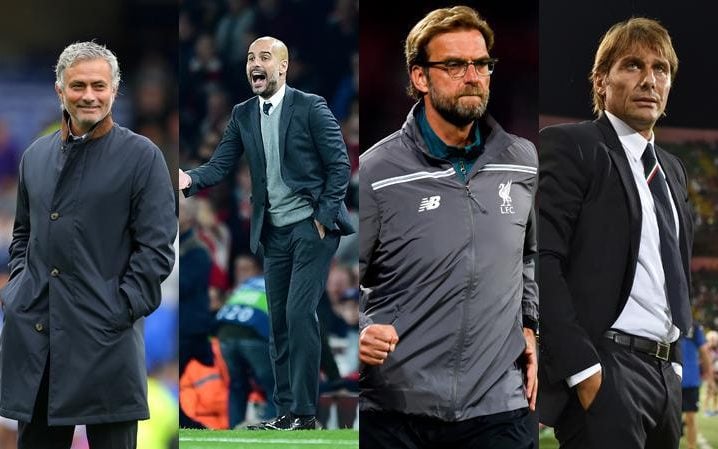 Once it was Scottish managers who took all the top jobs in England, in recent years French, Italian and now Spanish coaches have been in vogue, but who are the World's Top Club Football Managers, and how many of them are currently employed in the Premier League?

As the biggest clubs from Europe's top leagues get ever richer, they attract the best players and increasingly, the best managers from around the world. However, some of the very best managers were former players who ended up managing the club they played for. Other top managers barely played to any standard, yet their understanding of tactics and love of football made them natural management material.
But who are the World's Best Club Football Managers, where do they hail from and which leagues are they to be found in? Below, FreeTips.com lists the World's Ten Best Club Football Managers. Feel free to disagree! Bussiness
10. Rafa Benitez – Newcastle United Premier League (13 Trophies As A Manager)
Once regarded as the best tactician in football, Rafa Benitez has somewhat diluted his brand after dodgy spells at Napoli and Real Madrid, and an unappreciated Europa League winning season managing Chelsea.
Benitez earned his reputation by twice winning La Liga with Valencia, then earning a lifetime of devotion and legendary status among Liverpool supporters by giving them their fifth Champions League trophy in an unforgettable night in Istanbul in 2005.
Many thought that when Benitez took charge of relegation-bound Newcastle United in 2016, he was doing it for a quick paycheck. However Rafa guided Newcastle back to the Premiership at the first opportunity, and despite club owner Mike Ashley failing to grant him the millions he was promised to rebuild the team, Benitez has shown loyalty to the club and fans that will be repaid to him in droves by the Geordie faithful, should the much-talked-about Chinese takeover occur, and Rafa finally get his war chest.
9. Carlo Ancelotti – ex- AC Milan Serie A, Chelsea Premier League, PSG Ligue 1, Bayern Munich Bundesliga (19 Trophies As A Manager)
Players and fans love Carlo Ancelotti, the affable Italian who delivers trophies effortlessly, or at least without the coronary-threatening histrionics of other top coaches. Like the genial Spaniard Vincente Del Bosque, who was sacked by Real Madrid despite winning two Champions Leagues, then led his national team to the World Cup and European Cup, Ancelotti is a laid back figure who treats his players with total respect and lets them express themselves on the pitch. Carlo never fears the sack, because he knows there will always be top clubs after his services. At the time of writing this, both Arsenal and Chelsea have him in their sites.
A superb midfielder who twice won the Champions League as a player with AC Milan, Ancelotti has managed in Italy, England, France, Spain and Germany, and his haul of top trophies stands at 19. He is one of only five managers to win the Champions League with two different clubs. He has delivered the domestic league to every team he has managed except Real Madrid, who had to make do with the Copa Del Rey and a tenth Champions League during his time there.
8. Zinedine Zidane – Real Madrid La Liga (8 Trophies As A Manager)
Zinedine Zidane is one of the greatest players ever to lace on the boots, and few can match his tally of winners medals – both from club and international football. However, despite incredible early success, the jury is still out on Zizou's managerial skills. Is Zidane a great coach, or is it simply a case that everybody who ever plays for him is so in awe, so full of admiration and even love for the man that they will give him 100% every time they cross the white line?
In 2016-17, Zidane's first full season in charge, Madrid won five trophies including La Liga (Real's first in five years), the Champions League and the FIFA Club World Cup. That tally was just a Copa Del Rey short of the windfall of trophies Luis Enrique and Barcelona nabbed the season before.
Zidane's Madrid are unlikely to retain La Liga in 2017-18, but they are still in the hunt for what would be their thirteenth Champions League/European Cup, and his third straight as Madrid manager. Even if they fail to win the UCL, every Real player and Real fan will be praying that his past achievements grant Zidane at least one more season in charge.
7. Luis Enrique – ex-Barcelona La Liga (9 Trophies As A Manager)
He might not be a Catalan (he is from nearby Asturias) but Luis Enrique is cut from the same cloth as Pep Guardiola, and while his Barcelona team might not have been as mesmerizing as that of his former Barca teammate, what it lacked in attacking flair, it made up for with more resolute defending.
When Luis Enrique took over as head coach of the Catalan giants, it was Guardiola who calmed the naysayers, telling the press that he would prove to be a better manager than Pep himself. While it's doubtful that any manager will ever top the sheer perfection that was Guardiola's Barcelona, had Luis Enrique chosen to stay on for an extra season or two, he may well have eclipsed Pep in terms of trophies won, if nothing else.
Luis Enrique edges out Zidane on this list purely because he has proved he can manage a team with no superstars, as he did with his season in charge at Celta Vigo. He showed his managerial chops by taking a team that barely avoided relegation the season before to a solid ninth place finish in La Liga for 2013-14, taking the scalps of teams above them like Sevilla, Valencia, Villarreal and Real Madrid.
Like Guardiola, Luis Enrique found managing Barcelona extremely stressful, and since stepping down in 2017 has been enjoying a complete sabbatical from football. However, at the time of writing this article, he is very much in the frame to become the next manager at either Chelsea or Arsenal.
6. Jurgen Klopp – Liverpool FC Premier League (5 Trophies As A Manager)
If ever they remake the first Die Hard movie, Jurgen Klopp would be perfect to play the Alan Rickman role of Hans Gruber, the German international criminal mastermind, softly spoken and charismatic one minute and then a berserk whirling dervish of manic animation the next.
Behind all of that raw passion and emotion lurks a keen footballing brain, and Klopp is far more tactically astute than he is often given credit for. Klopp is far too intelligent not to be aware of the old cliché which says great teams are "built from the back" and that a rock-solid defense is essential for a championship winning side.
For years Klopp's teams - both Dortmund and now Liverpool – have played exhilarating, attacking football, as if he is saying "Yes, I know that old cliché and I know it's probably true, but look how exciting my teams are!"
At Dortmund, his team was good enough to break Bayern Munich's Bundesliga domination for a couple of seasons, and come within a whisker of winning the Champions League. As he matures, Klopp is becoming more defensively astute, and if his Liverpool side continues to progress at its current rate, he will surely soon be adding the Premier League title to his list of managerial honors.
5. Massimo Allegri - Juventus Serie A (10 Trophies As A Manager)
When Antonio Conte quit Juventus to manage the Italian national team, there were fears that it could spend the end of the "Old Lady's" recent dominance of Serie A. That concern grew into a panic when the reins of Italy's most successful club were handed to Massimo Allegri, former manager of their most hated rivals AC Milan.
Juventus fans loved Antonio Conte because he was one of them, a former Juve player who would go on to become an excellent manager, and one who wasn't afraid to show his passion for the club. The studious, mild-mannered and relatively conservative Allegri was a different kind of manager externally, but in terms of the team, if anything Juventus have improved under his stewardship. They have maintained their attacking flair, but developed a miserly defense which conceded only twice en route to the 2017 Champions League final, which included a 3-0 aggregate win over Barcelona in the semifinals.
Allegri has led Juve to three-straight Serie A titles, and to the final in two of the last three Champions Leagues. Not surprisingly, he has reached the status of always being mentioned whenever top football jobs become available, although it will have to be something very special to prise him away from Juventus.
4. Antonio Conte – Chelsea Premier League (7 Trophies As A Manager)
During press conferences, Antonio Conte often comes across as thoughtful, subdued, even a little shy. That side of his personality is far removed from the pitch-side version of Conte, whose displays of passion and frustration are matched only by Liverpool's' Jurgen Klopp and Atletico Madrid's Diego Simeone.
As a player, Conte turned out almost 300 times for his beloved Juventus, then as a manager, he led the Old Lady to three straight Serie A titles in an era when Inter Milan was the dominant Italian team. Conte then showed himself to be the ultimate patriot by quitting his dream job to coach the Italian national team at Euro 2016, where despite a lack of preparation and a weak squad, they reached the quarterfinals, eliminating double champions Spain along the way.
Later that year Conte would prove himself to be a manager of great versatility when he pitched up in the English Premier League, taking over at Chelsea in the very season that both Pep Guardiola and Jose Mourinho became managers at Manchester City and Manchester United respectively. Conte then proceeded to embarrass his illustrious counterparts by storming to the Premier League title in his first attempt, leaving Pep's City and Jose's United in his wake.
Unfortunately, Conte, like many Chelsea managers before him, is finding his sophomore season tricky. Chelsea owner Roman Abramovich has a notoriously itchy trigger finger and Conte may be looking for a new club sooner than he had anticipated when signing for the Blues. One thing is for certain, should he be handed his P45, Conte will have no shortage of top job offers.
3. Jose Mourinho – Manchester United Premier League (25 Trophies As A Manager)
For 10 years from 2004 to 2014, Jose Mourinho could claim to be the best manager in the world, and while Pep Guardiola had his supporters, the majority of fans, experts and club owners would pick the Portuguese as the safer pair of hands. After all, hadn't he won the domestic league championship in Portugal with Porto, in England with Chelsea, in Italy with Inter and in Spain with Real Madrid? Hadn't he become only the fourth manager to win Champions League trophies with two different teams, doing so with Porto and Inter? Weren't his home defeats at all his clubs so rare, they could be counted on one hand?
Whatever the winning formula was, Jose had it. And then, in 2015 he lost that winning formula, spectacularly. In the second season of his second period in charge of Chelsea, his team went into complete freefall, losing nine games of the opening 15, culminating in a 2-1 defeat at eventual EPL Champions Leicester City, and Mourinho was dismissed.
Nevertheless, Jose's past history of success guaranteed him another big club, and he has been at Manchester United since 2016, although as of yet, has failed to deliver them the Premier League title. The man who set standards never before witnessed when he took over at Chelsea in 2005, who won his second Champions League trophy while guiding Inter Milan to a historic treble, and who led Real Madrid to La Liga right in the middle of the Guardiola era at Barca may have had his day.
While still effective 90% of the time, Mourinho's defensive, counterattacking style of football (some would say anti-football) is increasingly ineffective against the best teams, and unless Jose develops a level of pragmatism and adopts a more attacking stance himself, his days at the very top could be numbered.
2. Diego Simeone – Atletico Madrid La Liga (7 Trophies As A Manager)
Diego Simeone has won just one La Liga title and has never lifted the Champions League trophy, yet some experts would place him top of this list. This is because the Argentinian is, without doubt, the best football "coach" in the world right now, and the second best manager.
What is the difference between a manager and a coach? A manager manages as many aspects of the team and the club as is physically and mentally possible. Famously, Sir Alex Ferguson for years organized everything at Manchester United from the first team to the tea ladies and cleaning staff.
In Spain, the purchase of players is the job of the board or the Director of Football, and the coach then coaches these players to the best of his abilities. However, Simeone also has a strong input into which players are purchased and sold, although in the past, much to his frustration, Atletico's board has sold players like Thibaut Courtois and Diego Costa from under his nose.
Whenever this has happened, Simeone has rebuilt his team, either by bringing young talent through the ranks or purchasing talented underachievers and turning them into high-performing machines on the field. Atletico look set to finish second in La Liga this season, and have finished 3rd, 3rd, 3rd, 1st, 3rd, 5th since Simeone took charge in 2011.
Such is Simeone's charisma and passion for the game, he is the perfect man-manager, not to mention fan-manager. Anyone who plays for the Argentinian falls under his spell and becomes intensely loyal to him. Players will go above and beyond the call of duty, playing as many as 60 games in a season and going well beyond the point of exhaustion, as they did during Atletico's incredible 2013-14 season where they won La Liga and reached the Champions League final. A near-crippled Diego Costa trying valiantly to play in the UCL final is the perfect example of a player's blind loyalty to Simeone.
As for fan-management, Simeone literally conducts the Atletico faithful - just as a conductor would an orchestra - instructing them to cheer louder when Atletico attack, and jeer when the opposition have the ball, turning the Wanda Metropolitano into a cauldron of noise. How many managers have that kind of a relationship with their home fans?
1. Pep Guardiola – Manchester City Premier League (22 Trophies As A Manager)
If Diego Simeone is unmatched for his passion, Pep Guardiola is in a league of his own when it comes to obsessive attention to detail, both with his own team as well as the opposition. Guardiola is truly the Albert Einstein of football, someone who places his players under the microscope, analyzes their strengths and weaknesses, what they do well, and what they don't do enough of.
He has this same obsessive approach when it comes to upcoming games. Pep will analyze the opposition with the single-mindedness of an autistic savant, compiling vast, comprehensive dossiers on opposing teams, and then constructing the perfect plan to defeat them. Considering Guardiola's teams average points-per-game (PPG) is 2.35, and points per season is 94.6 – the highest ever recorded in top-flight football - the man from Catalonia clearly knows what he's doing.
Guardiola delivered three Bundesliga trophies to the Bayern Munich fans during his time in Germany, and while he failed to win the Champions League, statistically he was the best manager in Bundesliga history. Nationalistic veterans among the Bayern hierarchy were forced to admit that Munich under Pep were fitter, faster, and technically better than anyone could remember, even going back to the all-conquering 1970s teams of Udo Lattek, featuring Franz Beckenbauer and Gerd Muller.
Such is the level of intensity he brings to football management, Guardiola needed a year's sabbatical from the game after quitting Barcelona, claiming he was completely burnt out. That may well happen again one day, possibly after he wins the Champions League with Manchester City.
To quote Dr. Eldon Tyrell in conversation with Roy Batty in the movie Blade Runner; "The light that burns twice as bright burns half as long." Because of how much he gives of himself, maybe we won't get to have Pep Guardiola in football management for much longer, so we should all enjoy him while he's here!
English Premier League Previews & Tips