Will Luis Enrique Be The Next Arsenal Boss?
Three Reasons Why Luis Enrique Should Be The Next Arsenal Manager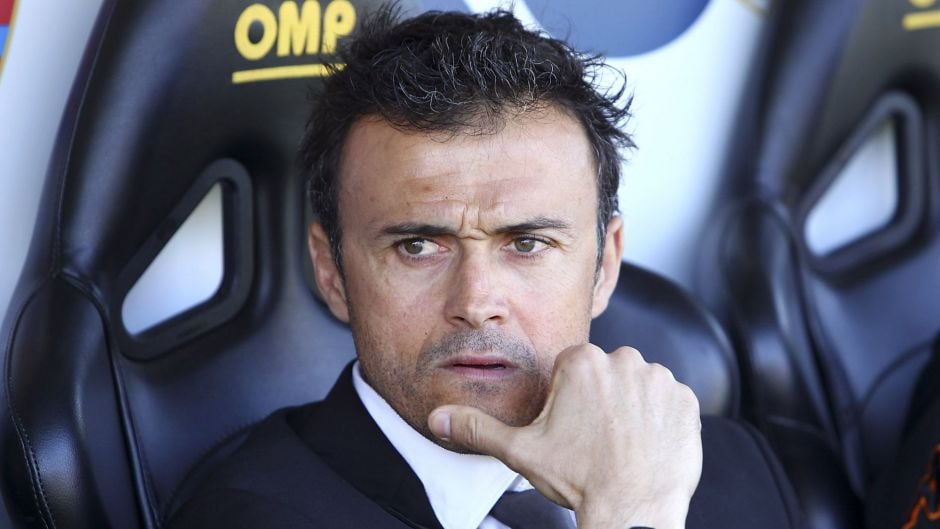 Tabloid speculation increases almost daily as to who will become the next Arsenal manager should Arsene Wenger leave his position at the end of the season. Recently, a new name has come to the fore and looks a great fit: Luis Enrique, the young Spaniard who won nine trophies managing Barcelona.

Arsene Wenger has been in the Arsenal hot seat for 22 years since arriving in 1996. During that time, the Frenchman has won the Premier League three times, the FA Cup a record seven times and taken the Gunners to the Champions League final twice. Much to the consternation of a large percentage of Arsenal followers, Wenger's position at the club seemed bulletproof as long as the team were finishing in the top four positions, virtually guaranteeing them a spot in the lucrative Champions League every season. The Premier League title no longer seemed important as long as Wenger was guaranteeing owner Stan Kroenke and his board of directors tens of millions of pounds in UCL revenue every year.
The End Of Arsene?
Last year was the first time during his reign that Wenger had failed to achieve this feat, finishing fifth, and at the time of writing this article, Arsenal are potentially eight points off fifth-placed Chelsea, making it increasingly unlikely that Wenger will finish in the top four for the second straight season. As a result, the chances of Wenger resigning or getting the sack at the end of this season are greater than at any time in the past 22 years. In recent days, two names have gained a lot of traction with the press as potential Arsenal managers; Carlo Ancelotti and Luis Enrique. Both are currently unemployed and both have enjoyed spectacular success, both as players and managers. Either one of them would be an exciting choice as the new Arsenal manager.
Here we focus on the younger man and look at the three factors why Luis Enrique would be the perfect choice to take over at Arsenal.
1. Pedigree/Big Club Experience
Luis Enrique is one of only a handful of players who have played extensively for both Real Madrid and Barcelona. The Asturian midfielder played five seasons and 157 games for Real Madrid between 1991-96, winning La Liga and Copa Del Rey winners medals, then played a further 207 games for Barcelona from 1996-2004. At Barca he became club captain, and won two La Liga and two Copa winners medals, won the now discontinued UEFA Cup Winners Cup, and the UEFA Super Cup. He played 62 times for the Spanish national team, and was a member of the victorious 1992 Olympic team.
A cultured attacking midfielder, Luis Enrique has taken much of what he learned in his 23-year playing career with Real, Barca and Spain, and transferred it into his managerial style. Not only was he accustomed to playing football in two of the largest and most iconic stadiums in Europe, he also had three seasons as Barcelona manager, spending every other weekend under the glare of 90,000 Catalans in the Camp Nou. By comparison, the Emirates will hold no fears for him.
2. Youth
At 47, Luis Enrique is young for a top-flight manager, super fit (he competes in triathlons for relaxation), and has the same intense focus that his close friend Pep Guardiola has made his hallmark. It was Guardiola who stifled the Catalan press who scorned the Barcelona board for choosing Luis Enrique as manager, stating at the time "he will become more successful than I was." In his first full season at Barcelona, Luis Enrique repaid that faith by winning six trophies.
If Arsenal want to build the next great team, they need a young, ambitious manager who can stay with the club for a decade or more. In ten years' time, Luis Enrique will still be younger than the other main contender for the Arsenal job, Carlo Ancelotti.
3. Ability/Talent
Luis Enrique retired from playing football in 2004. He then took a long break, lived in Australia and mastered the art of surfing. He competed in multiple marathons and Iron Man triathlon events. Possibly his most impressive accomplishment was completing the "Marathon des Sables", an extreme run of six marathons in six days – across the Sahara desert.
Luis Enrique returned to FC Barcelona in 2008 and took over as manager of the Barcelona B team from his friend and former teammate Pep Guardiola, who had just been promoted to coaching the first team. After three successful seasons with Barcelona B, he was offered the chance of managing Serie A giants Roma. The Italians had seen the impact that Guardiola was making at Barcelona, and guessed Luis Enrique offered more of the same. While Roma guessed right, they were two years too early. Despite some good results and exciting football, Luis Enrique quit after one season, with Roma finishing seventh.
In 2013 he took charge at Celta Vigo and took a team that had narrowly avoided relegation the previous season to a ninth-place finish in the table. Luis Enrique's Celta initially struggled, and were themselves in the bottom half of the table for much of the season, before turning the corner, defeating teams like Villarreal, Valencia, Sevilla and Real Madrid to finish the season impressively. At Celtic, Luis Enrique proved beyond doubt that he was a talented coach, and it was his showing with the Galician club that convinced the Barcelona board to recruit him as their manager.
Three Seasons As Barcelona Boss
Luis Enrique managed Barcelona from 2014 until 2017. After a strong start, his relative lack of experience was exposed by Carlo Ancelotti's Real Madrid in his first Clásico as a manager, losing 3-1. To make matters worse, in his very next fixture his team was beaten 1-0 by his former club Celta.
However, six months later when the two teams met again for the reverse fixture, the great strides Luis Henrique had made as Barcelona boss were evident in the way that his team beat their rivals 2-1 in in a highly competitive game. That victory was pivotal, as Barcelona went on to win the league by two points from Madrid.
In his first season as Barcelona boss, Luis Enrique led his team to six trophies, including La Liga, the Champions League and the FIFA Club World Cup. In his second season in charge, the team did the league and cup double, and in his final season, his team finished second, just three points behind Madrid. Although the Barcelona board were more than happy to retain his services, Luis Enrique decided he needed a break from football, and took a year off to recharge his batteries.
Arselona?
Should he decide to take the Arsenal job, the Londoners will certainly be in for an exciting time. Luis Enrique loves to play football in the Barcelona way, but is also mindful of defense, more so than his predecessor Pep Guardiola had been. If he is given the funds he needs, Luis Enrique's team will be an exciting hybrid of all that is great of both Arsenal and Barcelona. Expect to see and hear the term "Arselona" bandied about. Or maybe even Barcenal…!
Upcoming Events
English Premier League Previews & Tips