Uruguay to dominate inferior Group A opponents
South Americans a strong prediction to finish top
Uruguay's Edinson Cavani and Luis Suarez will terrorise the weak defences in Group A. (PABLO PORCIUNCULA/AFP/Getty Images)
2018 World Cup Group A Preview, Predicitons & Betting Tip
Group A offers some intriguing betting options with the World Cup just around the corner. I tipped Uruguay to win Group A in early April and nothing that has happened since to dampen my enthusiasm.
Uruguay finished second behind Brazil in the tough South American qualification group. Uruguay are a talented and dangerous team and should have no problems emerging as winners from Group A.
World Cup Pedigree
La Celeste have a proud record in the World Cup after winning in 1930 on home soil and in 1950 where they defeated host nation Brazil in the final. They reached the quarter-finals in 1966 and finished third in 1970, but had to wait until 2010 for another shot at the biggest prize in football.
Uruguay had a rather easy path to the semi-finals at South Africa 2010, getting past the host nation, France and Mexico in the group stage before defeating South Korea and Ghana to set up a meeting with Holland in the semi-finals.
Diego Forlan cancelled out Giovanni Van Bronckhorst's opener, but two second half goals to Wesley Sneijder and Arjen Robben gave the Dutch a 3-2 win after Maximiliano Pereira's late consolation.
At Brazil 2014 Uruguay lost their opener against Costa Rica but claimed wins against England and Italy to make their second knockout stage in a row. Matched up against Colombia in the Round of 16, a Luis Suarez suspension and man-of-the-match performance from James Rodríguez ended their tournament.
This is their 13th World Cup appearance and their collective experience at this level is a huge bonus against the other nations in Group A.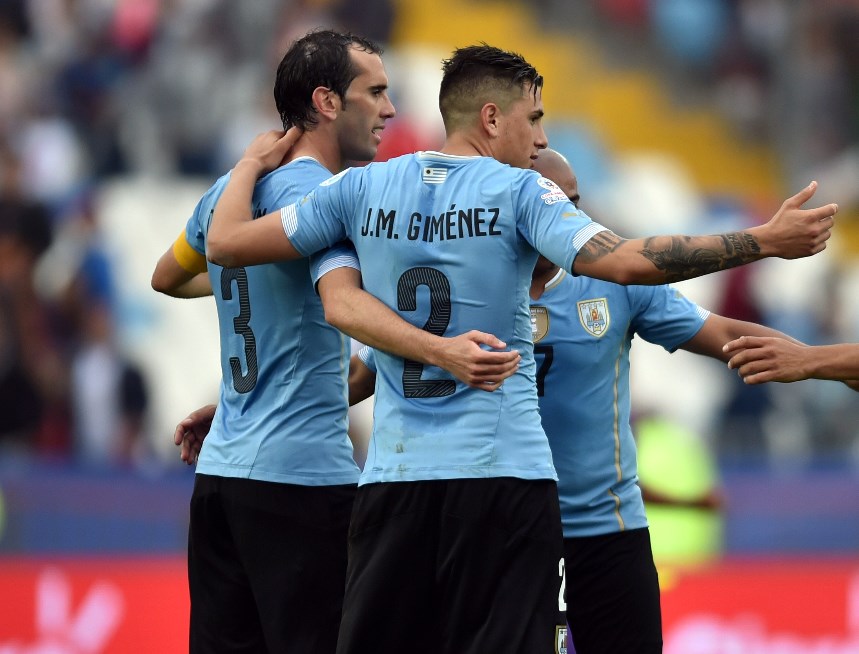 Superior Squad
Transfermarkt.com estimates the market value of the Uruguay squad the ninth most expensive at the tournament at €372 million. Egypt are listed at €197m, Russia at €161m and Saudi Arabia second last in market value at just €19m.
To put that in perspective, Uruguay's striker force of Luis Suárez and Edinson Cavani are valued at a combined €130m, with their central defensive partnership of José Giménez and Diego Godín valued at €75m.
71-year-old manager Óscar Tabárez has been on charge since February 2006 and is the longest serving manager in Russia. Tabárez has ushered in a new midfield that was previously their weakness.
20-year-old Rodrigo Bentancur, Nahitan Nández (22), Lucas Torreira (22) and Matías Vecino (26) are the future and will ensure La Celeste can compete in the most important area of the pitch.
Weak Opponents
This is Russia's 11th World Cup with a fourth place finish in 1966 their best result. They have failed to get out of the group stage in their last four appearances in 2014, 2002, 1994 and 1990.
Manager Stanislav Cherchesov inherited a weak squad that got weaker with injuries to key players, forcing him to coerce 38-year-old Sergei Ignashevich out of retirement. Russia haven't tasted victory in their last seven matches and are unlikely to test Uruguay.
Saudi Arabia are expected to be Group A whipping boys. This will be the Green Falcons' fifth World Cup after featuring in four consecutive tournaments between 1994 and 2006, their best result coming in 1994 when they reached the Round of 16.
A positive result against Russia is essential if they have any chance of getting out of the group but I don't expect them to trouble the might of Uruguay.
That leaves us with Egypt. The Pharaohs played one game at the 1934 World Cup, their only other appearance coming in Italy in 1990 where they went out in the group stage after draws against Holland and Ireland before a 1-0 defeat against England.
The seven time African Cup of Nations winners could be the biggest threat to Uruguay. Talisman and national hero Mohamed Salah is the main weapon, Liverpool's speedster providing an incredible 36 goals and 10 assists for the Reds this season.
Transfermarkt.com calculates Egypt's market value at €197m with Salah estimated at €150m. The next most valuable player is Mohamed Elneny at €10m if you needed any more proof of Salah's importance.
Uruguay take on Egypt first up, and with Salah on his way back from a shoulder injury suffered in the Champions League final, it's another big advantage for the South American nation.
Verdict
Uruguay were listed around 2.10 when I made my initial prediction, now down around 1.80 but that still represents excellent value. I wouldn't be surprised if they win all their group games.
Central defenders José Giménez and Diego Godín have been rock solid for Atletico Madrid who have one of the best defences in world football. Luis Suárez and Edinson Cavani are a lethal strike force that is miles ahead of their Group A opponents.
Take Uruguay with confidence.
Best Bet: Uruguay Group A Winners @ 1.80
Upcoming Events
2022 FIFA World Cup Previews & Tips