El Clasico Top 10 Goalscorers - Lionel Messi Stands Alone
El Clasico features matches between Real Madrid and Barcelona
Some of the best players in football have features for the Spanish giants
Lionel Messi has scored the most goals in El Clasico
Alfredo Di Stéfano, Cristiano Ronaldo and Raul are next best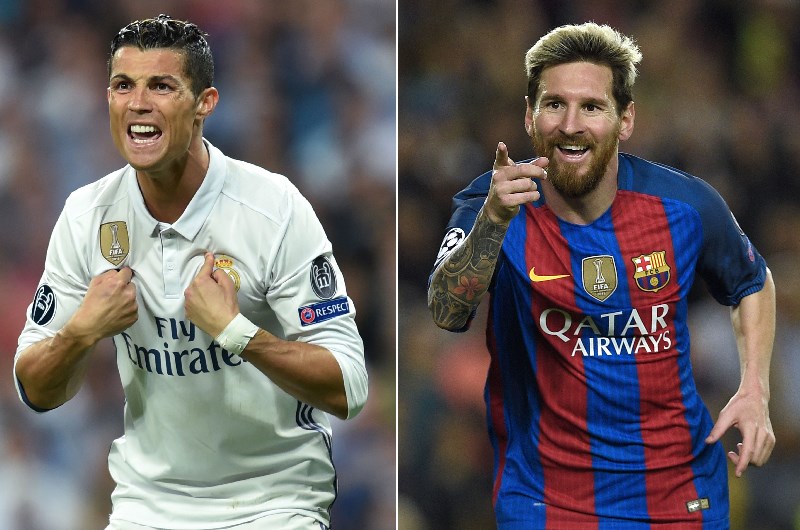 Lionel Messi and Cristiano Ronaldo dominated El Clasico's (Getty Images)


El Clasico - Top 10 Goal Scorers
Barcelona's Lionel Messi is the top scorer in El Clasico. Some of the best football players in history feature in the top 10 list including Cristiano Ronaldo, Alfredo Di Stéfano, Ferenc Puskás, Raúl, Luis Suarez and Karim Benzema.
| Player | Club | La Liga | Copa del Rey | Super Cup | League Cup | Europe | Total |
| --- | --- | --- | --- | --- | --- | --- | --- |
| Lionel Messi | Barcelona | 18 | | 6 | | 2 | 26 |
| Alfredo Di Stefano | Real Madrid | 14 | 2 | 2 | | | 18 |
| Cristiano Ronaldo | Real Madrid | 9 | 5 | 4 | | | 18 |
| Raul | Real Madrid | 11 | | 3 | | 1 | 15 |
| Cesar | Barcelona | 12 | 2 | | | | 14 |
| Francisco Gento | Real Madrid | 10 | 2 | | | 2 | 14 |
| Ferenc Puskas | Real Madrid | 9 | 2 | | | 3 | 14 |
| Santillana | Real Madrid | 9 | 2 | | 1 | | 12 |
| Luis Suarez | Barcelona | 9 | 2 | | | | 11 |
| Karim Benzema | Real Madrid | 7 | 1 | 2 | | | 10 |
| Hugo Sanchez | Real Madrid | 8 | | 2 | | | 10 |
| Juanito | Real Madrid | 8 | | | 2 | | 10 |
| Josep Samitier | Barcelona/Real Madrid | 4 | 6 | | | | 10 |
Let's take a look at ten players who have had the greatest success in scoring goals scored in El Clásico history:
10. Karim Benzema: Real Madrid - 10 El Clasico Goals

Karim Benzema moved to Real Madrid from Olympique Lyon for a trasfer fee of €35m in July 2009. He has helped th club win three La Liga titles, four UEFA Champions League titles, two Copa del Rey titles and three Spanish Super Cups.
The French striker has scored 10 goals against Barcelona in 39 appearances.
9. Luis Suarez: Barcelona - 11 El Clasico Goals

Luis Alberto Suárez Díaz was born in 1987 in Salto, Uruguay and is currently Uruguay's all-time leading goalscorer. Moving to Europe from Uruguay club Nacional, Suarez was prolific at Eredivisie clubs Groningen and Ajax where he won Dutch Footballer of the Year.
Premier League club Liverpool paid Ajax €26.5 million for his services with the striker scoring 31 EPL goals in 2013-14.
FC Barcelona
then paid the Reds €82.3 million to make him one of the most expensive players in football history but it has proved money well spent.
In his first season at Barcelona, Suárez combined with Lionel Messi and Neymar to win the clubs' second continental treble consisting La Liga, the Copa del Rey and the UEFA Champions League. Messi, Suárez, Neymar scored a total of 122 goals that season, the most for an attacking front three in Spanish football history.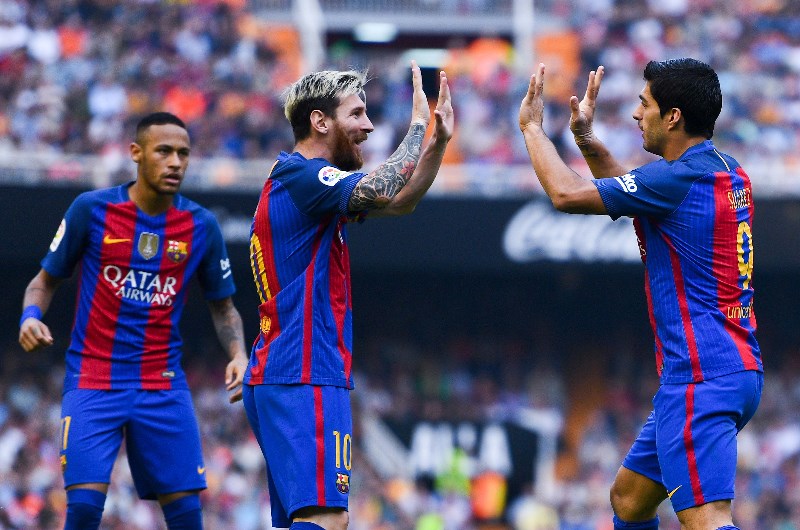 Suarez ended the six-year dominance of Lionel Messi and Cristiano Ronaldo by winning La Liga's Pichichi Trophy in 2016. He ended the 2015-16 season with 40 La Liga goals and 16 assists to become the first player in history to top La Liga in both goals and assists. At the 2011 Copa América, Suárez scored four goals as Uruguay won a record fifteenth Copa América and was named Player of the Tournament.
Suarez is on track to climb into the top five scorer list in El Clasico history. His brace in the 2018-19 Copa del Rey semi-final second leg 3-0 win took the Uruguayan to 11 El Clasico goals, climbing above Josep Samitier, Juanito and Hugo Sanchez who all finished with 10 each.
8. Santillana: Real Madrid - 12 El Clasico Goals

Born in 1952, Carlos Alonso González known as Santillana, lacked the fame of his Real Madrid predecessors such as Gento, Alfredo Di Stefano and Ferenc Puskas, or the strikers who followed such as Emilio Butragueño, Hugo Sanchez and Raul, but few players could match his extraordinary achievements.

In a 17-year career at Real, Santillana played as a center forward 461 times, scoring 186 goals. He helped Real win nine La Liga titles and four Copa del Rey trophies. Santillana also played 56 games for Spain, and represented his country in two World Cups.

7. Ferenc Puskas: Real Madrid – 14 El Clásico Goals
One of the most beloved footballers of all time, Ferenc Puskas was the star player in the legendary "Mighty Margyars" of the 1950s. He was part of a Hungary team that revolutionized football with an early variation of "Total Football" that Netherlands would make famous in the 1970s.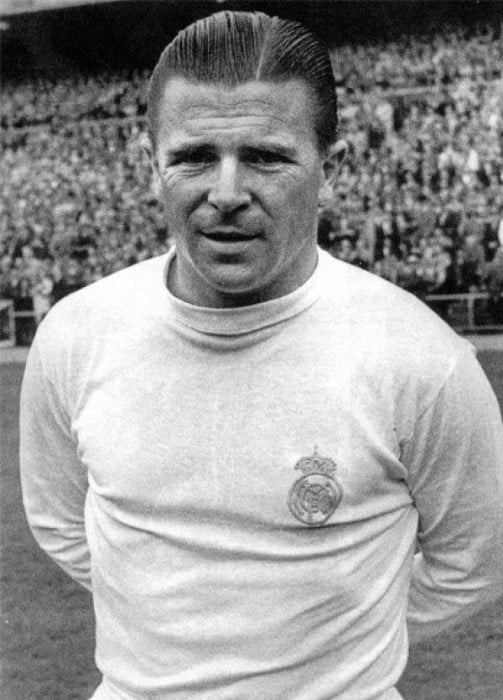 Puskas will always be remembered for his part in Hungary's 6-3 hammering of England at Wembley in 1953, when 105,000 watched him score twice and dominate the game. Puskas became an international superstar when he joined Real Madrid in 1958.
Despite being 31 and overweight, Puskas – along with strike partners Alfredo Di Stefano and Gento - helped Real achieve unequaled success, winning five La Liga titles and three European Cups during his eight years at the club.
Puskas scored a phenomenal 156 goals in 180 games for Real, but his record with Hungary was even better - 84 goals in 85 games!
6. Gento: Real Madrid - 14 El Clásico Goals

Spain's first home-grown superstar was a bustling, wide-shouldered left winger named Francisco Gento López, or simply "Gento." Blessed with fantastic speed and a lethal shot, even from distance, Gento more than held his own in a Real Madrid team that featured legends like Alfredo Di Stefano, Ferenc Puskas, Pachin and José Santamaría.

Gento played 428 games for Real Madrid from 1953-1971, scoring 128 goals. One of the most decorated footballers in history, Gento helped Madrid win 12 league titles and six European Cups.

5. César: Barcelona - 14 El Clasico Goals
César Rodríguez Álvarez was born in Leon, Spain in 1920. Joining Barcelona aged 19 in 1939, César would remain with the Catalan giants for sixteen years. César was part of the legendary Barcelona team which won five trophies during the 1951–52 season, including La Liga.


Aided up front by fellow Barca legends Basora, László Kubala, Eduardo Manchón and Moreno, César scored 190 goals in 287 games for the club, helping Barcelona to win five La Liga trophies. He would later become a prolific manager, spending a year in the Barcelona hot-seat where the Blaugrana finished second in the 1963-64 season.

4. Raul: Real Madrid - 15 El Clasico Goals
If Gento was Spain's first home-grown superstar footballer, its greatest ever player may well be Raúl González Blanco, known the world over as Raul. Born in Madrid in 1971, Raul actually began his youth career at Atletico Madrid and won a national championship, but in a bizarre twist of fate, the notorious club president Jesus Gil shut down the Atletico academy for financial reasons.

Raul subsequently joined the Real Madrid academy, and his rapid progress was the stuff of legend. Aged 17, he began his pro career playing for Real Madrid C in the third division, but after scoring sixteen goals in just seven games, he was upgraded to the full team, becoming its youngest ever player.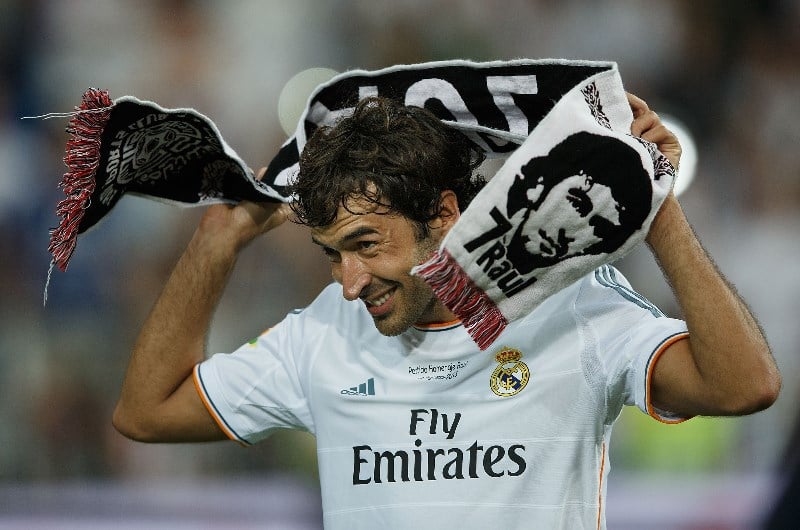 Nicknamed "El Ferrari" by teammates, the lean, six-footer was a natural striker but also a skillful footballer comfortable anywhere on the pitch. Speaking after a heavy loss to Real, Manchester United boss Alex Ferguson said: "Raul is so difficult to play against when he starts taking up the positions he did tonight. He always seems to be an outlet for them and we never contained that part."
Raul would play for Real Madrid for 16 seasons, making a record 741 appearances and scoring 323 goals. During that time he helped Real win six La Liga trophies and three UEFA Champions Leagues. He also won 102 caps for Spain, scoring 44 goals.
3. Cristiano Ronaldo: Real Madrid - 18 El Clasico Goals
It is somewhat ironic that Brazil's Ronaldo, who scored lots of goals while playing for Barcelona (1996-97) and
Real Madrid
(2002-07) and featured in multiple El Clásico games for both teams, features nowhere on this list.

The same cannot be said for the "other Ronaldo", the Portuguese winger who joined Real Madrid in 2009 after six illustrious seasons at Manchester United, and proceeded to demolish almost every record at the club.
Born in 1985, Cristiano Ronaldo was just 17 when he made his debut for United, drawing immediate comparisons with another jet-heeled winger who had also debuted at 17 – Ryan Giggs.
Another fleet-footed United legend, George Best described watching Ronaldo that day as "undoubtedly the most exciting debut" he had ever seen. Clearly the young Ronaldo was blessed with inordinate amounts of God-given talent, but what would set him apart from many other similarly talented players was his capacity for improvement.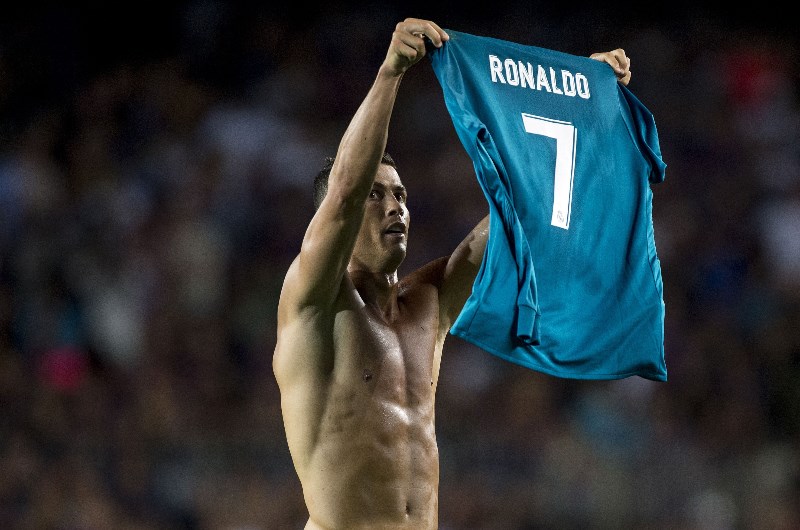 Despite being the most talented member of the team, Ronaldo worked on his game, strength and fitness as if he was the worst player in the squad. Because of this blend of talent and work ethic, not to mention his highly marketable looks, Ronaldo has become unequaled in terms of achievements on the pitch, and the money he has earned off it.
Ronaldo joined Real for a word record €94 million, and proceeded to be well worth the money, helping his club win two La Liga titles, two Copa del Reys, five UEFA Champions Leagues and three FIFA Club World Cups during his nine years at Madrid. Ronaldo supplied the goals that led to countless victories, scoring a ridiculous 311 goals in 292 games.
2. Alfredo Di Stefano: Real Madrid - 18 El Clasico Goals

To say that Alfredo Di Stefano was light-years ahead of his time is an understatement. Outshone today in the eyes of the general public by the flashier skills of high profile stars like Pele, Maradona, Messi and Ronaldo, hardcore students of soccer history unanimously rank Di Stefano as one of the greatest and most influential players ever.

Born in Argentina in 1928, Alfredo Di Stefano initially established himself as prolific striker in South America, first with Argentine giants River Plate, and then with the aptly named Millionarios of Colombia.
In his first eight years of professional football, Di Stefano had won five league trophies and averaged almost a goal a game and was rated the best player in the world. The wealthiest clubs in Spain and Italy jostled for his signature, with Di Stefano choosing Barcelona.

It was then that Real Madrid – aided by Spanish dictator Franco – scuppered his planned move to Barcelona and diverted Di Stefano to the capital instead. Di Stefano reportedly had set his sights on joining Barcelona out of political admiration for Catalonia, and hadn't wanted to join Real Madrid – nicknamed "Franco's football team" for the same reason.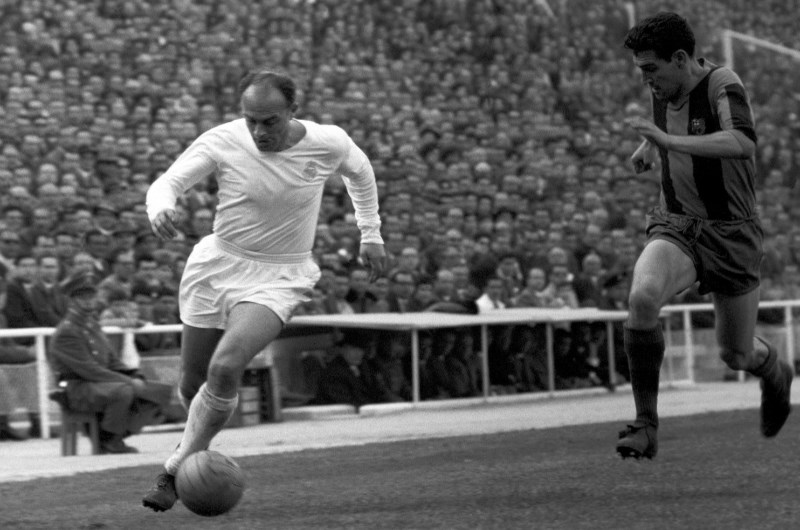 However, by the time Di Stefano played in his first El Clásico for Real in October 1953, he had clearly had a change of heart. Madrid hammered Barcelona 5-0 with Di Stefano scoring four goals.
His legend was born that day, and it would last until his death in 2014 aged 88, the Honorary President of Real Madrid. Nobody is bigger than Real Madrid, but Alfredo Di Stefano came close.

Di Stefano's blend of skill, athleticism, intelligence and ruthlessness established him as the striker all others would be measured against. His focus on fitness and nutrition was also groundbreaking, and allowed him to play on until the age of 40.
In 281 games for Real Madrid, Di Stefano scored 216 goals. He led Madrid to eight league titles and five European Cups.
1. Lionel Messi: Barcelona - 26 El Clasico Goals

The brilliant Argentinian Lionel Messi is quite possibly the greatest footballer ever to play the game. Messi was born in Rosario, Santa Fe in 1987, the child of Spanish-Italian parents. "Leo" was already playing competitive football aged four, joining the youth team of his favorite club, Newell's Old Boys aged six.
In the next six years, Messi scores 500 goals for his team, the now legendary "Machine of '87", their name coming from the year the team's players were born. Young Messi was clearly something special, but at the age of ten, doctors discovered he was suffering from a growth hormone deficiency that if unattended, would curtail his career.

With funds running out, and South American clubs lacking the finance to take a long-term risk on a ten-year old child, Messi's dreams of becoming a top footballer looked over before they had begun.
However, it was at this point that the Messi family called upon relatives in Catalonia to try and organise a trial with FC Barcelona.
Such was the talent displayed by the ten-year old Messi during his trial, first team director Charly Rexach was willing to sign him immediately. However, the Barcelona board took some convincing, eventually agreeing in December 2001.
By 2004 Messi's growth hormone treatment was complete, and he was soon playing alongside fellow youngsters like Cesc Fàbregas and Gerard Piqué in what would become known as the "Baby Dream Team", Barcelona's greatest-ever youth side.
In his first full season, Messi scored 36 goals, while Los Cadetes A won an unprecedented treble.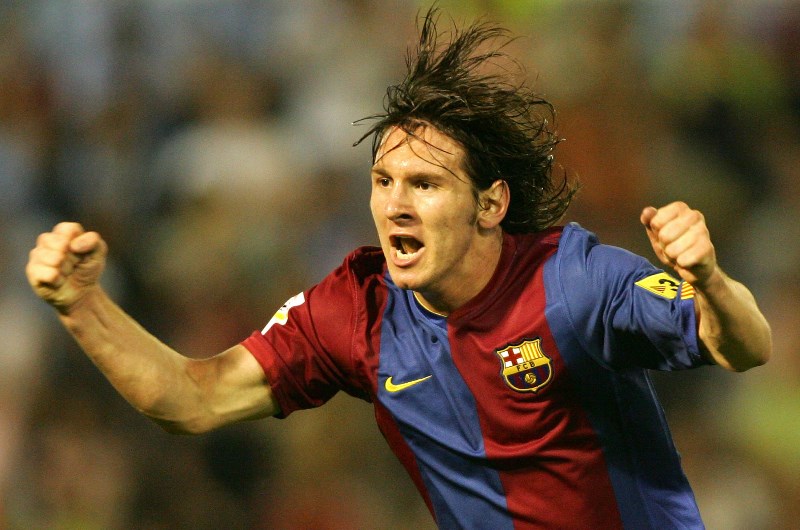 Soon after, Fàbregas and Pique were poached by English teams Arsenal and Manchester United respectively, and while Messi also had plenty of foreign interest, he was determined to stay with Barcelona.
Messi made his debut with the Barcelona first team on his 18th birthday in 1995, but it would be a year before he began grabbing headlines.

By the age of 20 and dubbed the "Messiah", Messi found himself increasingly the focal point of the team, and when Pep Guardiola replaced Frank Rijkaard as Barcelona boss in 2008, Messi was granted greater freedom to express himself on the pitch.
Guardiola and Messi was a match made in heaven, and in Pep's first season in charge, Leo's talent and Guardiola's tactics led to Barcelona winning a record seven trophies.

The arrival of Cristiano Ronaldo at Real Madrid from Manchester United in 2009 ushered in the era of the greatest double-act in football history, with Messi and Ronaldo outdoing each other on a weekly basis.
Messi and Ronaldo took one-upmanship to a whole new level, trying and outscore each other at every opportunity.
If Ronaldo hit a hat trick on Saturday, Messi would score four on Sunday. If Messi scored 40 goals in a season, Ronaldo would try and hit 41. If Ronaldo scored four hat-tricks in a month, Messi would grab five the following month.
Records would be set and broken on a regular basis. End of season goal tallies would reach unreal figures, only for both players to proceed to hit similar figures season after season.

Messi's record of 26 El Clásico goals is unlikely to be topped any time soon. Already eight goals clear at the top, that gap looks sure to grow as long as Messi stays healthy and remains content at Barcelona.
The only player who could have feasibly surpassed him – arch-rival Cristiano Ronaldo – left Real Madrid for Juventus in the summer of 2018.
El Clasico Most Goal Scorers FAQ
Who has scored the most goals in El Clasico?
Barcelona's Lionel Messi has scored the most goals in El Clasico with 26 goals.

How many goals did Ronaldo score in El Clasico?
Real Madrid's Ronaldo scored 18 goals in El Clasico. The Portuguese scored 9 in La Liga, 5 in Copa del Rey and 4 in the Spanish Super Cup.
How many goals did Alfredo Di Stéfano score in El Clasico?
Real Madrid's Alfredo Di Stéfano scored 18 goals in El Clasico starting in 1953. The Di Stéfano scored 14 in La Liga, 2 in Copa del Rey and 2 in the European Champion Clubs' Cup.
How many goals has Lionel Messi scored against Real Madrid?
Lionel Messi has scored 26 goals against Real Madrid, 18 in La Liga, 6 in the Super Cup and 2 in the UEFA Champions League.