Newspaper Racing Tips - Adayar and Mohaafeth the tipsters double today
We round up which horses the newspaper experts are backing in today's ITV Races
Seven races will be shown live from Ascot and York on July 24th
Adayar is the most common tip in the King George VI and Queen Elizabeth Stakes
Mohaafeth is another popular selection in the York Stakes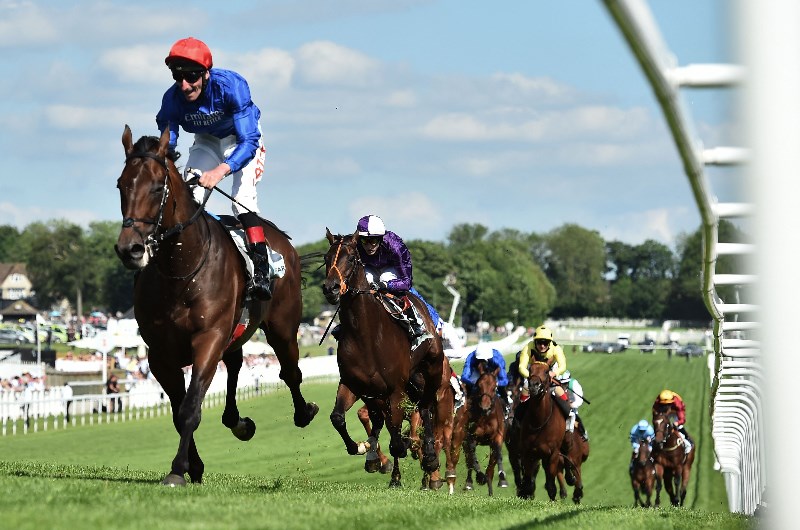 Adam Kirby on Adayar wins the Derby on the second day of the Epsom Derby. (Getty)
The King George VI and Queen Elizabeth Stakes headlines the ITV action today. Viewers have four races to watch from Ascot, as well as three excellent races from York. We've taken a look through the major national newspapers to see which horses the tipsters are backing in today's
ITV Racing
races.
Saturday's ITV Racing Schedule
ITV Racing Tips - Newspaper Tips Top Tips
Mohaafeth
3:15pm York Stakes (Group 2) 1m2½f
GET 11/10 HERE
New customers only. 18+ T&Cs and wagering requirements apply.
Adayar
3:35pm Ascot King George VI And Queen Elizabeth Stakes
GET 3/1 HERE
18+ only. Ts and Cs apply.
ITV Racing Tips - Newspaper Tips Round-Up
Tom Segal Tips (Pricewise Tips)
Ascot
3.00 Star Of Orion
3.35 Broome
York
2.40 Lahore
Hugh Taylor Tips (AtTheRaces)
NA
Paul Kealy Tips (Weekender)
Ascot
2.25 Fantastic Fox
3.00 Shine So Bright
York
2.05 Mid Winster
2.40 Streamline
3.15 Armory
Simon Rowland Tips (AtTheRaces)
Ascot
3.35 Mishriff
York
3.15 Armory
Jason Weaver Tips (ITV Racing)
Ascot
1.50 Nymphadora
2.25 Mystery Smiles
3.00 Starshiba
3.35 Adayar
York
2.05 Eeh Ba Gum
2.40 Blind Beggar
3.15 Mohaafeth
Matt Chapman Tips (ITV Racing)
Ascot
1.50 System
2.25 Guru
3.00 Aldaary
3.35 Love
York
2.05 Nibras Again
2.40 Gulliver
3.15 Mohaafeth
Rob Wright Tips (The Times)
Ascot
1.50 System
2.25 Fantastic Fox
3.00 Cliffs Of Capri
3.35 Adayar
York
2.05 Eeh Ba Gum
2.40 Blind Beggar
3.15 Mohaafeth
Sam Turner Tips (The Daily Mail)
Ascot
1.50 Desert Dreamer
2.25 Isla Kai
3.00 Tomfre
3.35 Adayar
York
2.05 Ventura Express
2.40 Music Society
3.15 Armory
Greg Wood Tips (The Guardian)
Ascot
1.50 Zain Claudette
2.25 Guru
3.00 Matthew Flinders
3.35 Adayar
York
2.05 Soul Seeker
2.40 Gulliver
3.15 Mohaafeth
Templegate Tips (The Sun)
Ascot
1.50 Desert Dreamer
2.25 Guru
3.00 Motakhayyel
3.35 Love
York
2.05 Mid Winster
2.40 Mondammej
3.15 Mohaafeth
David Yates (Newsboy Tips)
Ascot
1.50 Desert Dreamer
2.25 Latest Generation
3.00 Acquitted
3.35 Love
York
2.05 Nibras Again
2.40 Golden Apollo
3.15 Mohaafeth
The Scout Tips (Daily Express)
Ascot
1.50 System
2.25 Mystery Smiles
3.00 Karibana
3.35 Adayar
York
2.05 Soul Seeker
2.40 Streamline
3.15 Armory
Timeform Tips
Ascot
1.50 Desert Dreamer
2.25 Fantastic Fox
3.00 Matthew Flinders
3.35 Adayar
York
2.05 Nibras Again
2.40 Streamline
3.15 Mohaafeth