Newspaper Racing Tips - Hermes Allen and Morgan Fairy the tipster's double on New Years' Eve
We round up which horses the newspaper experts are tipping in today's ITV races
Eight races will be shown live from across Newbury, Warwick and Lingfield
Hermes Allen is fancied to win the Matheson Hurdle
The tipsters also fancy Morgan Fairy to score at Lingfield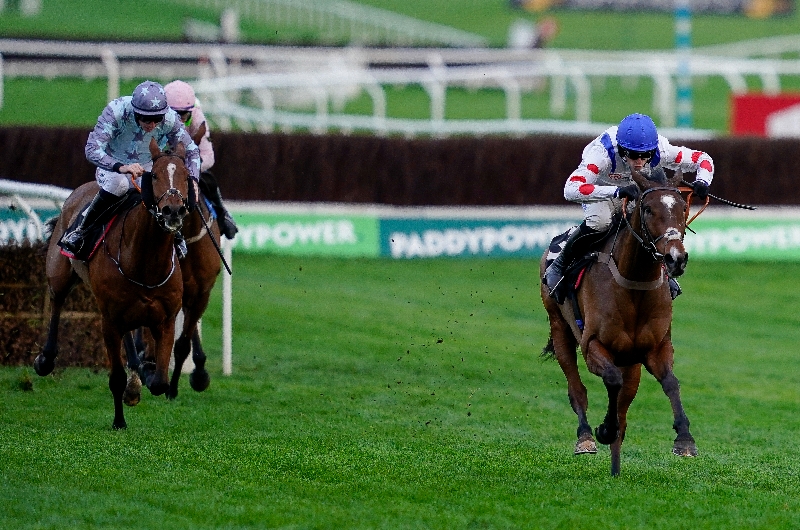 Harry Cobden riding Hermes Allen clear the last to win The Ballymore Novices' Hurdle. (Getty)
Eight races will be shown live from across Newbury, Warwick and Lingfield on ITV this afternoon. We've taken a look through the world of horse racing media to find out which horses the expert tipsters are backing in today's ITV races.
ITV Racing Schedule
ITV Racing Tips - Newspaper Expert's Top Tips
Morgan Fairy
2:40pm Lingfield talkSPORT Download The App Irish EBF Fillies' Handicap (Class 3) 1m
GET 7/4 HERE
18+ only. Gambling can be addictive. Play responsibly.
Hermes Allen
3:00pm Newbury Challow Hurdle (Grade 1) 2m4f
GET EVENS HERE
New customers only. 18+ T&Cs and wagering requirements apply.
ITV Racing Tips - Newspaper Tips Round-Up
Tom Segal Tips (Pricewise Tips)
Newbury
1.15 Casa Tall
1.50 Blenkinsop & Soaring Glory
2.25 Foxboro
3.00 Crambo
Paul Kealy (Racing Post)
Newbury
1.15 Gallic Geordie
2.25 Kalooki
2.25 Surrey Quest
Warwick
1.35 One Fer Mamma
Simon Rowlands (AtTheRaces)
Newbury
2.25 Tallow For Coal
3.00 Thomas Mor & You Wear It Well
Tony Calvin (Betfair Blog)
Newbury
1.50 Nina The Terrier
3.00 Joyeux Machin
Warwick
1.35 One Fer Mamma
Matt Chapman (ITV Racing)
Newbury
1.15 Gallic Geordie
1.50 Warranty
2.25 Undersupervision
3.00 Hermes Allen
3.35 Tea For Free
Warwick
1.35 One Fer Mamma
2.10 Gwencily Berbas
Lingfield
2.40 Morgan Fairy
Rory Delargy (Paddy Power)
Newbury
1.15 Gallic Geordie
1.50 Blenkisop
2.25 Grumpy Charley
3.00 Mokka De Vassy
3.35 Malinello
Warwick
1.35 Sporting Ace
Lingfield
2.40 Morgan Fairy
Ruby Walsh (ITV Racing)
Newbury
1.15 Gallic Geordie
1.50 Martello Sky
2.25 Laskalin
3.00 Joyeux Machin
3.35 Malinello
Warwick
1.35 Langley Hundred
2.10 High Counsel
Lingfield
2.40 Morgan Fairy
Rob Wright (The Times)
Newbury
1.15 Gamaret
1.50 Nina The Terrier
2.25 Undersupervision
3.00 Hermes Allen
3.35 Surrey Quest
Warwick
1.35 Sporting Ace
2.10 Midnight Moss
Lingfield
2.40 Sunset Bay
Sam Turner Tips (The Daily Mail)
Newbury
1.15 Gallic Geordie
1.50 Pikar
2.25 Shantey Alley
3.00 Hermes Allen
3.35 Unanswered Prayers
Warwick
1.35 Lord Snootie
2.10 Go Steady
Lingfield
2.40 Morgan Fairy
Greg Wood Tips (The Guardian)
Newbury
1.15 Gallic Geordie
1.50 Soaring Glory
2.25 Valsheda
3.00 You Wear It Well
3.35 Malinello
Warwick
1.35 Langley Hundred
2.10 Gwencily Berbas
Lingfield
2.40 Sayifyouwill
Templegate Tips (The Sun)
Newbury
1.15 Gallic Geordie
1.50 Lady Adare
2.25 Shantey Alley
3.00 Hermes Allen
3.35 Bold Endeavour
Warwick
1.35 Young Butler
2.10 Midnight Moss
Lingfield
2.40 Morgan Fairy
David Yates (Newsboy Tips)
Newbury
1.15 Gamaret
1.50 Lady Adare
2.25 Foxboro
3.00 Hermes Allen
3.35 Malinello
Warwick
1.35 Langley Hundred
2.10 Go Steady
Lingfield
2.40 Crystal Casque
Timeform Tips
Newbury
1.15 Only Money
1.50 Blenkinsop
2.25 Tallow For Coal
3.00 Hermes Allen
3.35 Tea For Free
Warwick
1.35 Langley Hundred
2.10 Smuggler's Blues
Lingfield
2.40 Morgan Fairy