Newspaper Racing Tips - Constitution Hill, Lord Roco and Amarillo Sky the tipster's treble
We round up which horses the newspaper experts are tipping in today's ITV races
Viewers will enjoy eight races live from Newbury and Newcastle today
Every expert has put up Constitution Hill in the Fighting Fifth Hurdle
Lord Roco and Amarillo Sky are the most popular picks at Newbury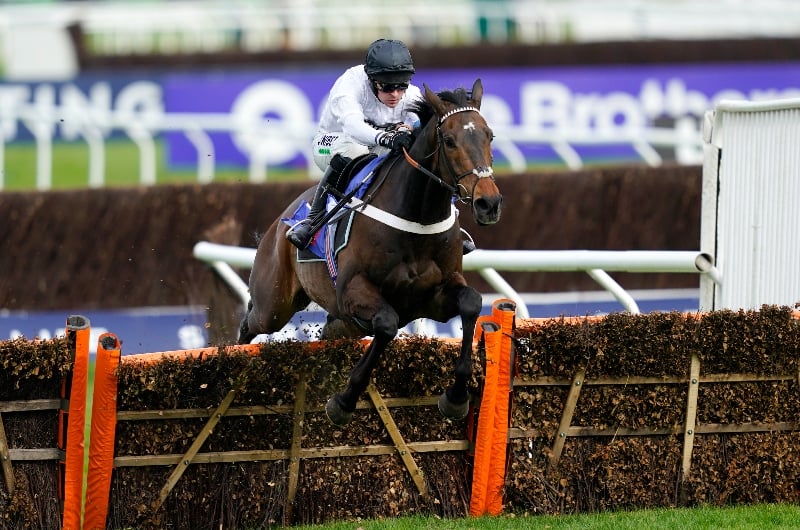 Nico de Boinville on Constitution Hill clear the last hurdle to win the Sky Bet Supreme Novices' Hurdle at Cheltenham. (Getty)
Contents

ITV Racing Schedule

ITV Racing Tips - Newspaper Expert's Top Tips

ITV Racing Tips - Newspaper Tips Round-Up

Tom Segal Tips (Pricewise Tips)

Paul Kealy (Racing Post)

John Hunt (AtTheRaces)

Tony Calvin (Betfair Blog)

Kevin Blake (Betfair Blog)

Matt Chapman (ITV Racing)

Mick Fitzgerald (ITV Racing)

Rob Wright (The Times)

Sam Turner Tips (The Daily Mail)

Greg Wood Tips (The Guardian)

Templegate Tips (The Sun)

David Yates (Newsboy Tips)

Timeform Tips
ITV Racing viewers have a fantastic afternoon of action to look forward to today, with huge races coming to us live from across two top racetracks. We've taken a look through the world of horse racing media to find out which horses the expert tipsters are backing in today's ITV races at Newbury and Newcastle.
ITV Racing Schedule
ITV Racing Tips - Newspaper Expert's Top Tips
Lord Roco
1:35pm Newcastle Betfair Daily Rewards Novices' Limited Handicap Chase (GBB Race) (Class 3) 2m7½f
GET 9/4 HERE
18+ only. Gambling can be addictive. Play responsibly.
Constitution Hill
2:10pm Newcastle Fighting Fifth Hurdle (Grade 1) 2m
GET 2/7 HERE
18+ only. Ts and Cs apply.
Amarillo Sky
3:40pm Newbury Coral Get Closer To The Action Handicap Chase (For The Jim Joel Memorial Trophy) 2m
GET 5/4 HERE
18+ only. T&Cs apply. Stay in Control. Gamble Responsibly. Think! About your choices. Call Gambling Help on 1800 858 858 or visit www.gamblinghelponline.org.au.
ITV Racing Tips - Newspaper Tips Round-Up
Tom Segal Tips (Pricewise Tips)
Newbury
1.20 Zanza
1.55 Lord Baddesley
3.05 Fanion D'Estruval & Oscar Elite
Paul Kealy (Racing Post)
Newbury
1.20 Zanza
3.05 Threeunderthrufive & Lostintranslation
John Hunt (AtTheRaces)
Newbury
1.20 Java Point
1.55 Lord Baddesley
Tony Calvin (Betfair Blog)
Newbury
1.55 Current Mood
2.30 First Street
3.05 Remastered, Busselton & Lord Accord
3.40 Hatcher
Kevin Blake (Betfair Blog)
Newbury
1.55 Current Mood
3.05 Busselton
Matt Chapman (ITV Racing)
Newbury
1.20 Kitty's Light
1.55 West Balboa
2.30 Teddy Blue
3.05 Corach Rambler
3.40 Amarillo Sky
Newcastle
1.35 Malinello
2.10 Constitution Hill
3.25 L'Homme Presse
Mick Fitzgerald (ITV Racing)
Newbury
1.20 Cap Du Nord
1.55 Porticello
2.30 First Street
3.05 Remastered
3.40 Amarillo Sky
Newcastle
1.35 Malinello
2.10 Constitution Hill
3.25 Happygolucky
Rob Wright (The Times)
Newbury
1.20 Demachine
1.55 Malakahna
2.30 Pikar
3.05 Corach Rambler
3.40 Amarillo Sky
Newcastle
1.35 Lord Roco
2.10 Constitution Hill
3.25 L'Homme Presse
Sam Turner Tips (The Daily Mail)
Newbury
1.20 Zanza
1.55 West Balboa
2.30 Pikar
3.05 Our Power
3.40 Amarillo Sky
Newcastle
1.35 Lord Roco
2.10 Constitution Hill
3.25 L'Homme Presse
Greg Wood Tips (The Guardian)
Newbury
1.20 Kapcorse
1.55 West Balboa
2.30 Theatre Glory
3.05 Our Power
3.40 Amarillo Sky
Newcastle
1.35 Malinello
2.10 Constitution Hill
3.25 Into Overdrive
Templegate Tips (The Sun)
Newbury
1.20 Kapcorse
1.55 West Balboa
2.30 First Street
3.05 Gericault Roque
3.40 Amarillo Sky
Newcastle
1.35 Lord Roco
2.10 Constitution Hill
3.25 L'Homme Presse
David Yates (Newsboy Tips)
Newbury
1.20 Zanza
1.55 West Balboa
2.30 Pikar
3.05 Our Power
3.40 Only Money
Newcastle
1.35 Lord Roco
2.10 Constitution Hill
3.25 Into Overdrive
Timeform Tips
Newbury
1.20 Demachine
1.55 Malakahna
2.30 Teddy Blue
3.05 Le Milos
3.40 Amarillo Sky
Newcastle
1.35 Lord Roco
2.10 Constitution Hill
3.25 L'Homme Presse
Upcoming Events
07 February 2023
08 February 2023