K League 1 seasons kicks off on May 8
Jeonbuk Motors host Suwon Bluewings in the opening match on Friday
2020 K League 1 season was postponed due to the coronavirus pandemic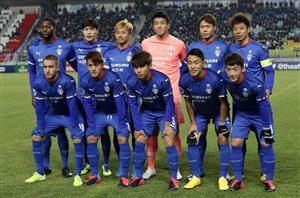 Suwon Samsung Bluewings take on Jeonbuk Hyundia Motors in the opening match on Friday (Getty Images)
South Korea's 2020 K League 1 season will begin on Friday May 8. The 12 team competition was originally scheduled to begin on February 29 but was postponed due to the coronavirus pandemic.
South Korea has been one of the first countries to bring Covid-19 under control with players recently returning to training and playing friendly matches. Strict measures have been introduced to contain the spread of the coronavirus.
Early season matches will be played without fans, players will not be allowed customary pre-match hand shakes and can't speak to each another during the match. Managers and coaches have to wear face masks at all times during matches.
Defending champions Jeonbuk Hyundai Motors host Suwon Samsung Bluewings at Jeonju World Cup Stadium in the opening match of the season on Friday.
The Korea Professional Football League changed the format of the competition with teams to play 27 matches, down from 38, with the bottom placed club being relegated to K League 2.
Sangju Sangmu have confirmed that they will relocate its franchise city in 2021 and will be relegated to K League 2 regardless of its final position on the table.

If any player or member of the coaching staff is found to be infected with the coronavirus during the season, his team will not play another match for a minimum of two weeks.
Incheon United captain Kim Do-hyeok has stated that not being able to communicate with his team-mates could cause complications for his side.
"Things like not spitting during the game, we can do no problem but not talking to team-mates is impossible," he said after a recent friendly.
"If we can't have conversations on the field, we may as well not play at all."
Upcoming Events
29 September 2023
30 September 2023
01 October 2023