GGMasters - Enter the GGMasters at GGPoker
Up to $1-million up for grabs in the GGMasters weekly tournaments
The GGMasters accommodates all skill levels and budgets
'Player of the Year' leaderboard adds extra fun to the mix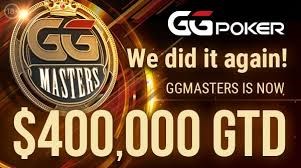 GGMasters
The
GGMasters
is a weekly tournament held on GGPoker.
From Monday to Saturday, players can take part in the $25 buy-in tournaments. A guarantee of $50,000 is up for grabs, as well as points which contribute towards the 'Player of the Year' leaderboard.
On Sundays, two big tournaments take place. The $150 buy-in tournament guarantees $500,000, while the High Roller $1,000 tournament guarantees $1-million. Points which count towards the 'Player of the Year' leaderboard are also up for grabs.
Seats for the GGMasters can also be one in satellite tournaments run during the week, with buy-ins from as low as $1.50.
A prize for the winner of the 'Player of the Year' is decided towards the end of each year.
When can I play in GGMasters?
The
GGMasters
has events every day of the week, with the bigger legs of the tournament taking place on Sundays. For a full schedule and tournaments options, click
HERE
What is GGPoker?
GGPoker forms part of the Good Game Network (GGNetwork). Launched in 2014 in Asia, GGPoker has become a big hit across the globe, with particularly big followings in Europe and Canada.
GGPoker is now seen as one of the top tier online poker websites for players of all skill levels and budgets.
GGPoker is run by NSUS Limited and offers tournaments and a plethora of other poker games throughout the week.
What kind of poker does GGPoker offer?
GGPoker offers a large variety of poker styles for players to enjoy, including:
Texas Hold'em
Omaha Poker
Rush & Cash
Spin & Gold
All-In or Fold
All-In Insurance
PokerCraft
Card Squeeze
GGPoker Buy-Ins
The buy-ins vary from tournament to tournament, but they cater for all budgets. The fact that anyone can afford to play is what makes GGPoker such an attractive option for online poker players.
How to access GGPoker
GGPoker is available on multiple devices and can be accessed from anywhere in the world. The fun literally never needs to stop.
GGPoker tournament highlights
The GGSOP is the flagship event held annually. It recreates the full WSOP experience and is open to all budgets.
The GGMasters is a massive weekly tournament with huge money on the line.
Million$ is another weekly tournament on GGPoker and offers players the chance to win big money.
Beat the Pros is a fun way for your average poker player to take on the best in the game. It is held every Saturday.
GGPoker offers and promotions
GGPoker
offers a variety of promotions, bonuses, and specials. There is a loyalty program, daily promotions, signature bonuses, and jackpots.
GGPoker FAQ
When can I play tournaments on GGPoker?

Tournaments are available throughout the week, so there is no excuse not to get involved.

What is the biggest tournament on GGPoker?

The GGSOP is the flagship event held annually. It recreates the full WSOP experience and is open to all budgets.

Can anyone play on GGPoker?

As long as you are of legal age, then GGPoker is ready for you to sign up and play.

How do I enter?

All you need to do is create an account on GGPoker and start having some poker fun.