FIFA QuaranTeam tournament: Leyton Orient host FIFA tournament to raise money amid coronavirus pandemic
Ultimate QuaranTeam tournament aiming to raise £50,000 for charity
128-team FIFA tournament takes place this week
FIFA QuaranTeam tournament live streaming at bet365 throughout the week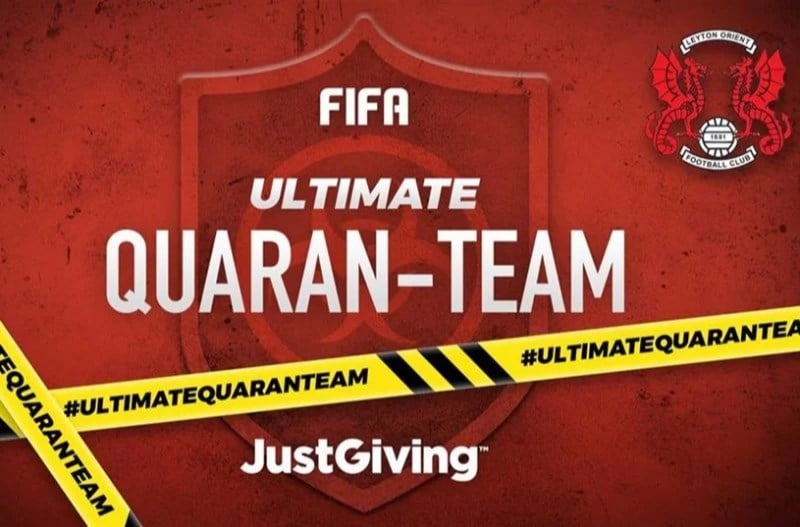 FIFA QuaranTeam live streaming all this week
With the majority of major sporting events postponed or cancelled as a result of the coronavirus pandemic, esports and remotely-hosted sporting events are on the rise in the United Kingdom and all around the world.
Mllions of people across the UK and elsewhere are self-isolating for the foreseeable future, and that has led a huge increase in interest in Virtual sports.
Esports is becoming more and more popular by the day, with the industry on course to generate around £1BILLION in 2020.
Games such as Counter-Strike: Global Offensive, Dota 2 and League of Legends have been played online for some time, and now esports fans are tuning in in huge numbers – often via the streaming platform Twitch, which allow fans to spectate live and pulls in over 5million viewers every day.
You can also bet on the majority of professional CS:GO, Dota 2 and LoL tournaments, as well as StarCraft 2, FIFA and others.
The lack of live sport, combined with the popularity of FIFA 20, are both factors in the launch of the 2020 FIFA Ultimate QuaranTeam tournament.
The charity tournament was launched in March 2020 by League Two football club Leyton Orient. The 128-team tournament is also acting as a charity tournament in the coming days, with Orient hope to raise £50,000 for charity.
Each football club entered can select an individual to represent them – some have picked supporters, while others have picked first-team players (Crystal Palace have picked Andros Townsend as their man for the job, while Norwich City midfielder Todd Cantwell is playing for the Premier League club).
Some clubs already have linked to professional esports players - Manchester City's esports team have confirmed they will be representing the Premier League champions.
For those wanting to know how to watch Ultimate QuaranTeam, we've got full information how to
live stream the FIFA QuaranTeam
tournament throughout the week, along with QuaranTeam fixtures.
FIFA QuaranTeam FAQs
What is the FIFA Ultimate QuaranTeam?
The FIFA QuaranTeam tournament is a 128-team online football tournament featuring teams playing FIFA 20 in a knockout format.
When is the 2020 QuaranTeam?
The FIFA Ultimate QuaranTeam started on Sunday, March 22nd and runs until Friday, April 3rd 2020. The 2020 FIFA QuaranTeam tournament final is scheduled for 19:00 BST on Friday, April 3rd.

How to watch FIFA QuaranTeam?
The FIFA Ultimate QuaranTeam tournament is live streaming online at bet365. To watch a bet365 live stream you must be 18+. You must also be logged in and have a funded account, or have placed a bet in the last 24 hours. Geo-restrictions and terms and conditions apply.