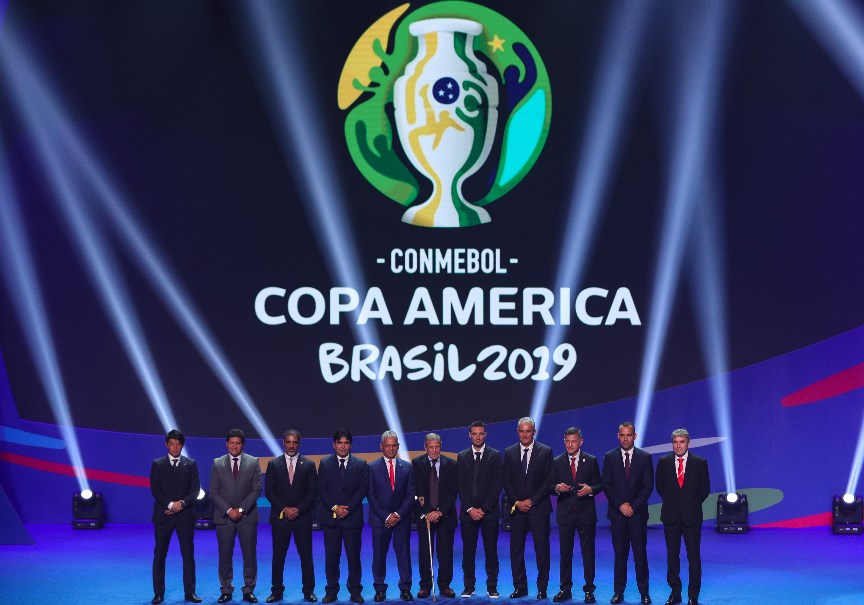 2019 CONMEBOL Copa América News, Info, Teams & Fixtures
The 2019 Copa America official draw was held on January 24, 2019 in Rio de Janeiro, Brazil. (Getty Images)
The 2019 CONMEBOL Copa América will be the 46th edition of the tournament which will be held in Brazil. The 2019 Copa América starts on 14 June with the Final to be held at the Estádio do Maracanã in Rio de Janeiro on and 7 July.
The 2019 CONMEBOL Copa América will be the 46th edition of an international football tournament organised by the South American Football Confederation (CONMEBOL) to decide the best team in South America.

The winner of the tournament automatically qualifies for the 2021 FIFA Confederations Cup.
The Copa América began in Argentina in 1916 as the South American Football Championship. The 2016 competition celebrated 100 years since the tournament's inception, was called the Copa América Centenario and featured 16 teams with United States hosts.
The 2019 CONMEBOL Copa América tournament will be held in Brazil and takes place between 14 June and 7 July 2019. Six stadiums in five cities will host matches at the tournament including Salvador, Rio de Janeiro, São Paulo, Belo Horizonte and Porto Alegre with São Paulo featuring two stadiums.
The 2019 Copa América will feature all 10 CONMEBOL nations including Brazil, Argentina, Bolivia, Chile, Colombia, Ecuador, Paraguay, Peru, Uruguay, Venezuela alongside Japan and 2022 FIFA World Cup hosts Qatar who were both invited to participate.
Free Tips has everything you need to know including tournament history, best performances, managers, squads and key players.
Brazil are clear favourites in the 2019 Copa América outright betting odds with the hosts valued at 2.40. Argentina are next best followed by Uruguay, Chile and Colombia. Outsiders include Peru, Paraguay, Ecuador, Japan, Venezuela, Bolivia and Qatar.
Uruguay has won the most Copa América's with 15 titles followed by Argentina and Brazil. The three South American powerhouses have a clear advantage in title wins ahead of Paraguay, Chile and Peru, Colombia and Bolivia.
Chile are the two-time defending champions having won in 2015 and 2016.
Players from Brazil, Argentina and Uruguay dominate the top 10 goalscorers at the Copa América. Brazil's Zizinho and Argentina's Norberto Méndez share top spot with 17 goals scored followed by Uruguay's Severino Varela and Peru's Lolo Fernández who each scored 15 goals.
with five players registering 13 goals. These include Brazil's Ademir and Jair, Argentina's Gabriel Batistutaand Jose Manuel Moreno and Uruguay's Héctor Scarone.
Free Tips is your home for 2019 CONMEBOL Copa América betting tips, we also have all the information you need about 2019 Copa America live streaming, free bets, bet of the day, results, replays, news and social media.