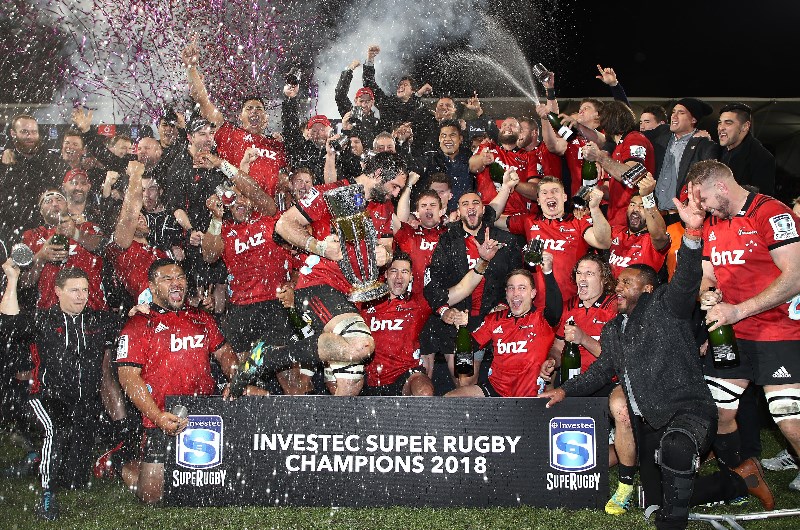 Super Rugby News, Info, Teams & Fixtures
The Crusaders celebrated their ninth Super Rugby triumph after beating the Lions at AMI Stadium on August 4, 2018 (Getty Images)
Super Rugby began as the Super 6 in 1992 and has grown to be one of the most watched professional rugby competitions in the world. Super Rugby is operated by SANZAAR and features rugby union clubs from the Southern Hemisphere including those from Australia, New Zealand, South Africa, Argentina and Japan. The tournament starts in February and concludes with the Super Rugby Final in August.
Super Rugby is a professional rugby union competition featuring Southern Hemisphere clubs from Australia, New Zealand, South Africa, Argentina and Japan. Operated by SANZAAR (South Africa, New Zealand, Australia and Argentina Rugby), Super Rugby is one of the most watched professional rugby competitions in the world.
The competition evolved from the South Pacific Championship which started in 1986 has gone through incarnations such as Super 6, Super 10, Super 12, Super 14 and Super 15. SANZAR (South African, New Zealand and Australian Rugby) is the administration board and has organised lucrative television rights deals to grow the sport across the world.
The 15 teams competing in Super Rugby are Brumbies, Rebels, Reds, Sunwolves, Waratahs, Blues, Chiefs, Crusaders, Highlanders, Hurricanes, Bulls, Jaguares, Lions, Sharks and Stormers. They are divided into three geographical conferences - the Australian Conference, New Zealand Conference and South African conference.
Super Rugby games are played at the stadiums of all 15 clubs, the top team in each conference qualifies for the quarter-finals with the next best five teams in all conferences. The teams with the best regular season records host matches in the quarter-finals, semi-finals and Super Rugby Final. The Super Rugby competition begins in February, the finals start in July with the Super Rugby Final held in early August.
New Zealand club Crusaders are the most successful in Super Rugby history, winning nine titles with the Blues (New Zealand) and Bulls (South Africa) next best on three. New Zealand clubs have dominated the Super Rugby competition, winning 16 titles in 23 seasons.
Betting on Super Rugby is very popular and every major online bookmaker will provide odds for Super Rugby matches, with betting markets on offer such as the popular head to head, handicap, total points and first try scorer.
Many online bookmakers also allow their customers to live stream Super Rugby games with a funded account an internet signal required to bet and watch at the same time.
Check in regularly at FreeTips.com for Super Rugby free bets offers and be sure to follow our Super Rugby bet of the day where we have our number one pick, the best bet from our rugby union experts.
Stay up-to-date with all the latest Super Rugby news and stay ahead of the competition to give yourself the best chance of beating the bookmakers.