Can Rafael Nadal Hang On To His No.1 Ranking In 2018?
Can Rafa retain top spot this year?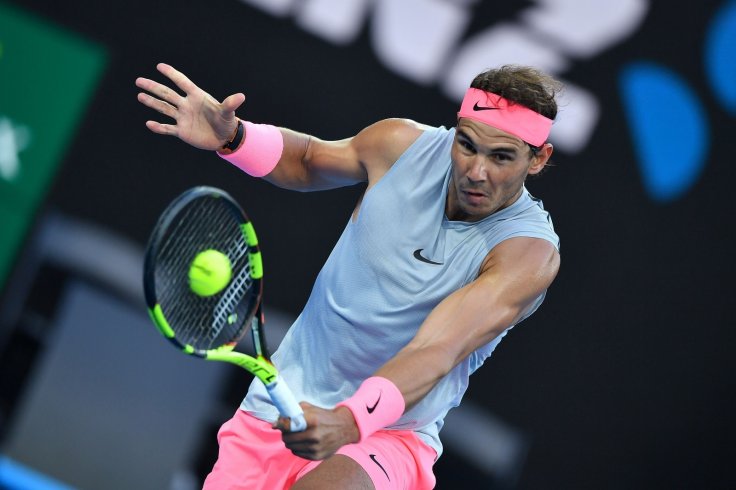 Nadal at the Australian Open 2018
Rafael Nadal surprised even his sternest critics with a sensational 2017 that saw him win two slams and finish the year as World No.1. But with Federer right behind him, Djokovic and Murray on the comeback trail, plus top contenders Dimitrov and Zverev breathing down his neck, can Rafa retain top spot this year?


2017 will go down in the annals of tennis history as being the Year of the Golden Oldies. In the women's game, despite a combined age of 72, Serena and Venus Williams contested the Australian Open, and 37-year old Venus also reached the Wimbledon final.


Roger and Rafa Return To The Top
However, the real story was the resurgence of 35-year old Roger Federer and 31-year old Rafael Nadal, arguably the two greatest players of all time, but who nevertheless had been upstaged by the younger duo of Novak Djokovic and Andy Murray in recent years. Going into 2017, Federer was ranked 17th and hadn't won a slam since 2012, while Rafa had last won his beloved French Open in 2014, but had no slam success since, and slipped to world no.9.

2016 had been a poor year by Rafa's lofty standards. He won just two events, both on clay before pulling out of the French Open with a wrist injury. He returned to action at the Rio Olympics, making the quarterfinals before his season petered out. However, in the off season Rafa began working on a permanent basis with long-time close friend and mentor Carlos Moya, a fellow Spaniard and a former world no.1 himself, an alliance that was about to have a dramatic effect on Nadal's fortunes.

The Carlos Moya Factor
Moya has proven to be an excellent coach, strategist and psychologist for Rafa. Much of his slump in 2015 and 2016 was due to self-doubt, and no longer believing he could "pull the trigger" like he once did. When a player at the very top starts doubting himself on big shots in clutch situations like game-point, set-point, breakpoint up or breakpoint down, even match point, that split second pause can be the difference between victory and defeat.

Moya got Nadal to believe in himself again, to shrug off errors and focus on positives. Crucially, he encouraged Nadal to play as he had during his last great season of 2013, when he'd won ten events including the French and US Opens playing aggressive tennis, serving big and taking the ball early. That tactic was clearly working again as early as the 2017 Australian Open, when Nadal defeated Zverev, Monfils, Raonic and Dimitrov before losing to Federer in five sets in a classic final. Even though he'd lost, so many positives had come from the tournament, it was more like a win.

Return Of The King (Of Clay)
An indicator of how much Carlos Moya has improved Nadal's mentality was the way he handled the four straight defeats he suffered to Roger Federer in 2017. Rafa lost badly in both the Indian Wells and Miami Masters events to Federer, and yet rebounded to dominate the clay court season with his old swagger and supreme confidence, just as he had a decade previously, winning Monte Carlo, Barcelona, Madrid and then taking a record tenth French Open crown without the loss of a set – the only player, male or female to have to have won a singles slam ten times. The King of Clay was back with a vengeance.

US Open Champion Again
The rest of Rafa's season saw him suffer his now regular early exit from Wimbledon, sustain two early setbacks in Montreal and Cincinnati before regrouping and winning his third US Open, proving once again that he has the knack true greats have of raising their game for the slams. Normally post-New York, Nadal takes his foot off the gas, and he rarely wins in the final quarter of the season, but with Moya in his corner he won in Beijing and reached the final of the Shanghai Masters, only to lose for the fifth straight time to Federer.
Nadal began the ATP World Tour Finals in London, but after losing to David Goffin in his Round Robin opener, he pulled out citing an injury. He finished the season top of the rankings, and thanks to his relentless consistency all year, more than 1000 points clear of second placed Federer. It was the third time Rafa had claimed the much coveted end-of-season no.1 ranking.

Arguably, Nadal is in the best place ever career-wise. He's already established his place in tennis history, pulled off a remarkable comeback that nobody saw coming, and yet is still fit, is playing well enough and is still hungry enough to do it all again in 2018.

Who Can Stop Rafa Holding On To His World No.1 Ranking?
If Rafa stays injury-free, he will take a lot of stopping in 2018. Below are some of the players who may be able to wrestle top-spot from Rafa, at least for a while.

Roger Federer
Let's face it, even though Rafa finished as world no.1, the Player of the Year was Roger Federer. Not only did he win the Australian Open and Wimbledon, he won a total of seven tournaments including three Masters Series events, one more than Rafa, and crucially, he was 4-0 for the season against Nadal, winning three of those in straight sets.
Despite losing their last five meetings, Nadal still holds a 23-15 edge over Federer, but Roger definitely has his number for now. Federer has 4,000 points to defend in Melbourne, Indian Wells and Miami, but should he accomplish that, and if Rafa were to struggle to keep up, the Swiss legend would become the oldest player of the open era to be world no.1.
However, Nadal is likely to regain top-spot once the tour hits the clay courts of Europe, and the pressure will then be back on Roger to win another Wimbledon plus the other titles he will need to take back the no.1 ranking. Like Rafa, Federer is defying the odds with his extended "Indian summer", and it's going to be fun watching what he'll achieve next. After 2017, nothing would seem beyond him.
Chances of finishing 2018 as World No.1: Strong

Novak Djokovic
Djokovic is the only top player to have a head-to-head edge over Nadal, currently leading 26-24, although many of those wins came in 2015 and 2016 when the Spaniard was either plagued with injuries or so full of self-doubt he was beaten before he went on court. At his best, Novak is a truly great player, and his twelve slams attests to that. However, when both men are playing well, Rafa has that ability to hit the booming winner that Djokovic just doesn't have., which gives him a slight but distinct advantage.
In 2013, Rafa was playing as he currently is under Carlos Moya, keeping the points short by playing aggressively and taking the ball early. That year he and Novak finished 3-3, but crucially, Nadal beat Djokovic in the French Open and US Open finals and finished the year world no.1.
Now, in 2018 it is Djokovic who is returning from injury plus a stunning loss of self-belief that even bringing in Andre Agassi as a coach couldn't address. Much will depend on how Novak begins 2018 in order to quantify him as a real threat to Rafa's no.1 spot.
Chances of finishing 2018 as World No.1: Average

Andy Murray
The giant Scott might just be the hardest working player on the tour, and it certainly seemed that way when Andy grinded his way to world no.1 in November 2016 then stayed there for nine months. But at what cost? He had a hit-and-miss 2017, winning only one tournament, but having a good run at Roland Garros where he only lost to an unplayable Stan Wawrinka in the Match of the Year. He was still ranked no.1 when he surrendered his Wimbledon title against Sam Query in the quarterfinals. At time he looked shell-shocked, a shadow of the iron man we had seen in 2016. The departure of his talismanic coach Ivan Lendl didn't help.
Andy hasn't played a competitive game since Wimbledon, and his ranking will soon be outside the world's top 20. Still only 30, could Murray dig deep and achieve the late career success Roger and Rafa have? As fans of tennis and of Andy Murray, well hope he can.
Chances of finishing 2018 as World No.1: Poor

Grigor Dimitrov
For years Grigor "Baby Fed" Dimitrov was the rising star the experts predicted would be the "Next Great Player", but until 2017, he was shaping up to be one of the game's great underachievers. His surprise win at the end-of-season ATP World Tour Championships in London netted him 1,500 ranking points which lifted him to a career-high 3rd in the world rankings. It was his fourth title of 2017.
Dimitrov is now 26, and after years of inconsistency (he was ranked 40th as recently as 2016), the 6'3" heartthrob from Sofia looks set to become known for more than just the women he has been linked with, which include Serena Williams, Maria Sharapova and currently ex-Pussycat Doll and current X Factor judge Nicole Scherzinger.
Dimitrov is undoubtedly a great player, and he certainly has the winning of a slam or two in him, but thus far he would seem to lack that near-psychotic focus and determination needed to become world no.1. The inescapable facts are that in a decade on the tour he has won just eight titles, and his head-to-head record against Nadal, Federer and Djokovic is a combined 22-2.
Chances of finishing 2018 as World No.1: Slim

Alexander Zverev
Alexander "Sascha" Zverev is Germany's most exciting male tennis player since a 17-year old Boris Becker stunned the world by winning Wimbledon in 1985. Sascha is just 20, stands 6'6", and already has been ranked as high as three (currently four) in the world. In 2017 Zverev won five ATP titles, including the Rome Masters on clay, beating Djokovic in the final, and the Canadian Master on hard courts, beating Roger Federer in the final, proving that he can play on any surface, that he's not afraid of the big occasion, nor is he star struck.
Zverev has yet to beat Nadal in three attempts. Last year he twice led Rafa by a set in an epic five set defeat in Melbourne, but was thrashed 6-1 6-1 by the Spaniard in Monte Carlo. Nevertheless, with his combination of size and athleticism, a game that is just as effective on any surface, a calm, focused mindset allied to steely determination, Zverev could be the player most likely to displace Rafa Nadal at the top of the ATP rankings in 2018.
Chances of finishing 2018 as World No.1: Strong
Upcoming Events
ATP World Tour Previews & Tips