Toni Nadal Talks Tennis Injuries
Toni Nadal Talks Tennis Injuries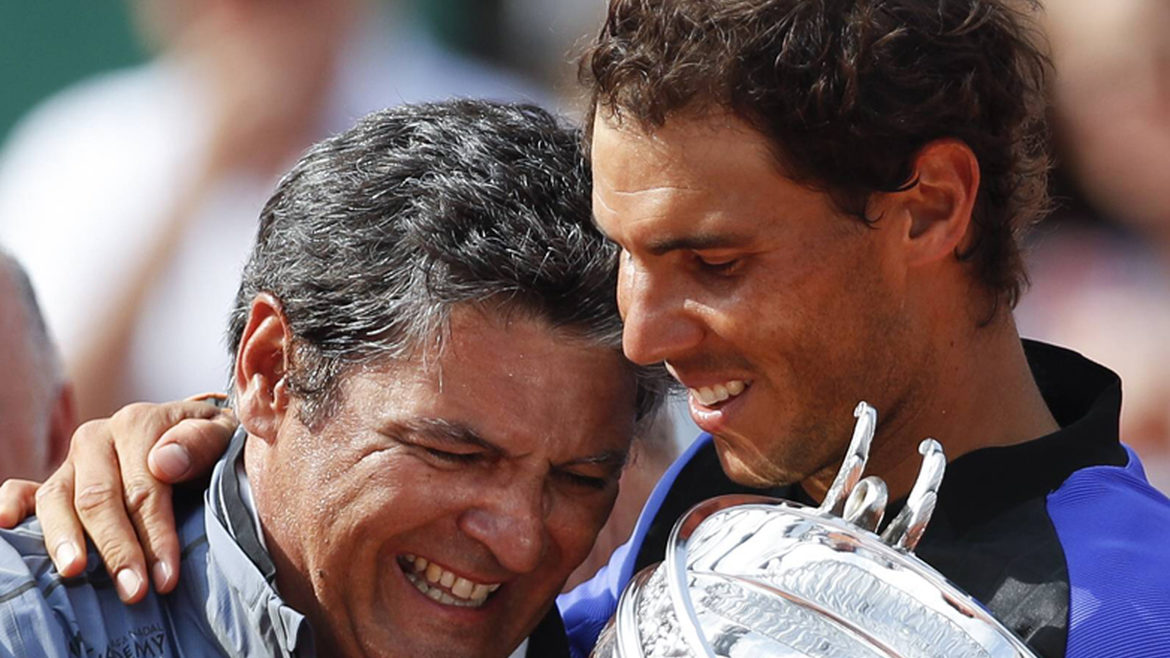 Legendary coach Toni Nadal knows a thing or two about tennis, so when the man who guided his nephew Rafa to 16 slams speaks of his concerns regarding the catalogue of high profile injuries on the ATP tour, people need to listen.
Toni Nadal: Greatest Coach Ever?
There is a strong case to rank Toni Nadal as the greatest tennis coach of all time. Some coaches have earned their reputation with a string of high-profile clients like Brad Gilbert (Agassi, Murray, Roddick, Nishikori), others are esteemed for being key in the initial development of the player at youth level and even earlier, a la Nick Bollettieri, and then there are the former great players who have taken on established pros and helped them to achieve even more success, like Tony Roche (Lendl, Federer), Boris Becker (Djokovic) and Stefan Edberg (Federer).
Lennart Bergelin, the former Swedish Davis Cup player and coach is a rare example of a coach who took charge of an 18-year-old – in this case Bjorn Borg - in 1974 and guided him to five Wimbledon and six Roland Garros trophies, the world number one ranking and a place in most experts all-time top 10.
Rafa: Footballer To Tennis Player, Righty To Lefty
However, only Toni Nadal took a player from childhood and guided him throughout his teens and his 20s to unparalleled success on clay as well as domination on hard courts and grass, to a "Career Grand Slam" (Australian Open, French Open, Wimbledon, US Open) plus multiple slams and the prestigious year-end world no.1 ranking three times.
What's more, Uncle Toni as he is affectionately known, had to convince the soccer-crazy young Rafa that his future lay in tennis and not football. Being Spaniards and avid Real Madrid supporters, and a family steeped in football (Toni's younger brother Miguel Angel played for Barcelona and Spain) this was tantamount to both insanity and heresy. And to top it all, there was the small issue of converting the right-handed Rafael into a lefty, surely an incredible and far-sighted achievement in itself.
And yet, not only did he accomplish all that, he instilled qualities like sportsmanship, graciousness, modesty, and a streetfighter's will-to-win in young Rafa that he maintains to this day. Add to all that Nadal's incredible talent and athleticism, and you have the player that Andy Murray once called "the greatest thing ever to happen to tennis."
Academy Boss And Campaigning Tennis Journalist
While still a relatively young man of 56, Toni Nadal has stood down as Rafa's main coach and passed those duties on to Carlos Moya, himself a formal world number one and lifelong friend and mentor of Rafael. Toni now runs the Rafa Nadal Academy in Majorca, and also writes about tennis for the Spanish broadsheet El Pais, using his position with the paper to "vent his spleen" so to speak.
Toni Nadal has become increasingly concerned about the injuries sustained by players on the ATP tour. Having seen his nephew suffer chronic knee injuries from his late teens, followed by issues with his wrist, his back and more recently at the Australian open last month, what looked to be his hip, he has up-close experience.
But is not just Rafa he is concerned about. Within the past year, all of the ATP's Big Five players of Nadal, Roger Federer, Novak Djokovic , Andy Murray and Stan Wawrinka have missed out on large chunks of their seasons and grand slam events because of injuries. According to Toni these injuries are primarily the result of technology and hard courts. (These excerpts are translated from Spanish):
"I am given to manifest my disagreements. The last time (I spoke on this subject) was in this same newspaper and just before the start of the Australian Open, when I regretted that we have not done anything to prevent tennis injuries. If you do a quick review of the losses of the last three big tournaments, you will see that I am not exaggerating."
Nadal highlighted the 2017 US Open as a recent slam that was obliterated by injuries, resulting in Rafael Nadal winning his third title in New York, but not facing a player ranked inside the top-20 in any of his seven matches along the way.
"In the US Open there were too many of the players who normally occupy the top positions: Stanislas Wawrinka, Milos Raonic, Andy Murray, Novak Djokovic and Kei Nishikori (out injured)."
Toni also drew attention to the end-of-season ATP World Tour Championships, which features the tour's top eight players:
"In the Masters Cup in London, four of the eight that had qualified the previous year did not even have the chance to try this last year to drag injuries of important consideration; Wawrinka did it and had to resign before starting the tournament. And Rafael, was the sixth to fall to have to leave after his debut against David Goffin."
The Speed Of The Ball, The Hardness Of The Courts
Toni then delivered his "coup de grace", laying out what he believes are the main causes of injury in the men's game:
"How many more injuries do you have to see (before doing something)? How many more tournaments must be depleted by the constant absences (of the top players)? When will we recognize the need to implement changes, to accept, once and for all, that the enormous speed of the ball and the hardness of the courts is harming the tennis players and undermining the show?"
Nadal has long been a critic of the amount of ATP events are played on hardcourts, which are basically cement. Compared to surfaces like clay and grass, cement is extremely taxing on the knees, hips and back of players, and when one is a powerfully built athlete who plays a game based on lots of defending, i.e. running, stopping, starting, twisting and turning, like Nadal, as well as Djokovic and Murray, it's not hard to see where damage is being done.
Tennis Technology: Good Or Bad?
The "enormous speed of the ball" pertains not to any technology among the balls themselves (unlike golf) but in the advances made in string technology used by many top pros. Today's strings have names like Big Banger, Hurricane and Blast, and constructed from polyester for the purpose of delivering explosive speed/power plus a high degree of touch and control.
Anyone who has played tennis as an adult will have experienced the jarring feeling of returning a particularly hard serve. That serve might have registered at 100 mph, which is the speed of the groundstrokes of top ATP players. All ATP stars are capable of serving at 130 mph or more. Now imagine the stress returning those kinds of serves and groundstrokes, day after day, week after week throughout a season must put on the wrists. It's no surprise that wrist injuries are the most common ailments suffered by professional tennis players.
In a sport like golf, if a player can drive the ball 320 yards because of the advancements in driver and golf ball technology, nobody is getting hurt. The fans love to see long drives, and while the purists complain of Par-5 holes becoming Par-3s because of technology, as of yet, there is no correlation that players are getting injured as a result.
That's not the case in tennis. We are becoming accustomed to slams with depleted fields at the start, and stars carrying injuries then crashing out early. At the Australian Open, Murray was a no-show, Djokovic gave it a go but was clearly injured, while Nadal came in carrying one injury (his knees) and exited with a brand new one (his hip).
The Flip Side
…is, that while players seem to get injured more often, they recover faster, and invariably come back as good as ever. In the 70s, 80s and 90s, the injuries that today's players recover from marked the death knell of a career. By the age of 30, most top players were done, and the list of slam winners who were forced to bail out comparatively early due to wear and tear is long, and includes name like Boris Becker, Michael Stich, Michael Chang, Jim Courier, Andy Roddick and Gustavo Kuerten.
Today, Roger Federer is playing his best tennis ever aged 36. Roger hasn't suffered as much as some, but he has suffered in his 30s with his back. Rafa Nadal will be 32 in the summer, but would anyone count him out from winning an eleventh French Open?
In the same way Real Madrid's Cristiano Ronaldo was written off four years ago with crippling knee injuries, yet has played just as well since, the prognosis that Murray, Djokovic and Wawrinka will all make full recoveries and win slams again is very good. So as fans, we may just have to accept our favorite players missing chunks of the season in return for the incredible spectacle modern tennis has become.
Upcoming Events
ATP World Tour Previews & Tips