How Many Slams Will Roger Federer Win In 2018?
Now aged 36, can the Swiss legend add even more trophies to his 19-Slam tally in 2018, and if yes, which ones?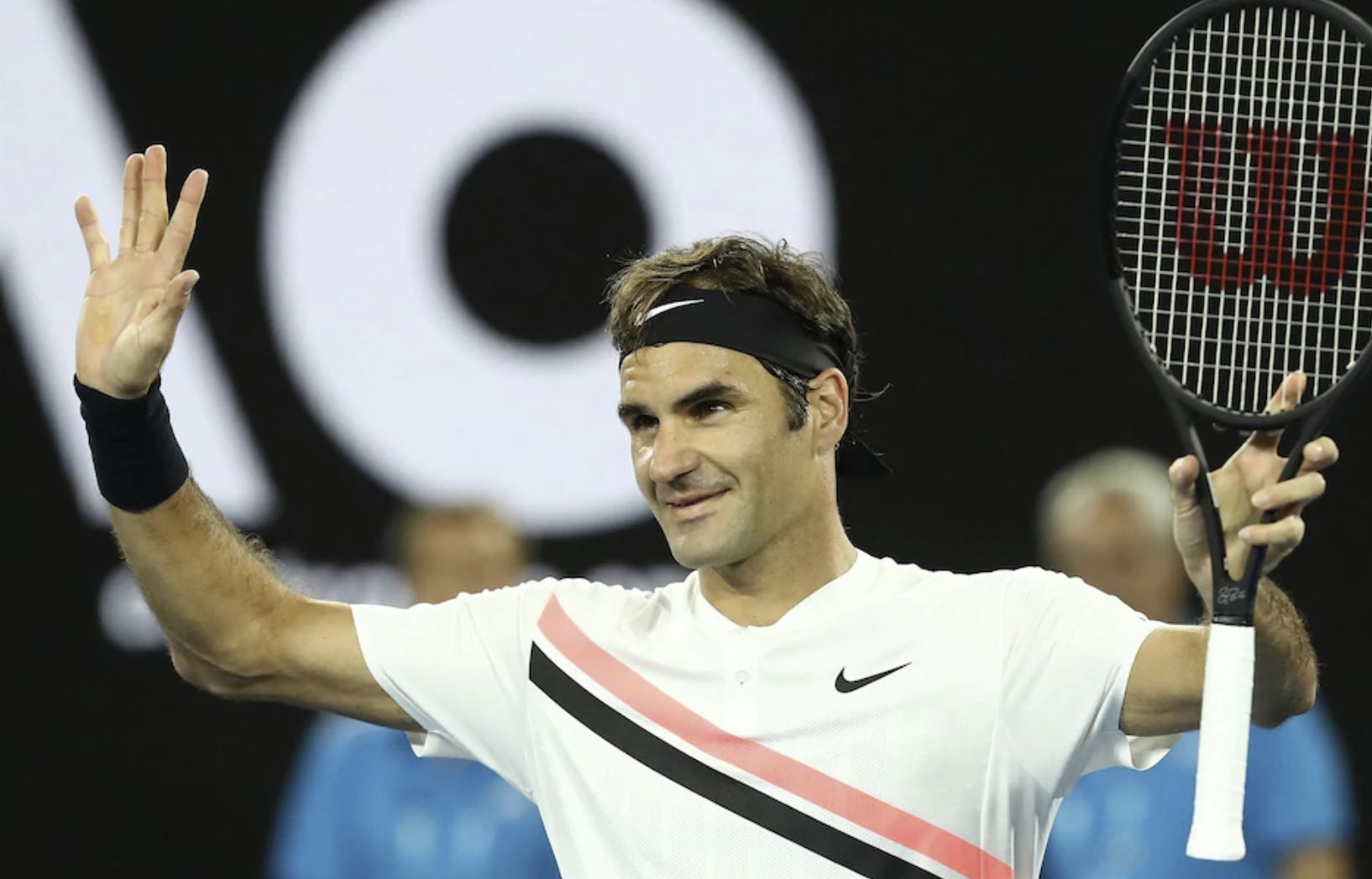 Roger Federer in 2018
Last year Roger Federer confounded the so-called tennis experts who'd said at 35 his days of winning slams were over by adding the Australian Open and Wimbledon to his collection. Now aged 36, can the Swiss legend add even more trophies to his 19-Slam tally in 2018, and if yes, which ones?


Roger Federer continues to defy sporting logic by playing arguably his best ever tennis at an age when many of his original contemporaries (Agassi, Safin, Nalbandian, Hewitt, Roddick) are long gone. In 2017, playing a brand of tennis that defied logic Federer won seven tournaments including both the Australian Open and Wimbledon – his first slams since 2012. Just as significantly, he went 4-0 against his long-time nemesis Rafael Nadal, and this wasn't a Nadal who was hamstrung by injury or self-doubt, this was a Nadal who won the other two slams of 2017 in Paris and New York and finished the year as world no.1.


The Real World No.1?
Such was Roger's domination of Rafa, as well as the fact that his seven tournament wins in 2017 was one more than the Spaniard, that in most people's eyes it was Federer who was the no.1 tennis player in the world, not Nadal. Regardless of which one was the best, it was an amazing return to form for both men, who had both been largely written off in recent years as genuine slam threats, while defensive grinders Novak Djokovic and Andy Murray had maintained a stranglehold at the top of the game.

Great players though Novak and Andy undoubtedly are, neither has anything like the charisma and box-office appeal of Federer or Nadal, and to see those two dueling for supremacy again was like traveling back to 2005-10 when Roger's astonishing talent and Rafa's incredible athleticism lifted tennis to heights previously unseen.

It's All About The Racquet
But what has been the difference between the Federer who seemed content to be a top-5 player from 2013-2016, and the "Tennis Terminator" we saw in 2017? Going into that year, thanks to a long layoff (he didn't play again in 2016 after Wimbledon due to injury) he was well rested and injury free for the first time in a long while. However, the single factor was that he finally became comfortable with the large framed racquet he'd began playing with three years earlier, and that turned his backhand from a liability into a weapon.

When asked about his backhand after he had demolished Nadal 6-2 6-3 in the Round of 16 at Indian Wells, Federer said:
"I think the backhand has gotten better because I have been able to put in so many hours onto the racquet now, and since this year, I feel super comfortable with the racquet, and I think I have gained confidence stepping into it. I think it was the work that I had in the offseason. You never play 10 backhand-to-backhand shots, but in practice you practice those a ton and eventually they are ingrained in the system. You need good footwork, because if the footwork is not good, you won't be on top of the ball."

Time and again in that match, Nadal had pounded his heavy topspin forehand toward Federer's backhand – a winning tactic during his years of domination – only to see Roger smash it back effortlessly for a clean winner, leaving Rafa shaking his head in amazement. Federer had for years been the only top player on the tour who preferred a smaller headed racquet because of the power it generated, but it also resulted in more backhand errors, which Nadal had been able to exploit. Now Federer makes far fewer errors on his backhand, and is able to hit though it with full power, and the doubt that was once there when using that stroke against Nadal is gone.

Which Slam Is Roger Federer Most Likely To Win In 2018?

Federer was so good in 2017 that even at 36, he will still be a threat in every tournament he plays. He has already won 19 slams – three clear of second placed Nadal with 16 - and would no doubt love to win 20 or more, but which slams are he most likely to capture in 2018?


Australian Open
Federer loves playing in Melbourne, and has now won this event five times. A sixth will see him draw level with Novak Djokovic, an arch rival and one of the few players on the tour that Roger has never really gelled with. That factor might add a little more edge to his Aussie Open campaign, not to mention the fact that should he win, he could (depending on Rafa) become World no.1 again for the first time since 2012, and the oldest player to do so in the open era.
Main Rivals: Rafa Nadal, Alexander Zverev, Nick Kyrgios, Stan Wawrinka
Bookies Odds: 2/1 (favorite) Boylesports
Chances of Winning: A+

French Open
While Federer is an excellent player on clay, last year he chose to bypass the clay court season – including the French Open – in an effort to save himself for Wimbledon, a strategy which paid off handsomely. Roger has only lifted the trophy in Paris once, in 2009, and unless he feels he has a shot at winning the Grand Slam of all four majors in one calendar year, he may choose to give Roland Garros a miss again in 2018.
Main Rivals: Rafa Nadal, Dominic Thiem, Stan Wawrinka
Bookie's Odds: 25/1 bet365
Chances of Winning: B (if he shows up)

Wimbledon
Roger Federer's name will forever be indelibly linked with Wimbledon, just as those of Fred Perry, Bjorn Borg, and Pete Sampras are. He loves the place, and it loves him back, so much so that when he faced Andy Murray in the 2012 Wimbledon final, the bulk of the crowd wanted a Swiss victory, which turned out to be the case. Last year he won his eighth singles title – a record – without losing a set, taking out genuine grass-court threats Dimitrov, Raonic, Berdych and Cilic in succession. This year's event may be tougher to win if both Djokovic and Murray have regained some form, but if Federer wins only one slam in 2018 to get to that magic 20 majors, it will be at SW19.
Main Rivals: Novak Djokovic, Andy Murray, Grigor Dimitrov, Nick Kyrgios,
Bookie's Odds: 14/5 (favorite) 888Sport
Chances of Winning: A+

US Open
Should Roger Federer win in New York, it would be his sixth title there, and he would pull clear of Jimmy Connors and Pete Sampras as the player with the most US Open trophies in the open era. The problem is Federer hasn't lifted the US Open trophy since 2008, his longest gap since winning a slam, and in fact he has only reached the final twice since then, in 2009 and 2015. Last year Roger crashed out in the quarterfinals to an inspired Juan Martin Del Potro in four sensational sets, one of just five defeats he suffered all year.

While that loss could have been put down to fatigue after what had been already a sensational season, Federer then went on to win two more titles, the Shanghai Masters and his hometown event in Basel, beating Del Potro in the final. So Federer's lack of success in a decade in New York must be put down to other factors, maybe the noise from the jets overhead, the often windy conditions (greatly improved since 2015), the nighttime, floodlit matches, or something else. But if we have learned anything from 2017, it's that when it comes to Roger Federer, anything is possible, so don't put a sixth US Open beyond him just yet.
Main Threats: Rafa Nadal, Novak Djokovic, Andy Murray, Stan Wawrinka
Bookie's Odds: 5/1 William Hill
Chances of Winning: A

Get all of your Grand Slam tennis tips for the Australian Open, Roland Garros, Wimbledon and the US Open from FreeTips.com in 2018. If you enjoy betting on tennis, our expert tennis tipsters will provide you with all of the tennis predictions, tennis odds and tennis betting tips for the slam events and throughout the 2018 ATP and WTA seasons.
Upcoming Events
Grand Slams Previews & Tips