Betconnect Review
There are two ways to use Betconnect: as a pro or as a punter. If you register as a pro you can use the website much like a standard exchange, but most bettors will be signing up as punters.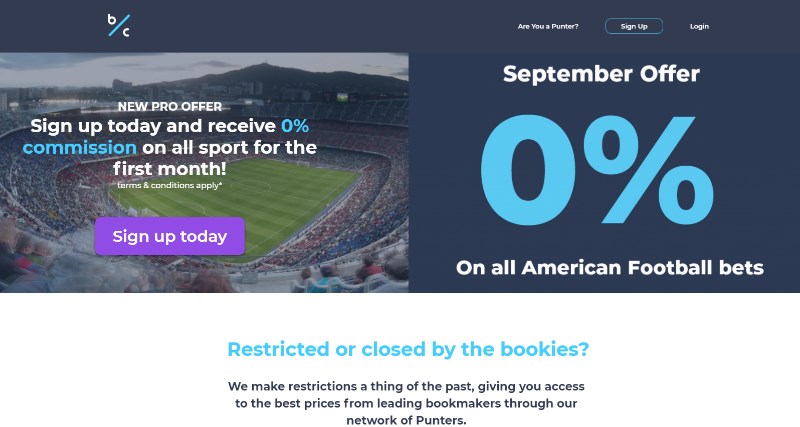 After you have selected a number of betting preferences, all you have to do is wait. When a pro places a wager relating to one of those preferences, you will receive an alert. You then have three options: you can dismiss the wager, lay the bet (bet against the pro), or follow the pro and place a similar wager yourself. If you decide to follow the pro, you can use the Betconnect platform to search for the best odds on that wager.
Betconnect is attracting quite a bit of attention by advertising itself to professional gamblers who have been restricted by other bookmakers. Betconnect is fully licenced and regulated by the UK Gambling Commission, however, so everything is above board here. Many of those professional gamblers will have had their accounts restricted for winning too much money from the bookmakers, which means the Betconnect punters will be able to take advantage of that knowledge.
Betconnect Verdict
Why punters bet at Betconnect
Pros
Innovative betting system
No commission to pay as a punter
Blog section with betting tips
View performance data for all pro users
Betting preferences mean that you will only see wagers that interest you
Cons
No telephone support
No e-wallet payment options
Betconnect Odds & Markets
The Betconnect odds and markets will only be displayed to the pro users, but the selection of sports covers all the major categories:
| | | |
| --- | --- | --- |
| American Football | Horse Racing | Football |
| Tennis | Cricket | Rugby Union |
| Rugby League | Golf | Snooker |
| Darts | Boxing | Basketball |
| Baseball | Formula 1 | |
The big-brand exchanges (eg BetFair) have a much wider selection, but as Betconnect grows in popularity we expect to see more sports being added. Currently the choices are geared towards the UK market, but global favourites such as ice hockey and MMA/UFC would be worthy additions.
Betconnect Football Betting Tips
With 15 regions to choose from, there are plenty of football options at Betconnect. Some regions, such as England and Europe, have several leagues and competitions. Others, such as Germany and Spain, will only have the most popular league from that country.
When you've selected your region and your fixture, you can choose which market you want to bet on. There will be around 10-15 available markets per match, depending on the popularity of the competing teams. The match result, the over/under, both teams to score, and home team clean sheet are among the most popular.
Rather than having the classic sportsbook layout, Betconnect uses a series of drop-down boxes. After you have chosen your market you make your selection, then you will be presented with odds from a number of different bookmakers. Picking the best price from this list is a great way to get more value for money.
Once you have submitted your bet request, it will be sent to the relevant punters. As a punter, if you think the pro has made an incorrect selection, you can bet against them. You can also check out the pro's statistics and betting history to help you decide.
Betconnect Tennis Betting Tips
The tennis category works in a very similar way to the football, however only the WTA competitions are currently covered. Hopefully the ATP and ITF tournaments will be added in the near future.
For popular games, the market selection covers the main match outcomes: match result, handicap, and over/under. For smaller matches you may have only the match result. You'll still be given a range of prices to choose from, however, allowing you to select the best odds.
Betconnect Horse Racing Betting Tips & more
Betconnect Live Betting
Unfortunately Betconnect doesn't support live betting. Some form of in-play wagering may be added in the future, but we will be sure to keep you updated.
Betconnect Website & Login
The Betconnect website has been designed in such a way that even a novice could use it. The layout and menu options are clear and instructive, and the pages aren't cluttered with information. Betting exchanges are known for being very complicated and confusing, but Betconnect makes it super simple. From the moment you arrive on the landing page you'll be able to find exactly what you're looking for.
The login and signup buttons are located in the top right corner of the screen at Betconnect.com, so you're only a few clicks away from getting started. If you've forgotten your password, there's an option to reset it if you click the login button.
Betting Products
Betconnect isn't like a standard betting exchange so it has a pretty unique set of products and features. Here are some of the ones we really liked.
Betconnect Zero Commission
If you're signed up as a Betconnect punter, you don't have to pay any commission on your winnings. Betconnect makes its money from the pro users, who only have to pay a small fee: 1% of their stake for football bets and 3% for other sports.
This is in contrast to a lot of other commission-based betting websites who will take a percentage of your winnings. While this is advertised as a no win, no fee deal, it means that you stand to lose a lot of money if you win big. Betconnect's competitive rates are much better in the long-run for seasoned bettors.

Betconnect Pro Statistics
When you receive a bet request as a punter, you can assess the pro who sent it by checking out their data. You can view stats such as their average stake size, average return on investment, and the number of bet requests they've sent. This information can then be used to decide whether you want to back the same wager as the pro or bet against them.
Betconnect Blog
The Betconnect blog is a great resource for both punters and pro users. It has betting guides, predictions, tips, and Brooke's Best Bits, outlining the big winners of the week. Be sure to check back and read the blog often, especially Brooke's Best Bits, as you may notice the same pro users cropping up again and again. If that's the case, it may be worth following those names and placing the same bets as they do.
Betconnect Real-Time Odds Comparisons

Very few sportsbooks or exchanges offer real-time price comparisons. This is because they don't want the customers placing their bets elsewhere, but Betconnect is different. It shows you the best odds for your wager across a whole host of big-name bookmakers so you can get the most bang for your buck. This applies to both the punters and the pros, so you can be sure that you're getting the best value for money.
Betconnect Mobile App
The Betconnect mobile app is a fully-functioning handheld version of the main website. In many ways it works better than the desktop version, as the flow of navigation seems much more intuitive. Whether you're signed up as a punter or a pro, you'll be able to take Betconnect out and about with you and never miss a bet request. Even the pros' statistics are available for you to analyse when you're on-the-go.
Betconnect Withdrawals & Deposits
Currently Betconnect only accepts deposits and withdrawals using Visa or Mastercard. A few of the popular e-wallets, such as Netller, Skrill, or PayPal, would be a welcome addition.
Betconnect Customer Service
There is no phone number listed on the Betconnect website, but luckily there are plenty of other ways to get in touch:
Live chat: Blue speech bubble icon will appear in the bottom right corner of the screen when the live chat is available.
Email: support@betconnect.com
Twitter: @betconnect
Post: Betconnect Ltd
Elder House, St Georges Business Park
207 Brooklands Road, Weybridge
Surrey, KT13 0TS.
Betconnect FAQs
Is Betconnect legit?
It sure is. The UK Gambling Commission is one of the top governing bodies in the betting industry, and they have granted Betconnect a license to operate. That means that they will also be keeping an eye on Betconnect to ensure that everything is as it should be.
Can I use a Betconnect bonus code?
You can indeed; Betconnect often runs bonuses and promotions for both punters and pro users. Check out our Betconnect bonus code page for more information.
Does Betconnect have resources for problem gamblers?
Yes it does. There is a 'Responsible Gambling' link in the 'help & support' section with information about time-outs and self-exclusion. There are also links to various help organisations such as Be Gamble Aware.
Facts & Figures
Facts & Figures
Facts & Figures
Facts & Figures
Betconnect Related Articles