Draftstars India Review
Draftstars India is a sports site like no other. This unique platform gives punters the chance to win prize pools by assembling fantasy sports teams. The markets are cricket, football, and the NBA.
So, how exactly does it work? First of all, you'll need to create an account by clicking on the 'Sign Up' button. Once you've registered simply click on the 'lobby' button and choose an event. Each event will have different points of entry. For instance, the highest point of entry for an IT20L game between Rajasthan and Punjab is ₹500 while the lowest is ₹10. However, the bigger the entry fee, the bigger the prize pool will be. Finally, pick the players that you think will score the most points and sit back and enjoy the action.
Draftstars India also allows you to pick a team for events that have already started. All you need to do is click the 'Live Now' button on the left-hand side of the homepage.
Draftstars India Verdict
Why punters bet at Draftstars India
Pros
Unique sports betting platform
Offers in-play events
Competition amongst other punters
Range of different entry fees
Detailed 'How to Play' section
Cons
Limited number of sports
No live chat support
Draftstars India Odds & Markets
Currently, Draftstars India allows you to pick fantasy teams for three different sports. They are:
Cricket
Football
Basketball (NBA)
Given that this is a relatively new site, it's no surprise that the number of events covered is limited. Furthermore, this platform is built specifically for Indian punters. It wouldn't make much sense to offer Australian rules or rugby markets if punters aren't interested in those sports. The three sports that are listed are the ones that the Indian public love the most.
Draftstars India Football Betting Tips
Although the site is relatively basic, you'll still have a handful of useful betting tools at your disposal.
Scoring
A comprehensive scoring guide is available for each event. This is useful as it'll give you an insight into what you should look out for in your potential players. For instance, in a cricket game, you'll get 1 point for every run scored and 20 points for every wicket taken.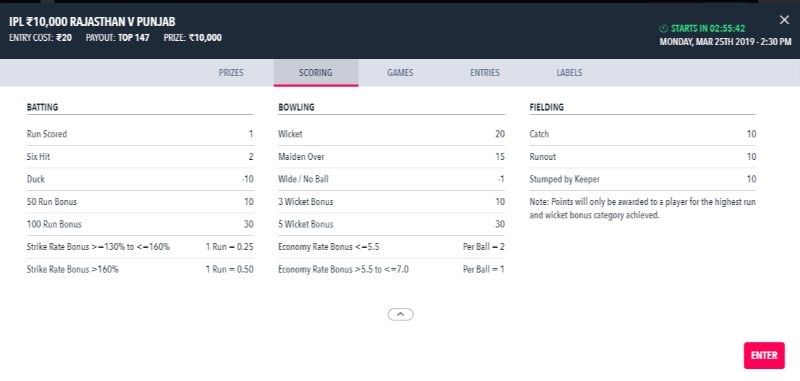 How to Play Section
Draftstars India has included a useful 'How to Play section on the site. It's important that all new players read this information before playing. It tells you how to choose your contest, how to select your players and more.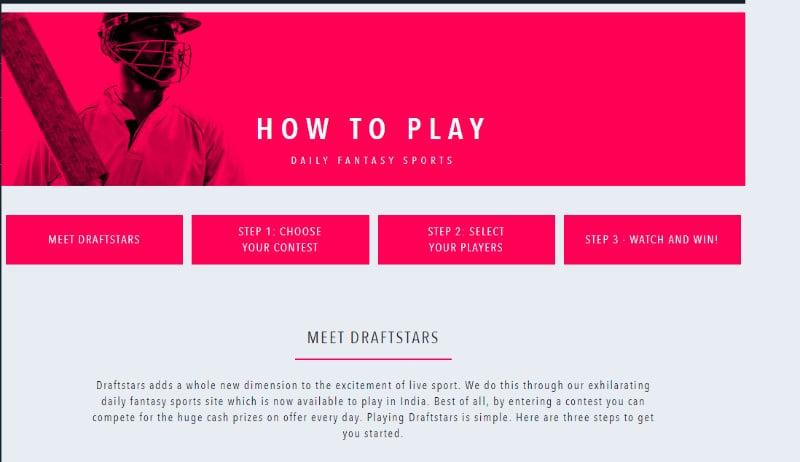 Draftstars India Horse Racing Betting Tips & more
We have no doubt that you'll want some hints and tips when you're selecting your Draftstars India fantasy cricket team. The prize pools are large and we want to give you the best shot of winning them. Here's what you should keep in mind when selecting your cricket team.
High scoring batsmen - Try to pick high scoring batsmen when possible. It's worth noting that your team will have a salary cap so you won't be able to pick all of the best players. However, if you make smart decisions you'll have a much better chance of landing a prize.
Bowlers and fielders - Is there a specific bowler who's in red hot form? If so, try to make room for him in your team. Also, try to pick fielders who make plenty of catches. Wicket-keepers that can bat usually score lots of points during cricket games, too.
Draftstars India Football Betting Tips
Picking a team full of fantastic football players isn't always as easy as it sounds. You'll have some tough decisions to make along the way. Here are a couple of things to keep in mind:
Clean sheets - Try to pick a goalkeeper and defenders who usually keep clean sheets. There are a plethora of detailed statistics pages that you can use to help you out. Again, keep your salary cap in mind as you probably won't be able to afford all of the household names.
Goals and assists - Although work ethic and energy is an admirable trait, it'll score you very few points when it comes to fantasy football. Pick a playmaker who can split a defence open with one deadly pass and a goalscorer who'll put their chances away. Also, don't pick players just because of their reputation. If they're having a barren spell don't be afraid to leave them out. It could be the difference between winning and losing.
Other Sports
Draftstars India also offers NBA markets. However, if you want to bet on any other basketball leagues you'll be out of luck.
Draftstars India Live Betting
Draftstars India also offers live betting on all of the events we discussed earlier. Simply click on the 'Live Now' tab and you'll have immediate access to all available markets.

Draftstars India Website & Login
The website is user-friendly and extremely easy to use. The majority of the action will take place in the 'Lobby' section of the site. However, there's also a 'Live Now' tab which we discussed earlier and a 'How to Play' section which will tell you everything you need to know about the site. If you're looking for contact information or terms and conditions simply scroll to the bottom of the homepage.
In terms of logging in, the process is simple. Just click on the 'Sign In' button and enter your username and password. Once you've done that, you'll be redirected to the main lobby where you can start to assemble your teams.
Draftstars India Mobile App
At the present moment, there is no Draftstars India app available for download.
Draftstars India Withdrawals & Deposits
There are four main payment methods which you can use to add funds to your account. They are as follows:
Visa
MasterCard
Bank Transfer
UPI
In terms of withdrawals, you'll only be able to withdraw funds back to your bank account. It's also worth noting that all withdrawals must be at least ₹100.
Draftstars India Customer Service
If you need to contact a member of the Draftstar India customer service team simply scroll to the bottom of the homepage and click on the 'Contact Us' link. All you need to do is complete a form with your name, e-mail address, and message. You won't be able to contact support via any other method.
Draftstars India FAQs
Is there a Draftstars India welcome bonus?
Yes. The Draftstars India welcome bonus is a matched deposit offer. You'll need to deposit a minimum of ₹50 to trigger the bonus. Please remember to check the terms and conditions section for more information.
Is there a Draftstars India no deposit bonus?
No, not currently. However, some contests don't have any entry fees which means anyone can play.
Can I view my competitors' teams?
You can view your competitors' teams once a contest has started. However, before a game starts all teams will remain private in the spirit of fair play.
Facts & Figures
Draftstars India Related Articles