PointsBet Review
Since launch, PointsBet has proven to be a major hit with Australian punters because it brings something completely different to the table - spread betting. Read our honest PointsBet review so you know what to expect.
PointsBet Review
PointsBet was established in 2017. The founders, CEO Sam Swanell and COO Andrew Fahey, have plenty of industry experience by way of working at www.tomwaterhouse.com for several years. It is licenced and regulated by the Northern Territory Government, and is currently the only online bookmaker to offer spread betting in Australia.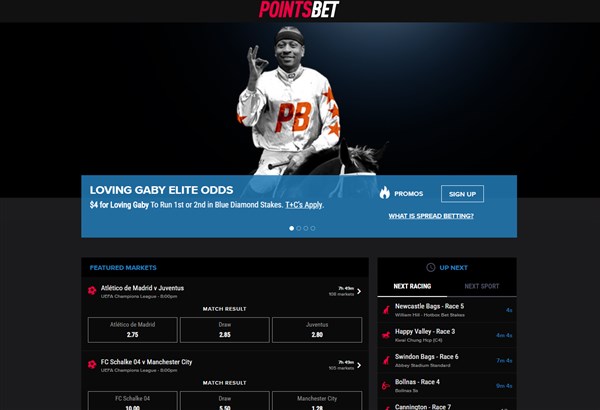 PointsBet is an approved betting partner of the AFL, NRL, Australian Rugby Union, Tennis Australia, Cricket Australia and Football Federation Australia. Although, it's primarily known as the spread betting bookie, PointsBet has now branched out to provide competitive fixed odds betting on racing and sports, which gives its growing number of customers even more fantastic betting options.
PointsBet Verdict
Why punters bet at PointsBet
Pros
✔ Only Australian-licenced spread betting bookmaker
✔ Competitive fixed odds betting prices
✔ Good market depth across several sports
✔ Easy-to-use betting platform
✔ Australian company and fully licenced
Cons
✘ No live betting
✘ Spread betting is high risk
✘ Limited payment options
PointsBet Odds & Markets
Having first looked at this bookmaker when it launched, it's amazing how much more it has added in such a short space of time. There are now more sports and the addition of racing cards is music to the ears of Australian punters.
Just like all good Australian betting firms, local sports get given the star treatment at PointsBet, but that doesn't mean action from overseas is neglected in any way. This is a truly global betting platform and some of its best spreads can be found in the international markets. Here's a full list of the current sports, and a few non-sports, that are available to feast on.

| | | | | |
| --- | --- | --- | --- | --- |
| AFL | NRL | American Football | Baseball | Basketball |
| Boxing | Cricket | Cycling | Darts | Golf |
| Ice Hockey | MMA | Motor Sports | Rugby League | Rugby Union |
| Snooker | Soccer | Tennis | Volleyball | Financials |
| Entertainment | Novelty | Politics | | |
PointsBet Football Betting Tips
Betting sites are naturally seasonal creatures. PointsBet has a wealth of Aussie rules and NRL betting in both fixed odds and spread betting markets. However, at the time of conducting this PointsBet review, it was the closed season for these events, so soccer, NBA, tennis and ice hockey have their turn to grab the limelight.
The soccer section is started off by the Australian A-League, but you also have another 60 leagues from more than 30 countries plus Champions League and Europa League matches as well. Games from the featured divisions such as Serie A, English Premier League, Bundesliga, La Liga, MLS and so on have an average of 120 betting markets. For fixed odds these include: match result, draw no bet, correct score, total goals O/U, handicaps, BTTS and half markets to name a few. The spreads options are team line, total goal minutes, time of first goal, second goal, last goal, correct score and team stats and multipliers among others. When you break away from the elite leagues, the number of markets decreases to around 40 and you don't have the option of spread betting throughout either.
Basketball is the perfect game for spread betting and PointsBet doesn't miss a beat with its coverage. The high scoring nature of the game, and that it's played in four quarters lead the way to an amazing range of fixed odds and spread markets. The same applies to American football with the vast majority of NFL games boasting around 200 fixed odds and spreads markets. Cricket, ice hockey, darts and tennis are just a few others that have a plentiful selection of betting options for punters. Whilst, there are online sportsbooks offering greater coverage, PointsBet certainly has enough to keep you busy.
As for the odds on its fixed odds betting markets, they are competitive in most instances. So, even without spread betting, PointsBet offers reasonable value to Australian bettors.
| Event | PointsBet | Ladbrokes | BetEasy |
| --- | --- | --- | --- |
| Football: EPL - Chelsea Vs Crystal Palace. Chelsea win | 1.28 | 1.30 | 1.29 |
| Rugby League: International friendlies. England Vs New Zealand. New Zealand win | 1.64 | 1.57 | 1.61 |
| American football: NFL - Patriots Vs Packers. Patriots win. | 1.41 | 1.40 | 1.42 |
| Ice Hockey: NHL - NY Rangers Vs Buffalo Sabres. Rangers win. | 1.83 | 1.83 | 1.85 |
| Basketball: NBA - Toronto Raptors Vs LA Lakers. Lakers win. | 2.04 | 2.00 | 2.15 |
| | | Ladbrokes Review | BetEasy Review |
PointsBet Horse Racing Betting Tips & more
With spread betting only available for sports, PointsBet becomes a traditional bookmaker for race betting. There are no half-measures here either. It covers every horse, greyhound and harness race from Australia and New Zealand, plus there is a terrific amount of action from other countries, including: the UK, Ireland, France, USA, South Africa, Hong Kong, Singapore and Sweden among others.
Local races have win or place fixed odds betting and best tote markets BT+SP and MIDDIV. There are also the common exotic bets - quinella, exacta, trifecta and first four which can be boxed or unboxed. Also, PointsBet offers quaddies, double and running double. By clicking on the runner's name an impressive form guide complete recent runs, course and distance results, career winnings, surface performance and much more is displayed. This in-depth data can certainly help guide punters in finding the best runners to back.
For international meetings, there isn't so much going on. With no tote pools or exotics, you only have fixed odds betting on the win or place markets. Some events that are not priced up simply go with the SP. Furthermore, certain race cards didn't offer any form guides either. If you're a punter who likes to get in on the action early, head over to the 'name a bet' section where you'll discover a list of racing futures. Here you can bet on the next Melbourne cup, the Everest, Cox Plate, Caulfield Cup, Golden Slipper, Inter Dominion and several other big Australian races.
PointsBet doesn't offer live streaming on any races at the moment which is something many of its competitors do but all-round this is a worthy addition to the platform for punters.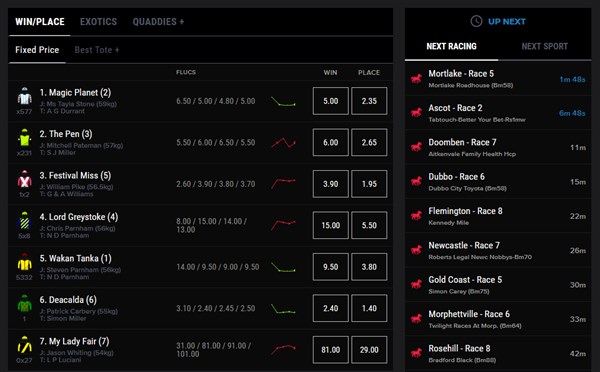 What is spread betting?
Spread betting is quite different to the traditional way of betting. There are no odds like you would usually expect to find. Plus, your win/loss amounts are variable depending on what happens in the match. This means you can get some big wins or take some heavy losses. The easiest way to explain how spread betting works is to go through a few markets so you can see what the deal is. We'll use a couple of sports in our examples to cover the key points.
EPL Soccer: Arsenal Vs Liverpool

As you can see, there is 29 (minutes) with an arrow pointing down meaning under, and 32 (minutes) with an arrow pointing up meaning over. So, let's assume we want to bet on the under 29 market, and we wager $10. The 29th minute is the break-even point. If a goal is score before, we win $10 for every minute it is under.
E.g. a goal is score in the 9th minute. 29 - 9 = 20, so we win $10 x 20 = $200 profit
While that part is thrilling and exciting, if the clock ticks past 29 minutes and the match is still goal-less, then we start biting our nails because we lose $10 every minute it is over.
E.g. a goal is score in the 59th minute. 29 - 59 = -30, so we lose $10 x -30 = $300 loss
The same, but in reverse applies to the over 32 market. You lose if an early goal is scored but win if a team bags one later.
NBA Basketball: Detroit Pistons Vs Philadelphia 76ers

We have two markets in this image. Let's deal with the 'Line' first. The 76ers are -9 and the Pistons are +6. This spread is similar to a traditional handicap bet. You need to remember that the team with the minus is the favourite. The easy way to note this is by thinking, if the game is a tie, you lose -9 betting units on the 76ers and win +6 on the Pistons.
So, let's imagine we have a $20 on the 76ers (-9). The break even point is the 76ers winning by 9 points. Every point above 9, we win $20 for each. Every point below and we lose $20 for each.
The final score (regulation time) is Detroit Pistons 88 Philadelphia 76ers 112. This gives a point difference of +24 to Philadelphia. The spread/handicap is -9, so our bet wins by +13 points.
Therefore, we win $20 x 13 = $260 profit.
Any result less than the Philadelphia 76ers winning by 9 clear points means we lose.
E.g.

Philadelphia win by 3 points. -9 + 3 = -6. $20 x 6 = $120 loss
Detroit win by 10 points. -9 + (-)10 = -19. $20 x 19 = $380 loss
The other market is the 'Total Match Points'. This is like the goal minute in the first example (above). You either bet on over (226) or under (223). For every point you are correct you win one stake unit and the reverse applies if you lose.
Withdrawal Levels
PointsBet withholds an set amount at the time of you betting to cover a significant proportion of the risk. The amount 'set aside' is shown in the bet slip when placing the bet.
Stop Losses
As is evident, spread betting is a high-risk, high-reward form of betting, so PointsBet offers stop losses on certain markets which reduce potential losses but also reduce the amount you can win. For example, on a line bet, you can set a stop loss at 10 points. So, if your selection does lose by 20 points, you only lose 10 times your stake. However, if you secure a comfortable win, this amount is capped, too.
PointsBet Live Betting
A clear drawback for this site is that it doesn't offer live telephone betting on any of its markets. Hopefully, this will change in the future.
PointsBet Website & Login
The PointsBet website clearly has the mobile user in mind while also being very clean and user-friendly for desktop users. Unlike many other platforms, the menu is collapsed which leaves your eyes to view the all important betting markets. The homepage provides a featured section for the big matches and an 'up next' section for both racing and sports. When you expand the menu, everything you need is there. It has links to the promos, all racing, important events and leagues, plus the complete rundown of the sports open for betting. Navigating your way around is effortless, and page load speeds are good. To place your bets, simply click on the selection you want. You can also build multi bets by adding further selections to your bet slip.
If we were to pick, it would be that you don't know which matches offer spread betting until you've clicked on them. All of the mainstream, big events do, but outside of those, you are guessing until you look. Some clearer methods of showing all the spread options in a menu would help punters find what they want even faster.
PointsBet Mobile App
Although we have have no complaints regarding the mobile web platform, iOS and Android users have the added luxury of the native PointsBet mobile app which is available for download by following the links on the website.
Like the web-based interface, the PointsBet app is clean, clear and easy to use. It offers an extensive range of sports betting markets including AFL, NRL, NBA, NFL, EPL, NHL and MLB, plus local and international thoroughbred, harness and greyhound racing all in the palm of your hand. Banking is safe and hassle-free. You can view your bets, check transaction history, see pending tickets as they currently stand & reach out to support if needed.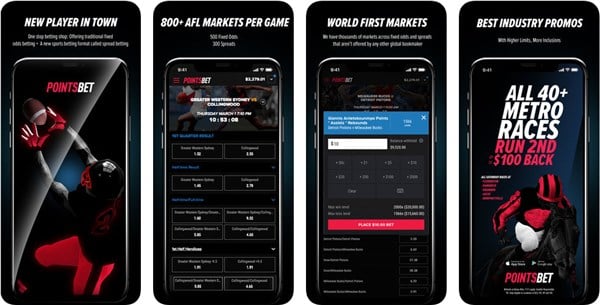 PointsBet Withdrawals & Deposits
It's the bare minimum in terms of payment methods. This is likely due to the bookmaker still being fairly new. Presently, you can use the following options to fund your account:
PointsBet provides limited information regarding its exact payout times. As a general rule, credit card withdrawals can take between 2 and 5 days to reach you after the funds have been released. There are no fees involved for deposits or withdrawals which is pleasing to know.
PointsBet Customer Service
You can reach out to PointsBet customer service via the following channels. Its team is ready and waiting from 06:00 to 00:00 every day.
Live chat: click the link at the bottom of the page to launch this feature
Telephone: the number is - 13-PBET (13-72-38)
PointsBet FAQs
That's everything you need to know about spread betting at PointsBet. It is a super-exciting way of having a punt but it also carries a lot of risk. Please be aware of the potential losses with each bet you place. Bet within your means and keep the entertainment and enjoyment factor alive.
Am I eligible for the PointsBet sign up bonus?
On occasions, certain states are not eligible to claim the PointsBet sign up bonus. To find out more information regarding the area where you live, please visit https://pointsbet.com.
How do I find out about the latest Pointsbet promotions?
PointsBet promotions and bonuses are regularly sent out by SMS, email and phone, plus several are promoted on the website for registered customers.
Is spread betting high risk?
Yes, it is, so we urge control when placing your bets. Only risk what you can afford to lose and use the tools on the platform to control your limits.
Do I have to accept the PointsBet welcome bonus?
No, you don't have to accept the PointsBet welcome bonus if you prefer to have a punt without the terms of a bonus hanging over your head.
Is PointsBet secure?
Yes, it is. The platform is protected by 2048-bit SSL data encryption.
Is there a PointsBet bonus code?
Certain offers may require a PointsBet bonus code. Full details can be found on its website.
Facts & Figures
Top 5 Bookmakers April 2020