Sportstack Review
In their own words, "SportStack is a sports focussed fin-tech company creating a global sports exchange to speculate on the performance of professional athletes."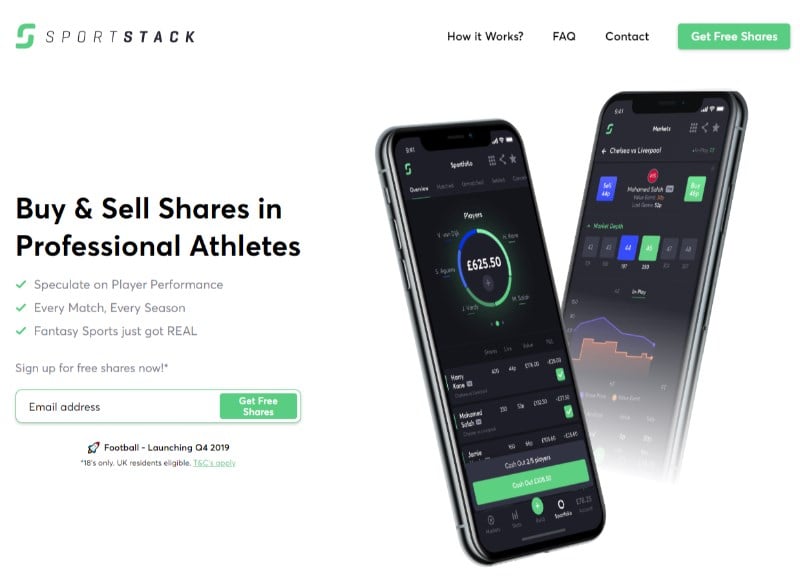 That's the corporate message, simply put, it's a refined version of fantasy football played for real money.
Sportstack Verdict
Why punters bet at SportStack
Pros
Player performance betting experience
Make money on players every game
New concept
Puts you in the manager's shoes
Licenced and regulated
Cons
Only offers football at the moment
Does not accept customers from the US
Sportstack Odds & Markets
There is a transparent scoring table, so you know upfront what the deal is. For instance, you know how many points a goalkeeper will get for saving a penalty or how many he will lose for conceding one, two or three goals. The same goes for outfield players - the metrics upon which they are scored are clearly outlined.
A player's value will range from £0.00 and £1.00. It can only stay within these parameters. For example, if you can buy shares in David Silva at £0.60, it means during a match he can only go up in value 40p to £1.00 or he could drop in value down to zero.
Sportstack Football Betting Tips
Many of us have tried our hand as a fantasy football manager, now you can put those skills to the test and win money. The idea is similar to Football Index in that you buy and sell shares in players, but whereas FI is more about season-long betting, SportStack has compressed its concept into a match-by-match basis.
Essentially, if you believe a player is going to have a storming week, then you would buy shares in him. If your hunch was correct and the player's value rises, you have made a profit on your bet. Of course, if the value drops, you've lost part of your stake.
With this not being your run-of-the-mill betting site, things work a little differently than you might be used to. However, as it only covers a few football leagues at present, you aren't overwhelmed with information. Despite that, here's a quick guide to get you started:
Search for a player, team or specific match
As there are only some UK leagues, browsing through to assess fixtures and teams is quick and easy. You can view a player's price. The buy will always be higher than the sell. This is SportStack's spread where it makes its profit.
View Player pages
This is the data hub for each particular player. You can view price changes over the course of a season and track him live when he is playing to see if the value is up or down.
Build your Sportfolio
When you have money on a player; either you bought or sold shares in him, he is added to your Sportfolio for you to easily monitor his progress.
Extra Stats
Want to dig deeper, go to the Stats section and view a host of metrics from the past three seasons. This could help uncover an underpriced gem for you to take advantage of.
Sportstack Horse Racing Betting Tips & more
Understandably, those strong defenders and good attackers we mentioned above are the higher priced players (just like in fantasy football). Therefore, the profit margins are smaller due to the max value a player can obtain.
Sportstack Live Betting
You can also sell shares in players. A point of note, you don't need to own him to sell shares, you are basically just betting that his value will fall. In this instance, you feel a player is over-priced in the market and is destined to have a poor performance this week. You now make a profit if indeed his value does drop and make a loss if the player's value rises.
At this point, you might be thinking, what's the catch? This sounds too easy. Simply buy defenders that keep clean sheets and strikers who regularly score. In some ways, it is that easy, in other ways, it isn't. Let us explain as we run through player ratings and points.
Sportstack Website & Login
As you would expect from a bunch of former stock traders, the SportStack platform is top-notch. There isn't an overload of information on any of the pages, which means it is easily digestible. The clear layout makes buying and selling effortless and the data and statistics are clearly displayed so the information is easily understood even for total beginners. Logging in is your standard email and password followed by one-click entry.
Sportstack Mobile App
If you want to trade on the move, then you have two options. You can use the web-based mobile site or download one of the SportStack mobile apps. They are available for both iOS and Android. It's fair to say this platform has been designed primarily for mobile users - this shows the owners have done their homework because sports betting, in general, is going mobile. The SportStack apps are classy. Set upon a black background, the whole look and feel ooze quality. They are user-friendly and you have access to all the same features as the desktop. Absolutely no corners have been cut with this product.
Sportstack Withdrawals & Deposits
Many new operators enter with a standard set of payment methods. SportStack covers the essentials with cards and e-wallets taking priority.
Credit cards
Debit cards
Neteller
Skrill
Withdrawal times vary depending on your chosen option. For full details checks either the FAQ or contact customer support.
Sportstack Customer Service
Currently, there is no live chat feature but it is in the pipeline to be added. Also, we couldn't find a telephone support number. You can contact SportStack via email using the built-in form on the 'contact us' page. There's also a postal address if you'd prefer:
SportStack HQ,
Lansdowne House,
57 Berkeley Square, London W1J6ER.
Sportstack FAQs
Do I need a SportStack promo code?
They are one or two offers available on the site that may require a SportStack promo code. You can check our special page where we list all the latest codes to ensure that you get the most-up-to-date offers.
Can I bet on players from other sports besides football?
No, not at the moment, but other sports will be added in the near future so watch this space!
Is there a casino built-in to the platform?
No, there isn't. SportStack is a one-product right now. This helps keep the site super fast so pages load quickly.
Sportstack Related Articles
Top 5 Bookmakers December 2023