Ultimate Guide to the Stake.com live stream service
Stake.com is the world's biggest crypto betting site
Registered players have instant access to the live stream service
Watch live sport every day
Stake has the rights to UFC, NFL, NBA and UEFA live streaming
New player? Use the promo code NEWBONUS for instant access plus $1000 bonus!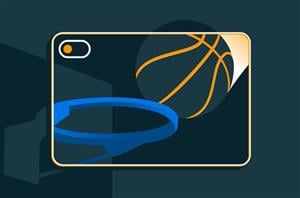 Stake.com Registration

How to access Stake.com Live Streams
Stake.com
offers one of the most comprehensive live-streaming services found on any online betting site.
Stake is home to the world's biggest crypto betting site, with excellent odds available on all sports. Registered players can also live stream sports each day for free.
All streams are 100% legal.
Stake.com
has broadcast rights to various sports events for its customers around the world.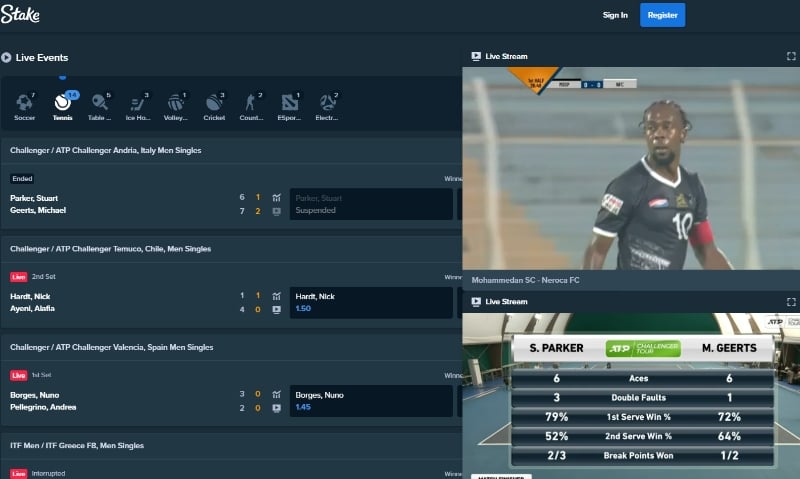 Occasionally there may be restrictions on which events are broadcast in certain countries, which is usually due to television contracts in a particular region, but in general, you can watch hundreds of events every single day.
One impressive innovation with the Stake.com live stream service is the ability to multiscreen both on desktop and mobile which allows you to watch multiple events in real time.
Stake.com
has the rights to UFC and NFL, while you can also enjoy live-streaming basketball, baseball, football (soccer), tennis, table tennis, Esports, volleyball, hockey, snooker and other sports.
To view a live stream, simply look out for the television icon next to any game or match when you click 'Live Events' at the Stake.com sportsbook. This will indicate whether the event you are looking at is available for live streaming.
Live streams generally start a minute or two before the action is scheduled to start and come with commentary as well.
As explained on this page, Stake live streams are free for registered users. Simply log in to your account to start watching live sports on PC or mobile!
If you are yet to register, read on for information on how to quickly and easily open an account.
Stake.com Registration
To enjoy live streaming at
Stake.com
you need to open an account. If you are yet to register with this popular crypto betting site, which is available in many parts of the world, here is a quick guide to registering. As a new player, you can also get up to $1000 welcome bonus, as explained below: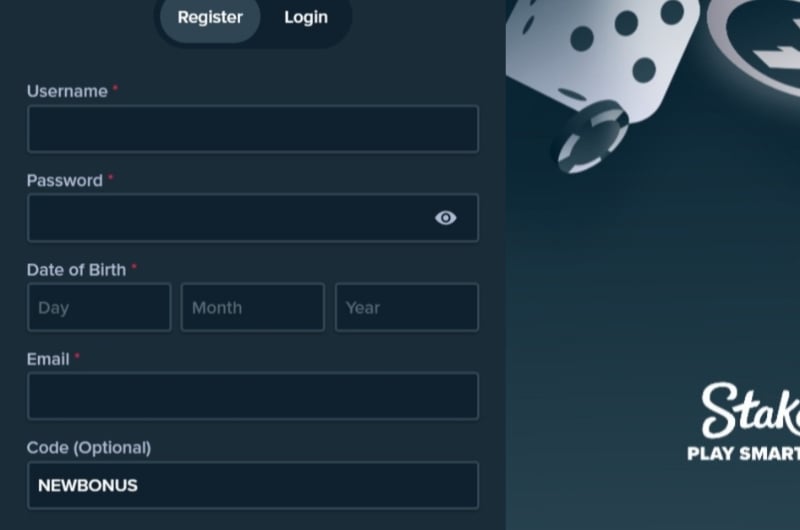 Go to Stake.com via this link and click 'Register' to quickly open an account
Create a unique username, or opt to register using a social media account or a Google account.
When asked if you have a Code, enter the promo code NEWBONUS. This code allows you to get the biggest available welcome bonus, as explained below.
Click 'Continue' to complete the registration process.
Once registered, you can start watching live streaming sports. You can also claim the welcome bonus.
Up to $1000 bonus can be claimed by new players. Deposit $500 worth of crypto to get the full $1000 bonus, which can be used on sports bets or at the Stake crypto casino.
How to access Stake.com Live Streams
To access the Stake.com live stream service, simply: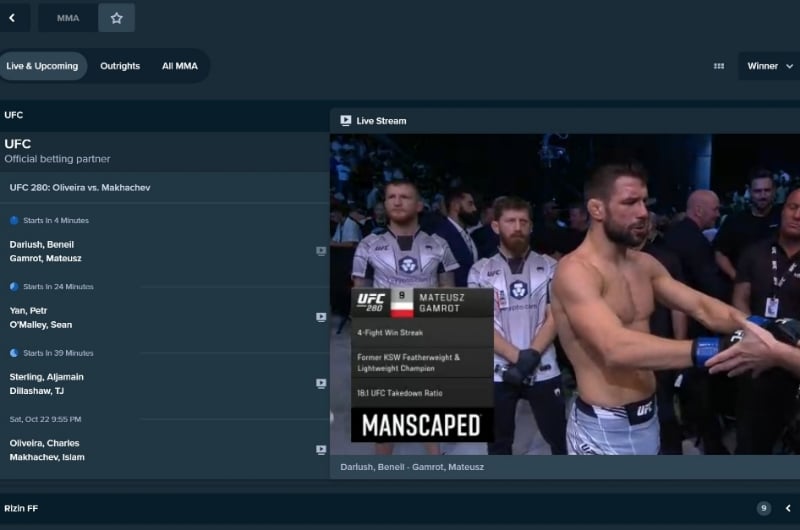 Log in to your account (or register as explained above).
Click on the 'Live Events' tab and select the sport you want to live stream (you can live stream soccer, baseball, basketball, UFC tennis, football, eSports and many other sports).
The current live fixtures will be listed alongside odds and the current score if the match has already started. A video tab will be displayed if the fixture is available to live stream. Click on this tab to open the live stream.
Enjoy the live stream and place a range of live bets as you watch the action unfold!
Sports you can live stream include:
UFC & Boxing: You can watch many high-profile fights throughout the season, with live UFC and boxing events available to live stream.
Basketball: Live stream
NBA
throughout the year, including regular and post-season matchups from the biggest basketball league in the world.
American Football: Live streaming NFL is available to registered players, along with college football, throughout the Football season.
Football:
Stake.com
is the perfect place to live stream high-profile soccer matches, from the English
Premier League
(
EPL
) to
UEFA
and everywhere in between!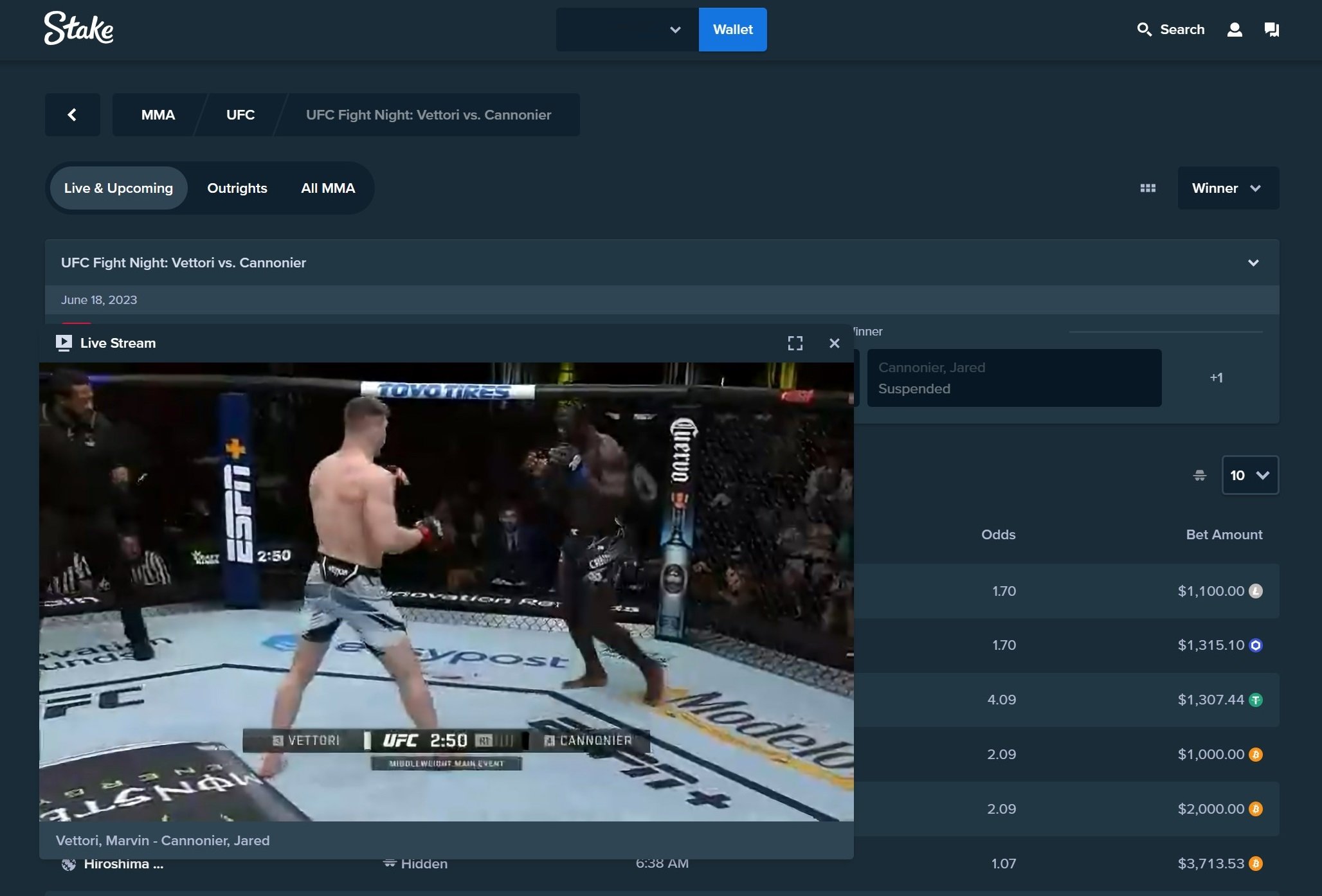 Tennis: From the French Open at Roland Garros to the Australian Open in Melbourne, you can live stream a vast selection of events at Stake.com, with regular live streaming ATP and WTA tour tennis.
Hockey: Enjoy live streaming NHL as well as extensive live coverage of other major hockey leagues.
Baseball:
Whether you're a White Sox or Red Sox fan, head to
Stake.com
for live streams of all the baseball action and the
MLB
as teams compete to be crowned the
MLB
World Series
Champions.
eSports: Stake.com is the undisputed home of eSports live-streaming. Watch and bet live on high-games from Counter-Strike, Dota 2 and League of Legends.
Unlike other online betting sites, you don't need to place any bets to live stream your favourite sports at
Stake.com
. Rather, you only need to head online to the live streaming service to locate the current
sports and
fixtures available to stream for free.
If you
do
want to place bets on live events, however, this is easy to do. When you access the Stake sportsbook and click on the 'Live Sports'
tab
, you can see the fixtures you can bet on and the currently available odds.
As the event is live, the odds are subject to change throughout the fixture, so you need to be quick with your selections.
Typically, you can place many bets during live streams. Simply check the available markets alongside your live stream to decide which bets to place while watching the action unfold.
Upcoming Events
29 September 2023
30 September 2023
01 October 2023